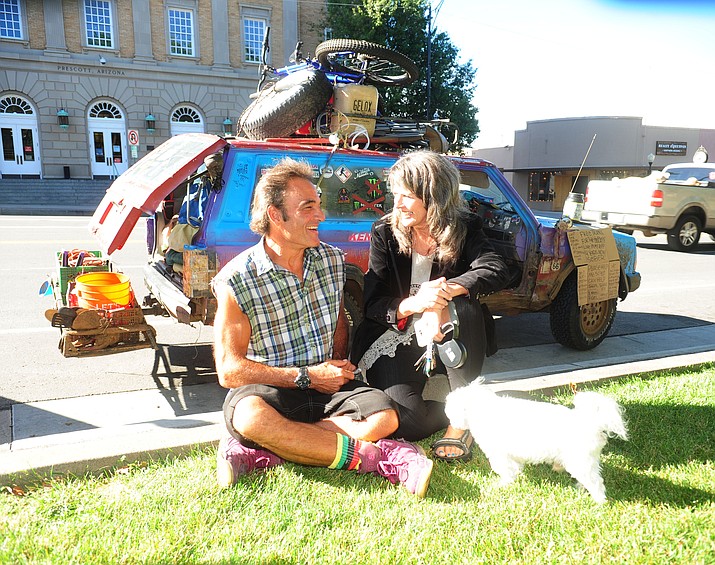 Photo by Les Stukenberg.

Originally Published: January 3, 2017 6:01 a.m.
This is another installment in the Courier's ongoing coverage of the homeless situation in the Prescott area.
PRESCOTT – Gail Lowe is no stranger to reaching out to people in need.
A three-decade retired intensive care nurse from Michigan, the 67-year-old Prescott newcomer has embraced a new mission – befriending this city's homeless.
"We treat the homeless like lepers," Lowe said. "The homeless are just like you and me. They have the same needs and same emotions… We're using the wrong yardstick to measure these people. I would prefer to offer a hand up."
Anyone wishing to learn more about this effort can email Gail Lowe at homelessheart.net (at) gmail.com or can mail donations in care of "Homeless Heart" at P.O. Box 3776, Prescott, AZ 86302.
And she hopes she can encourage others to do likewise.
She has just embarked on a project she refers to as "Homeless Heart," one she envisions as a mentoring-type organization for the homeless.
For certain, the homeless need resources and shelter, but Lowe said they also need "compassionate human beings" willing to just spend time with them, or bring them a clean pair of socks, some homemade soup or assist them with their laundry. Maybe accompany them to the movies.
To that end, she has secured a website domain name, "Homeless Heart," and intends to develop a website that can be a practical resource for the homeless in the area. She eventually hopes to earn nonprofit status so any donations to benefit the homeless will be tax-deductible.
Her project emerged out of a walk around the courthouse plaza one day this past summer.
She and her Maltese, Orion, were sitting on a bench when she spotted a middle-aged man laying underneath a shade tree.
"He was so angry about being so hot, and was raging at the sun," Lowe recalled.
She approached to find he was "skin and bones," Lowe said. Immediately going to her "nurse mode," Lowe said she gave him a bag of cashews and a nutrition bar she had in her bag, and a few dollars for a meal. The man admitted he had an alcohol problem, and clearly was wrestling with some mental health issues. He was also well-read and well-spoken, she said.
Sometime later, Lowe saw him again. This time she brought him an egg salad sandwich and cookies.
"What he was starving from was loneliness. He needed a listening ear," said Lowe of the chronically homeless man of Eastern European descent.
Over the course of three months, Lowe got to know more about the gentleman, and started taking him for meals, and walks around Thumb Butte. She helped him do his laundry, and eventually got him to get some entitlement benefits, in particular food stamps.
She, though, worried about his welfare living outdoors. He often got trespassing tickets because he was falling asleep on private property, or intoxication lost him his privileges at the public library.
She started to post information about him, and other members of the homeless community, on Facebook.
"I never imagined anyone would send me a dime," Lowe said but quickly found she was wrong.
She eventually managed to merge her resources with some donations to rent him a room, and arrange for some much-needed dental work. One stormy day, Lowe bought rain suits for all the homeless she could find around the plaza.
She started to volunteer with the Coalition of Compassion and Justice's new shelter endeavor.
From that experience, Lowe met more of the homeless community. She and other homeless advocates hope CCJ's intervention proves a catalyst to even more good needs for those who need it most.
CCJ Executive Director Paul Mitchell said he does not know Lowe well, but knows she has a "good heart" for the city's most vulnerable.
Like with any of this city's homeless volunteers and advocates, Mitchell said he welcomes Lowe's willingness to "be part of the solution."
Follow Nanci Hutson on Twitter @HutsonNanci. Reach her at 928-445-3333, ext. 2041, or 928-642-6809.