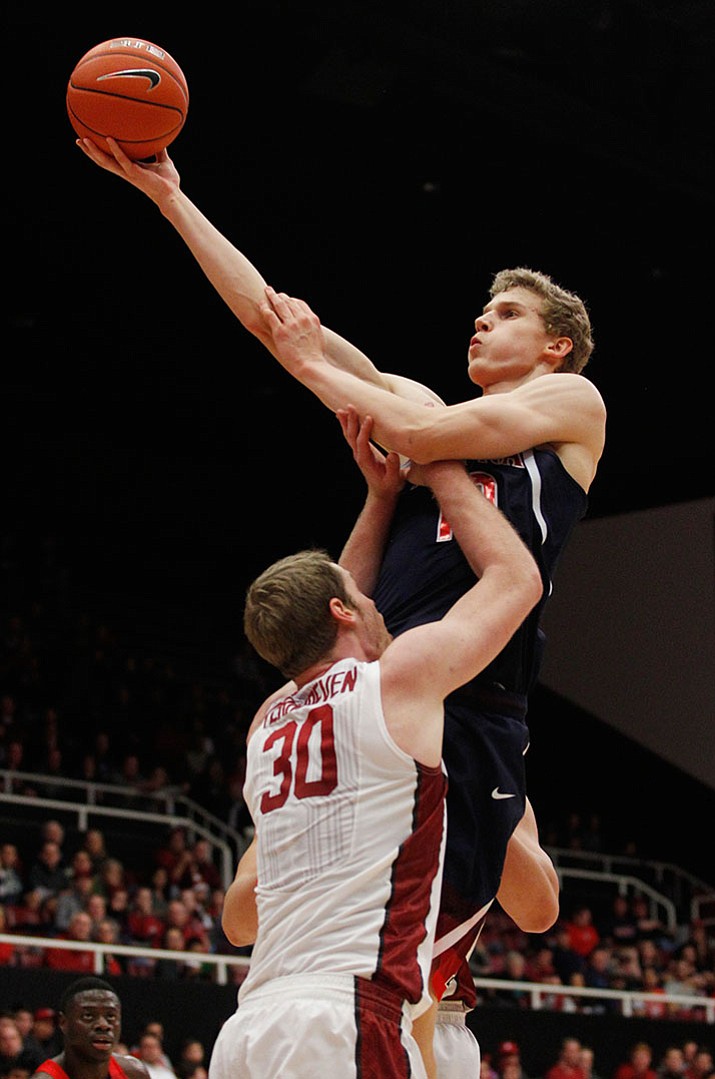 Photo by Associated Press.
Originally Published: January 1, 2017 9:42 p.m.
STANFORD, Calif. — Rawle Alkins scored 19 points while Dusan Ristic added 18 and Lauri Markannen 15 to help No. 18 Arizona beat Stanford 91-52 on Sunday to complete a weekend road sweep to open Pac-12 Conference play.
Chance Comanche added 13 points and 10 rebounds for the Wildcats (13-2, 2-0), who have beaten the Cardinal in 14 straight games. Ristic, Markannen and Comanche combined to make 16 of their 20 shots.
Stanford (8-6, 0-2) struggled to get clean shots much of the game and wound up shooting 34 percent, including 22 percent in the second half. Reid Travis led the Cardinal with 11 points — seven under his season average — before fouling out.
BIG PICTURE
Arizona: Point guard Parker Jackson-Cartwright, in just his second game back after missing six with a high ankle sprain he suffered Nov. 30 against Texas Southern, shot 0-for-4 but had six assists in 22 minutes. He gives Arizona one more weapon on offense, especially as a facilitator for the team's big men.
Stanford: The Cardinal is struggling to defend the perimeter and the dribble drive. Arizona made 10 of 14 shots from the 3-point arc two days after Arizona State converted 13 of 24. The Wildcats also attacked the rim, repeatedly drew fouls and cashed in with a 21-for-23 performance at the free throw line.
POLL IMPLICATIONS
Arizona figures to climb a spot or two in next week's Top 25 after sweeping Cal and Stanford on the road for the fourth time in eight seasons.
UP NEXT
Arizona returns home for a Thursday matchup against Utah. The Wildcats lost a road game to the Utes in their only matchup a year ago, snapping a 12-game win streak in the series. Utah (10-3) opened Pac-12 play Sunday with a 76-60 win over Colorado.
Stanford heads to Los Angeles to face two teams that were undefeated until the start of Pac-12 play this week — USC on Thursday and UCLA on Sunday. The Cardinal has won five straight vs. the Trojans and beat the Bruins in their only matchup last season.
More like this story