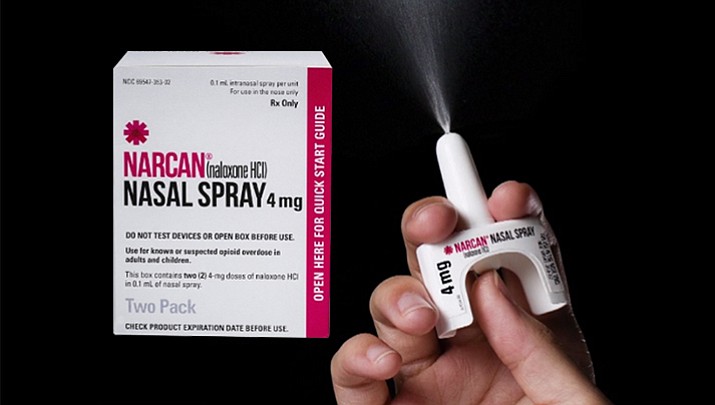 Originally Published: February 23, 2017 6 a.m.
PRESCOTT VALLEY —Police here are the latest in the Quad Cities to train officers to carry Narcan, which can stop a heroin overdose.
Arizona is ranked the sixth-highest state for heroin overdose fatalities. Administered by injection or nasal spray, many paramedics have used Narcan, or Naloxone hydrochloride, to revive overdose victims.
Until a couple of years ago, state law kept the first emergency responders who may encounter an opioid overdose victim—police officers—from being able to use Naloxone. A bill signed by Gov. Doug Ducey on April 10, 2015, changed that, and now Arizona police can administer Naloxone, joining 27 other states that also allow it.
Narcan is a nasal-spray form of the drug, and it was developed for non-professional use; it has been used by laypeople many times, and the Centers for Disease Control and Prevention estimates that Narcan has saved more than 10,000 lives.
Narcan has been carried by area emergency medical personnel for many years, but not by police.
"Each police officer is trained to recognize and attempt to reverse an active opioid overdose by using naloxone in the field prior to EMS arrival," said PVPD spokesman Jerry Ferguson. "This can increase the opiate user's chance of survival."
Chino Valley Police began issuing Narcan to officers in May 2016, and Prescott Police, who had been studying the feasibility having officers equipped with the drug, "will begin carrying Narcan within the next month or so," said spokesman Dave Fuller.
Yavapai County Sheriff's Office also deployed Narcan to all deputies about a year ago, spokesman Dwight
D'Evelyn said.