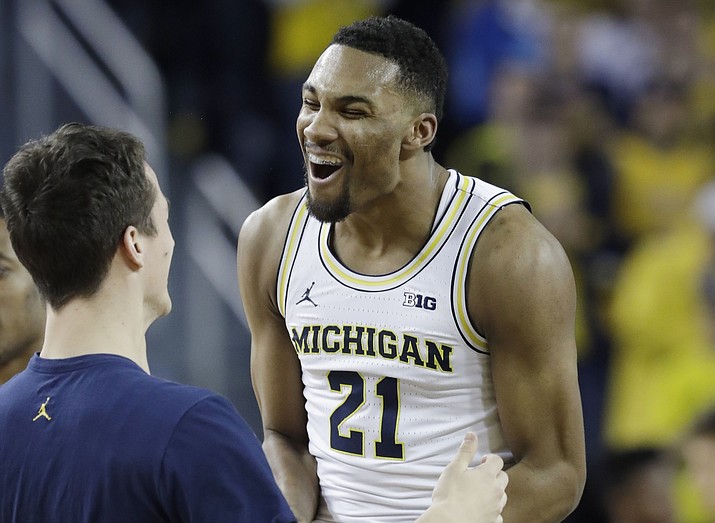 Originally Published: February 16, 2017 11 p.m.
ANN ARBOR, Mich. (AP) — Moe Wagner scored 21 points and Zak Irvin broke out of a slump with 18, helping Michigan beat No. 11 Wisconsin 64-58 on Thursday night.
The Wolverines (17-9, 7-6 Big Ten) have won three straight to boost their chances at making the NCAA Tournament.
The Badgers (21-5, 10-3) have lost consecutive games for the first time this season, dropping them into a three-way tie atop the Big Ten standings with No. 16 Purdue and No. 23 Maryland with five games remaining in the regular season.
Wisconsin was without senior point guard Bronson Koenig because of a calf strain in his left leg, breaking up a starting lineup that began the first 25 games of the season together.
Ethan Happ scored 18 points in the first half, making 8 of 9 shots, but was held to just four points after halftime and finished with 22 points on 10-of-13 shooting for the Badgers. Likewise, Khalil Iverson was much more effective in the first half with eight of his 10 points before Michigan seemed to slow him down.
Muhammad-Ali Abdur-Rahkman scored 12 points, including a four-point play with just under 8 minutes left in the game that gave Michigan the 11th and final lead change in a game with eight ties.
Brooks has 20 points and No. 7 Oregon beats Utah 79-61
EUGENE, Ore. — Dillon Brooks scored 20 points and No. 7 Oregon defeated shorthanded Utah 79-61 on Thursday night to extend the Ducks' home winning streak to 41 games.
Jordan Bell added 17 points for the Ducks (23-4, 12-2 Pac-12), who wore new neon green uniforms that glowed under blacklights during player introductions.
Jayce Johnson had 14 points and 12 rebounds for Utah (17-8, 8-6), playing without top scorer Kyle Kuzma because of a sprained ankle.
Kuzma apparently was injured during practice on Wednesday. The 6-foot-9 junior starter is averaging 15.7 points and 10.2 rebounds per game. His rebounding averaging ranked second in the Pac-12 and 17th in the nation. He has 15 double-doubles this season.
Oregon, sitting second in the Pac-12 standings behind Arizona, led by as many as 26 points. Leading the nation with an average of 6.9 blocks a game, Oregon finished with 10 against the Utes.
It was Oregon's ninth straight win over Utah.
The Ducks jumped out to an 18-8 lead, paced by Tyler Dorsey's 10 points. It was the third straight game that Oregon had opened up a 10-point lead on an opponent in the first half.
Chris Boucher's 3-pointer pushed Oregon's lead to 26-12. Dylan Ennis gave Oregon its biggest lead of the first half with a layup that made it 39-18 but Utah ended the half on a 7-2 run to close the gap to 41-25.
Tyler Rawson hit Utah's first 3-pointer of the game in the second half to narrow the deficit to 43-30. But Oregon again extended the lead on Brooks' layup that made it 54-32.
Brooks' dunk gave the Ducks a 71-49 lead with just over 7 minutes left. He followed it up with a 3-pointer.
The Ducks' home streak is the longest active winning streak in the nation. Thursday's game was Oregon's sixth sellout of the season.
Oregon rebounded from a loss at UCLA with an 81-70 victory over USC last weekend. After the Utes, the Ducks host Colorado at home before wrapping up the season at the league's Northern California schools.
Utah was coming off wins at home against Washington State and Washington. The Utes went into the game knotted with USC at fifth in conference play.
Earlier this season, the Ducks defeated the Utes 73-67 on Jan. 26 in Salt Lake City.
Williams-Goss leads No. 1 Gonzaga over San Francisco 96-61
SPOKANE, Wash. — Nigel Williams-Goss scored 30 points as undefeated and No. 1 Gonzaga beat San Francisco 96-61 on Thursday night, extending the nation's longest winning streak to 27 games.
Przemek Karnowski added 23 points and seven rebounds for Gonzaga (27-0, 15-0 West Coast), which is seeking to become the first team since Kentucky in 2015 to go undefeated in the regular season.
Chase Foster had 15 points and Matt McCarthy added 11 for San Francisco (18-10, 8-7). San Francisco has dropped 11 straight to Gonzaga and 28 in a row in Spokane dating to 1989.
Williams-Goss, a junior guard, added six rebounds and seven assists as he torched the Dons for at least 30 points for the second time this season. San Francisco shot well to lead for a good portion of the first half, until a late surge gave Gonzaga a 42-35 lead at halftime.
Williams-Goss scored 11 points as Gonzaga put together a 15-2 run that bracketed halftime to build a 52-37 lead early in the second.
Williams-Goss continued to score virtually at will, adding eight more points as Gonzaga built a 62-43 lead. The Dons made only five of their first 20 shots in the second half.
Gonzaga, which has trailed only 6 percent of the time in games this season, fell behind 16-11 midway through the first half. The Zags clawed back and tied the game at 22-22 on Zach Collins' basket. Williams-Goss followed with a 3-pointer to put Gonzaga ahead for good.