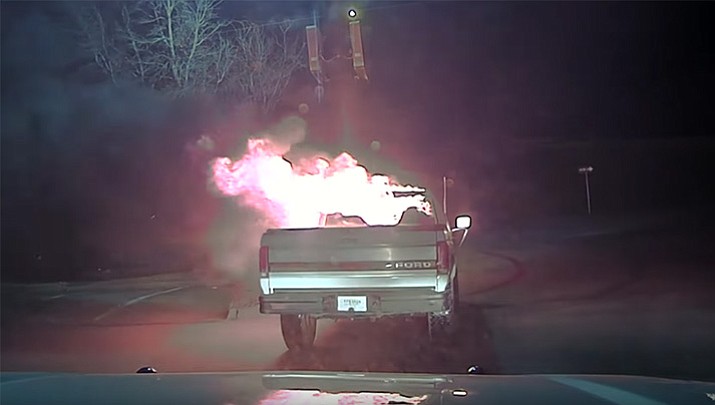 Originally Published: February 16, 2017 6:03 a.m.
GLENN HEIGHTS, Texas – A rookie police officer had just finished dinner with his wife Saturday when he heard a call about a vehicle on fire in the drive-through lane at the local Jack in the Box.
Dash cam footage from the squad car captured the officer pulling up behind the burning truck that was dangerously close to the restaurant.
Officer Chris Womack decided to use his patrol vehicle to push the truck away.
The driver of the truck was able to get his wife and daughter out of the vehicle safely before it burst into flames, police said.
Because of Officer Womack's quick thinking nobody in the restaurant or the drive-through was injured and there was no damage to the restaurant.
Officer Womack told Fox News, "My adrenaline was going a little bit. I've watched [the video] a couple of times, I'm breathing pretty heavily. Well, that's because the windows were down and I didn't have the train of thought to roll the windows up during it. It was just a God-send that I was here at that particular time."
The Glenn Heights Police Department posted the video on its Facebook and wrote, "I would like to commend Officer Chris Womack. Due to his courage and quick thinking, he was able to prevent a burning vehicle from causing major damage to the Jack in the Box and protecting the employees."