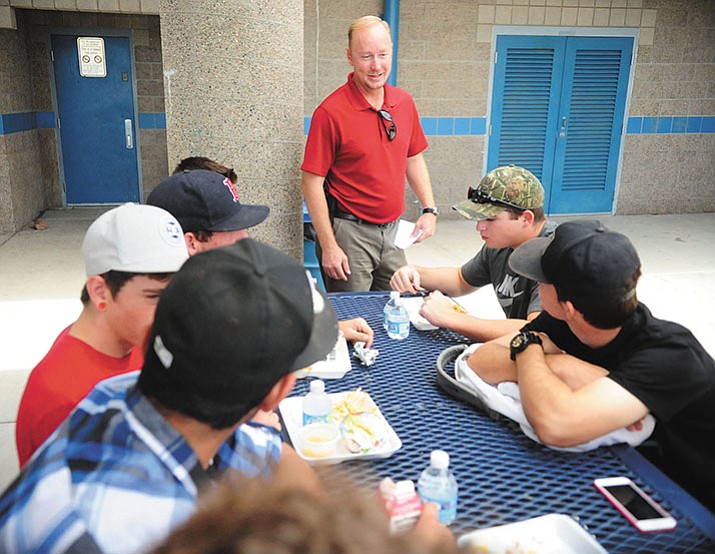 Photo by Les Stukenberg.

Originally Published: February 15, 2017 6:01 a.m.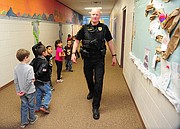 In late January of this year, a Dewey-Humboldt man allegedly threatened on Facebook to go on a mass killing spree, inviting anyone interested in the idea to join him.
Local law enforcement were tipped off about the social media post and eventually found and arrested the man, who, when confronted, claimed it was a joke.
Joke or not, the man was charged with inciting or inducing to promote terror and booked in the Camp Verde jail on a $20,000 bond.
Punishment of this level for such actions is not uncommon.
Whether someone means business or not, the simple act of threatening to inflict damage or harm to something or someone can land that person in a world of legal trouble.
"All reports of threats, regardless of the nature, are taken seriously and investigated fully," Prescott Police Department Deputy Chief Amy Bonney said. "Making threats is not a joke and should not be taken lightly."
Five of the laws on the books regarding such behavior include:
13-3004: Sending a threatening or anonymous letter
13-2916: Use of telephone to annoy or harass
13-1202: Threatening or intimidating
13-2308: Terrorism
13-2925: Hoax
These crimes range from misdemeanors to felonies depending on the circumstances. And, since Jan. 1, 2017, the Yavapai County Sheriff's Office has received 41 calls classified as threatening in nature.
These incidents usually involved domestic violence situations, neighbor disputes, business disputes, threats to parents by children, threats by phone, threats to self-harm (suicide), and occasionally threats to institutions (school, government, employees, etc.), and so on, said YCSO spokesman Dwight D'Evelyn.
Though threats made on school grounds by students or toward schools by those not attending them are more likely to be publicized, schools are not the primary source of threat calls.
"A near majority of our threatening calls relate to suicide, which can affect the safety of others depending on the circumstances," D'Evelyn said.
Protocols on how to deal with threats include attempting to establish prior criminal and incident history, any record of mental illness, order of protection history/court actions and known weapons.
"Documentation is key to establishing a foundation arrest and prosecution when appropriate," D'Evelyn said.
While advances in communication and social media have made it seem easier to deliver threats anonymously and get away with it, Bonney said law enforcement have worked hard to adapt to the current climate.

"We have also made strides in our efforts to investigate these crimes and train specifically to identify online predators and/suspects who presume they can hide behind their computer screens," Bonney said.
When a threat is made at a school, standard protocol for most school administrations is to walk through a threat assessment, which essentially asks the following questions:
What is the motivation of the threat maker and credibility of the threat?
Could the threat maker have the information on how to carry out the threat (such as information on how to make bombs or homemade weapons, for example)?
Could the threat maker have access to the tools, and the capability to carry out the threat?
"The more you disrupt the education process, the more serious it is," said Prescott Unified School District Superintendent Joe Howard.
There have been two arrests of students who made threats at Chino Valley High School since September 2015.
Chino Valley High School Principal Wes Brownfield credits having a former Prescott Police Department officer at the school who is in charge of security for making it a safe campus. He said when he first arrived at the school he had to deal with a fight a week on campus. Since hiring Glenn Koester, the security officer, in 2012 the average has dropped to 1.5 per year.
"Glenn is on that as fast as he can," Brownfield said. "Most of the time it turns out to be nothing, most of the time it is just teen-age drama."
Brownfield said that if any student makes a threat, he has a duty to take it seriously in order to protect everyone at the school.
"We live in rural Arizona, a weapon-rich environment," Brownfield said after the first arrest in 2015. "You can't fling a dead cat without hitting a firearm somewhere. So there's an assumption when someone says there's a gun or a knife, there is."
In most cases, the police are at least notified of the situation, Chino Valley Unified School District Superintendent John Scholl said.
"In almost all cases, we want to involve the police right away, because they have the investigative skills to come in and find out what's going on," Scholl said.