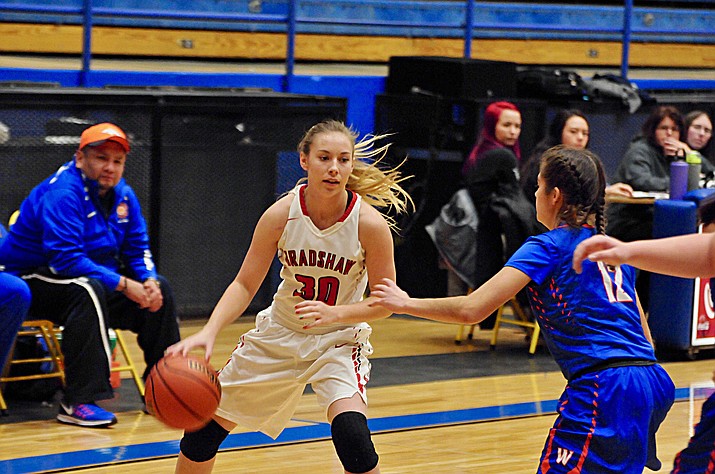 Originally Published: February 12, 2017 4:22 p.m.
After finishing third in Grand Canyon region play, arguably featuring one of the toughest schedules in 4A next to the Skyline region, the Bradshaw Mountain girls' basketball team was awarded a No. 10 seed when the AIA announced its state tournament field Sunday morning.
The Bears (15-11, 8-4 Grand Canyon) are ranked No. 10 in the state, with region rivals Coconino (No. 3) and Flagstaff (No. 4) also etching their names into the state playoff bracket Sunday.
Lee Williams (No. 17), Mingus (No. 21) and Prescott (No. 22) all finished Top 25 in the 4A power point poll, but failed to make the field.
The Skyline region is the only region with more teams (4) in the state playoffs than the Grand Canyon region (3). Both Skyline and the Grand Canyon regions have three clubs in the Top 10.
Despite an 0-8 record against the state tournament field this season, Bradshaw Mountain head coach Rick Haltom believes his club is ready to take the next step.
"We're going to start three seniors Tuesday, and they'll be ready to play," Haltom said. "They've been wanting this all year. … I won't have to motivate them. They are very happy to be in the position that we're in."
Brianna Showman, Elah Alvis and Hayley Young highlight a core group of seniors for Bradshaw Mountain, which hasn't made the state playoffs since 2014, a 46-44 loss to Peoria.
UP NEXT
The No. 10-seeded Bears will travel south to Phoenix and play No. 7 Shadow Mountain on Tuesday night.
The Matadors (19-8, 5-3 Skyline) finished second in their region and have won five straight.
Tipoff is set for 6:30 p.m.
Brian M. Bergner Jr. is an associate sports editor for The Daily Courier. Follow him on Twitter, Instagram, Periscope and SoundCloud at @SportsWriter52, or on Facebook at @SportsAboveTheFold. Reach him by phone at 928-445-3333, ext. 1106.
More like this story