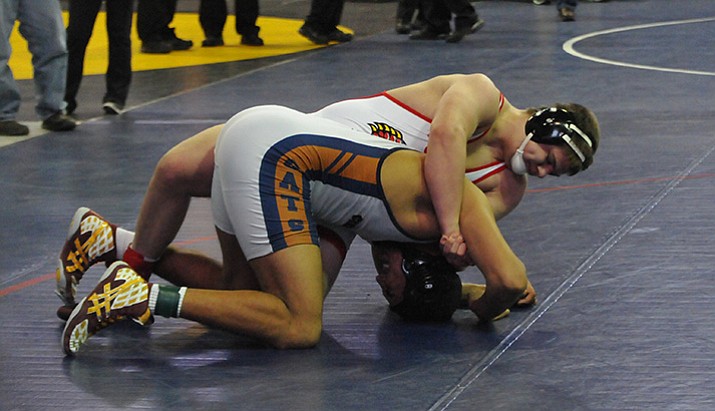 Photo by Doug Cook.

Originally Published: February 12, 2017 6:02 a.m.
Bradshaw Mountain senior Jacob Kidd came within two points of becoming only the second wrestler in Bears program history to win a state title at the 2017 Arizona Interscholastic Association (AIA) Division II Championships on Saturday night, Feb. 11.
Inside a rocking Prescott Valley Event Center, Kidd settled for state runner-up honors after narrowly losing by decision, 3-2, to third-seeded Cienega's Skyler Cavanaugh. Kidd said Cavanaugh stalled during the match and that he wasn't whistled for it enough times.
2017 AIA State Wrestling Championships
(Prescott Valley Event Center - Thursday through Saturday, Feb. 9-11)
DIVISION I
Top 10 Team Scores (points)
Corona del Sol / 226.5
Sunnyside / 203.0
Cibola / 145.0
Desert Vista / 102.5
Mesa M. View / 100.5
Tucson / 95.0
Basha / 81.0
Kofa / 75.0
Mtn. Ridge / 71.0
Skyline / 66.0
DIVISION II
Top 10 Team Scores
Marana M. View / 177.5
Queen Creek / 171.0
Liberty / 139.0
Desert Edge / 116.5
Williams Field / 102.5
Cienega / 88.0
McClintock / 65.0
Campo Verde / 63.0
Ironwood Ridge / 59.0
Gila Ridge / 56.0
Shadow Ridge / 56.0
13. BRADSHAW MTN. / 42.0
"I'll be a lot happier in a couple days," said Kidd, who suffered a bloody nose early in the match, one that seemed to stunt his momentum after three or four stoppages. "It was a good year, honestly. Runner-up's not bad."
Bradshaw's lone individual state champion is former 140-pounder Adam Durant, who captured the first-place medal 18 years ago in 1999.
On Saturday, the 6-foot-5, 220-pound Cavanaugh used his superior length to his advantage against the more compact Kidd.
Kidd, who's about 6 feet tall and 210 pounds, struggled to gain leverage on Cavanaugh. In the first period, Cavanaugh's cradle move gave him a 3-0 lead, and he held on from there. For Cavanaugh, it was his first state title. He placed sixth as a sophomore.
"Those were my only points during the entire match, so it's definitely what helped me win that match," said Cavanaugh, a D-II, Section I titlist. "And then I just had to stay tough on bottom. He was real tough on top and he was really cranking down on my neck. But I had to stay tough and stay strong."
Bradshaw coach Brad Grauberger said Cavanaugh's early cradles hindered Kidd.
"We were planning on that, and he caught us in it," the coach added. "So we knew that was probably coming. But he still was good enough to sneak that in there, and that was the difference, unfortunately."
Kidd, a D-II, Section II champion who didn't start wrestling until three years ago, has made significant strides since his freshman year. He ended a sterling 2017 campaign with a 57-3 overall record. "I've grown a lot," Kidd said.
In this state tournament, Kidd won his first two matches by pin in a combined 5 minutes and 57 seconds. In the semifinals, he topped Desert Edge's Isaac Sandoval by decision, 9-2.
Mere minutes prior to Kidd's title bout, Bradshaw's top-seeded 182-pounder, Olijah Sally, a senior transfer from Chicago, placed fifth. He pinned fourth-seeded Flowing Wells senior Justin Shorbe in 3:40.
Sally, a D-II, Section II champ, finished the 2017 season with a 52-6 overall record. He went 3-1 at state, including two wins by pin. He won the other by decision, 10-3, in the quarterfinals.
Sally's lone loss at state came to the eventual state champion, Queen Creek's Anthony Saba, who was unseeded but finished with a 45-3 record.
Grauberger said he's pleased with Kidd and Sally's contributions to the Bradshaw program. "Those kids have had great years – I couldn't be prouder of those two guys or our whole team than I am right now," Grauberger added. "It's tough in the loss, but I wouldn't have any other guys. I told them that."
By next season, Kidd and Sally will have graduated. They pass the torch to a group of talented Bears underclassmen who watched Kidd and Sally lead by example.
"We've got a couple real good freshmen and younger kids that'll carry on the program," Kidd said. "And we'll be good in the future."
Grauberger added that despite Kidd's finals setback, he's focusing on "the big picture." Bradshaw's program hasn't been very strong in recent years, but it's undergone a resurgence under the second-year coach.
"Overall, we've come a long way as a program this year," Grauberger added. "We had opportunities to be state champions and we're going to get it, sooner or later. We'll be back."
Summary
2017 Arizona Interscholastic Association (AIA) State Wrestling Championships
At Prescott Valley Event Center Thursday Saturday, Feb. 9-11
Local Results Only
Saturday, Feb. 11 - DIVISION II
CHAMPIONSHIPS
• 220 POUNDS
Jacob Kidd, Bradshaw Mountain: In the first round, the top-seeded Kidd defeated Campo Verde's Nick Yeager by pin (1:23); in the quarterfinals, defeated Lake Havasu's Leanard Keno by pin (4:34); in the semifinals, defeated Desert Edge's Isaac Sandoval by decision, 9-2. [Lost to third-seeded Cienega's Skyler Cavanaugh by decision, 3-2, for the state runner-up medal]
FIFTH-PLACE MEDAL
• 182 POUNDS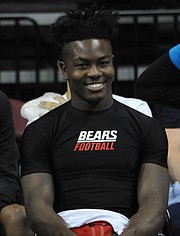 Olijah Sally, Bradshaw Mountain: In the first round, the top-seeded Sally defeated Nogales' Joshua Sanchez by pin (2:20); in the quarterfinals, defeated Paradise Valley's David Flores, 10-3; in the semifinals, lost to Queen Creek's Anthony Saba by decision, 15-6. [Defeated fourth-seeded Flowing Wells' Justin Shorbe by pin in 3:40 for the fifth-place state medal]
CONSOLATIONS
• 106 POUNDS
David Medevielle, Bradshaw Mountain: In the first round, lost to Paradise Valley's Nic Grace by decision, 7-6; in the consolations, defeated Camelback's Daunte Cartwright by pin (2:14). [Eliminated by Cienega's Isiah Marrujo by pin in 4:30]
• 170 POUNDS
Daniel Medevielle, Bradshaw Mountain: In the first round, the third-seeded Medevielle defeated Sierra Linda's Regginald High by pin (4:14); in the quarterfinals, lost by decision, 10-0, to Williams Field's Shavez Hawkins. [Eliminated by Verrado's Spencer Nicholls by pin in 2:20]
Friday, Feb. 10 - DIVISION III
CHAMPIONSHIPS
• 138 POUNDS
Keller Rock, Chino Valley: In the first round, the second-seeded Rock defeated Walden Grove's Conrado Medina by pin (24 seconds); in the quarterfinals, he defeated Peoria's Bak Reyak by pin (1:24); in the semifinals, he defeated Yuma's Alfonso Porchas by decision, 4-0. [Rock wins state championship by pin in 3:10 over top-seeded Dysart's Jacob Rios]
• 195 POUNDS
Jon Dwyer, Prescott: In the first round, the second-seeded Dwyer defeated Pueblo Magnet's Omar Ibanez by pin (1:37); in the quarterfinals, he defeated Marcos de Niza's Edward Hercel by decision, 9-3; in the semifinals, he defeated third-seeded Salpointe Catholic's Brian Corrales, 10-3. [Dwyer wins state championship by decision, 8-6, over top-seeded Thunderbird's Eric Mickelson]
CONSOLATIONS
• HEAVYWEIGHT
Gavin Nelson, Prescott: In the first round, defeated Buckeye Union's Patrick Quiver by pin (3:21); in the quarterfinals, lost to top-seeded Monument Valley's Malik Clark by pin (43 seconds); in the consolations, defeated Sunrise Mountain's Jake Wagner by pin (1:49). [Nelson eliminated by third-seeded Marcos de Niza's Hamza Manassra by pin in 3:48]