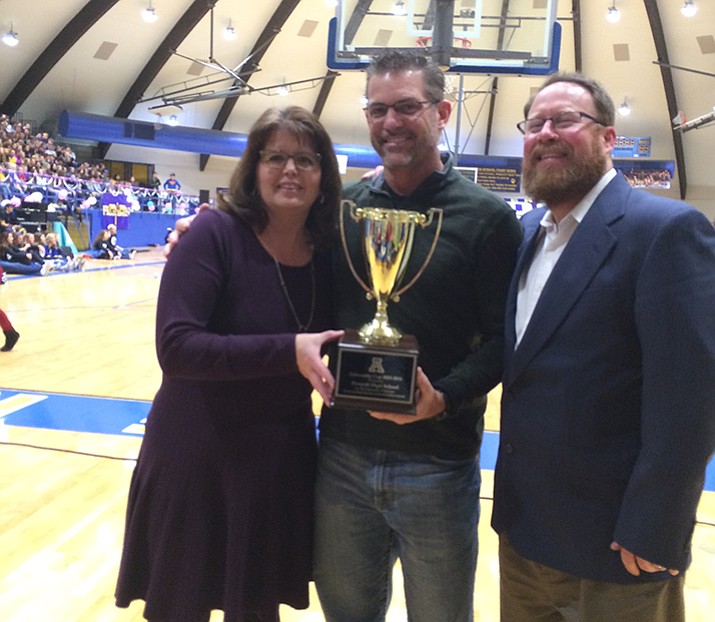 Photo by Nanci Hutson.
Originally Published: February 9, 2017 5:58 a.m.
PRESCOTT – Attendance at a lively Prescott High School pep rally on Friday proved a refreshing reminder to school district administrators and elected leader about why they do what they do.
After the dance team and cheerleaders warmed up the crowd with some 1960s pop tunes and the routine from Michael Jackson's "Thriller," University of Arizona Senior Admissions Counselor Ruben Fierros walked out to center court in the gymnasium to announce Prescott High School's selection for a prestigious honor: the University Cup.
Of this state's high schools who sent 20 or more of their graduates to the University of Arizona in the fall of 2015 Prescott High School's 23 entering freshman, now sophomores, boasted the highest grade average of any of those groups of students: 3.7 on a 4.0 scale.
"I don't know that there is a better way to measure our district than to see the result of our freshman class at the University of Arizona," declared Greg Mengarelli, president of the Prescott Unified School District Governing Board. "This award says that PUSD is doing an amazing job of preparing its students for college."
This award stands as proof that PUSD graduates "have the right stuff," said a visibly proud district Superintendent Joe Howard.
The Governing Board attended the presentation between sessions of its annual all-day retreat where members were deliberating on everything from how to afford 2 percent raises for faculty and staff next year to adding new advanced placement and honors courses for Prescott High School students. They also spent some time watching a group of 150 students from across the state participate in a math competition, with Granite Mountain School students emerging as the first place victors.
New Chief Financial officer Brian Moore opened the retreat with talk of budget for next year, the first time that Prescott Unified will be budgeting based on current year funding. To that end, Moore said the district's budget will be rooted in a district population of about 3,850 students, about 10 more students than the district officially recorded last year. In those numbers, however, will be a reduction in tuition students from about 55 to 50 and a shift in some of the special education students that will reduce some of the dollars the district received for those services this year despite the reality that the special education numbers are likely to rise in the next year. The minimum wage increase will inflate the budget by about $81,000.
Moore and other district administrators said they cannot now predict how much additional funding the state Legislature will give to local districts, so at this time he is predicting only about $31,000 more in revenue despite certain increases that cannot be avoided, such as insurance premium costs.
District leaders would like to offer teachers, administrators and classified staff salary increases of 2 percent or slightly higher. If that was to happen, Moore predicted that would cost the district an additional $317,795.
As happens each year, Superintendent Joe Howard said the board will have some tough choices to make with its dollars, but he has high hopes that at least some salary increase can be granted so the district at least remains a competitor for faculty and staff.
At least one board member, Tina Seeley, said she would be reluctant to increase salaries if that was to mean a reduction in other academic programs or big increases in class sizes.
"We're being very conservative," Howard advised. "I'm confident we're good at this work. We've had harder years. I think we can make reductions to make salary increases possible. We will find efficiencies … In the end, we will win the game."
More like this story