Originally Published: February 4, 2017 6:01 a.m.
During conversations with the public, the Citizens Water Advocacy Group (CWAG) frequently hears opposing opinions about our position on population growth: either that we "are 'no-growthers' trying to lock a gate across the highway into town" or that we are blind to the threat of growth and that we should lock the gate.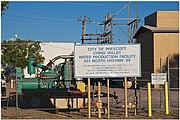 We aren't no-growth and we aren't blind. Our official position states our goal: achieve a sustainable water supply – CWAG neither favors nor opposes growth. CWAG recognizes that growth is intimately connected to water, energy, and resource use. Managing that connectedness is complicated, but local government needs to do a better job.
How could we manage growth? Conduct a lottery to see who has to leave? Ridiculous. Could government further restrict building through zoning? That's risky, because the Private Property Rights Protection Act (aka Prop 207) may create unmanageable legal liability. Could we become less attractive to newcomers? Potential newcomers compare our area with others, considering quality of life, educational and medical resources, climate, costs of living, transportation, and more. We don't have a "control knob" for these qualities, especially for other regions, and we certainly don't want to diminish our quality of life so newcomers won't find us attractive. 
Politically, growth management is especially difficult because the development industry and elected officials typically believe, "If you don't grow, you die," despite the obvious fact that continuous growth is a physical impossibility resembling the strategy of a cancer cell. Eventually we must transition from growth based largely on resource consumption to sustainable economic growth that preserves our quality-of-life.
CWAG's direct concern is total water use, which equals population multiplied by per capita water use. Water conservation is the easiest, cheapest, and fastest strategy to control water use. It has enormous growth potential. 
Currently, water conservation efforts by local governments are embryonic. All of Yavapai County uses the WaterSmart educational materials, but these voluntary suggestions achieve only minor water use reductions. Prescott Valley and Chino Valley provide no incentives to conserve except for modest increasing block rate structures (the higher the usage, the higher the rate). Prescott has the best conservation program, offering incentives for replacing turf or toilets, etc. and a relatively steep increasing rate. 
All our local governments can do much better on water conservation. We need effective controls on landscape irrigation, which consumes about one-third of the total groundwater pumped. Water applied to landscapes evaporates and is not recycled. Strong rainwater harvesting incentives would be helpful. All our cities should strengthen conservation incentives, especially for rainwater harvesting. Yavapai County should provide water conservation incentives for domestic wells. Governments should coordinate policies through a management district; otherwise one city could adopt weak regulations to gain a competitive advantage.
The Arizona Department of Water Resources (ADWR) calculates that in 2014 our groundwater overdraft (pumping in excess of natural recharge) was 18,000 acre-feet per year (afy). At our current 1.3 percent growth rate and present water consumption rate, the estimated groundwater overdraft would grow to 30,000 afy by 2050. However, if aggressive water conservation reduced per capita consumption by two-thirds (we know many local homes use much less), the estimated 2050 overdraft would be about 12,000 afy – a much smaller problem to solve.
Official population projections from the Arizona Department of Administration project approximately 1.3 percent growth per year through 2050. The development community tells CWAG that they want a 2.5 percent annual growth rate. Applying these two visions of growth for the Prescott Active Management Area (121,000 in 2012), the population by 2050 will grow to 198,000 at 1.3 percent growth or to 309,000 at 2.5 percent. The higher growth rate results in 111,000 more people consuming groundwater – a much bigger problem to solve.
Water conservation combined with reasonable growth will reduce demand and buy time – significant potential benefits. However, neither has yet been seriously considered by cities and ADWR. Currently, officials primarily plan to increase supply by importing water or desalination while ignoring the roles of growth and water conservation. 
To get started, governments need to resume regional water resource planning and to conduct a comprehensive analysis, with public participation, of all water resource alternatives including importation, aggressive conservation, direct potable reuse, stormwater recharge, and rainwater harvesting. And, governments should link development to sustainable water resources.
Neither the Feds nor ADWR will help – we're on our own and we'd better get busy looking out for our future.
City of Prescott Water Resource Manager Leslie Graser explains Prescott's water portfolio Feb. 11. Details at www.cwagaz.org.
Gary Beverly chairs the CWAG Education/Policy Committee and is a retired business owner working to protect the Verde River.