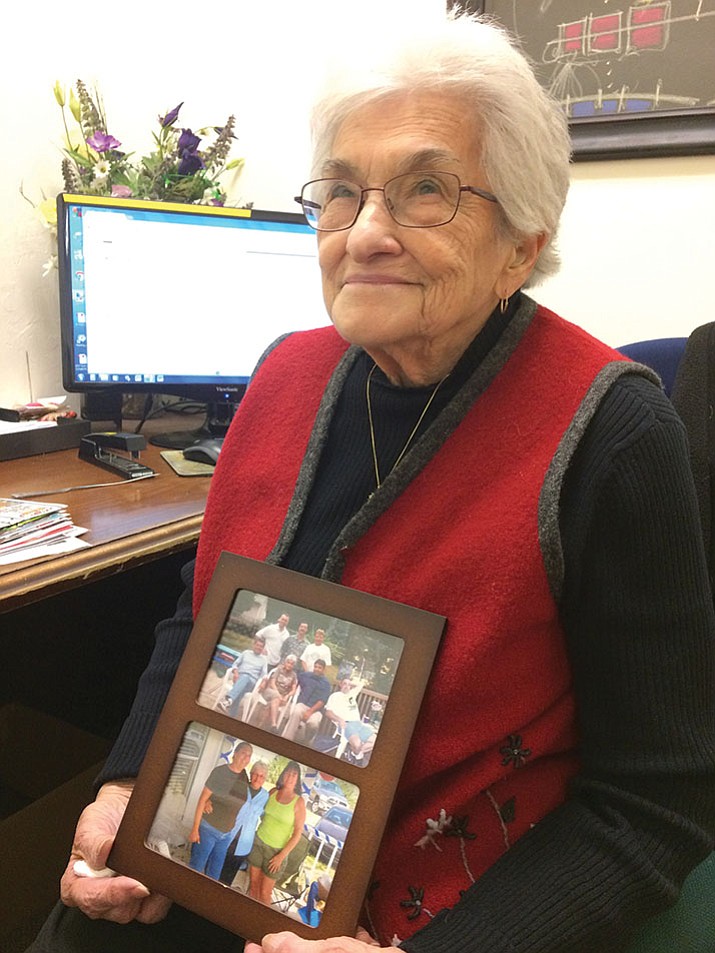 Originally Published: December 31, 2017 6:01 a.m.
What Jacqueline Tobin has acquired over the course of more than three decades working at the Prescott Chamber of Commerce is knowledge.
She can advise you on everything from the best places to eat, the avant-garde places to shop, the best festivals and fairs to attend, even where to buy the best bird seed.
Ask her about anything related to Prescott, even if she can't recite it off the top of her head, she will find out the answer and share the information with whomever wants to know.
A petite woman from Staten Island, New York, with a quick smile and kind demeanor, the 86-year-old mother of six sons and two daughters, grandmother of 20 and great-grandmother of nine has long been considered one of the Chamber's secret weapons.
The 33-year membership services director has an unflappable demeanor and over the years has become an invaluable resource to businesses, newcomers and even long-time residents who might want to glean some city history.
She admits she's starting to slow down a bit; health issues are stealing a bit of her vim and vigor. So she has opted to retire much to the chagrin of her Chamber of Commerce colleagues; Dec. 27 was her last official day.
"To me, she's been a friend, a teacher and a great example at the Chamber," said volunteer Kati Kelly. "We hope she comes back as a volunteer."
Tobin's work with the Chamber started three years after her arrival with husband, Tom, a retired New York City firefighter, to Prescott. The one-time private school secretary volunteered at the Chamber for one year. She was then offered a full-time position as an executive secretary that later evolved into the membership and billing position.
Tobin's husband, too, was active in the community as the founder of a senior softball team. Each spring, her husband's team honors his memory with a Senior Softball Tournament.
When she first started at the Chamber, Tobin said she did all her work on a typewriter. Once computers came into play, she was required to make the switch in a learn-as-you-go fashion.
Over the intervening years, Tobin said she learned on her own how to operate six different software programs. She has worked for four chief executive officers.
Tobin's greatest boast is that in all her years, and thousands of conversations with members or people asking for information, she recalls only two rude callers.
Retirement
On Dec. 19, the Chamber hosted a retirement open house.
She said she was stunned when at times the office was wall-to-wall people coming to offer thanks and well wishes. The treat of the event, one that brought tears to her eyes, was the presentation of a "Jacquie Tobin Day" Certificate of Recognition signed by Mayor Greg Mengarelli.
"I never expected anything," Tobin said. "I just did the job the best I could and tried to be nice to people. The Chamber's role is to be a guide to businesses, tourists, visitors, newcomers and residents and to do that people need to be treated as though they are important ... because they are important to the organization."
Her life mantra is all about giving back to others.
"I just feel you have to give back to the community; even if you're not paid, you're committed," Tobin said.
In her 37 years in Prescott, Tobin has delivered Meals on Wheels, donated time to the Prescott Shelter Services, been active with the Parent-Teacher Organization, and remains a regular volunteer at Sacred Heart Roman Catholic Church and the Yavapai Regional Medical Center where she is one of the front desk receptionists. She intends to continue her volunteer work, and intends to start taking art classes at Yavapai College.
"I like to feel a sense of contribution, or accomplishing something," Tobin said.
Tobin's youngest son, Yavapai College Detective James Tobin, described his mother as a "force of nature."
Never one to rest on her laurels, or whine about her aches and pains, he said his mother is like the "Energizer Bunny."
"She's not the type of person to retire, sit back and kick up her feet. She has to keep going," he concluded. "It's inspiring."