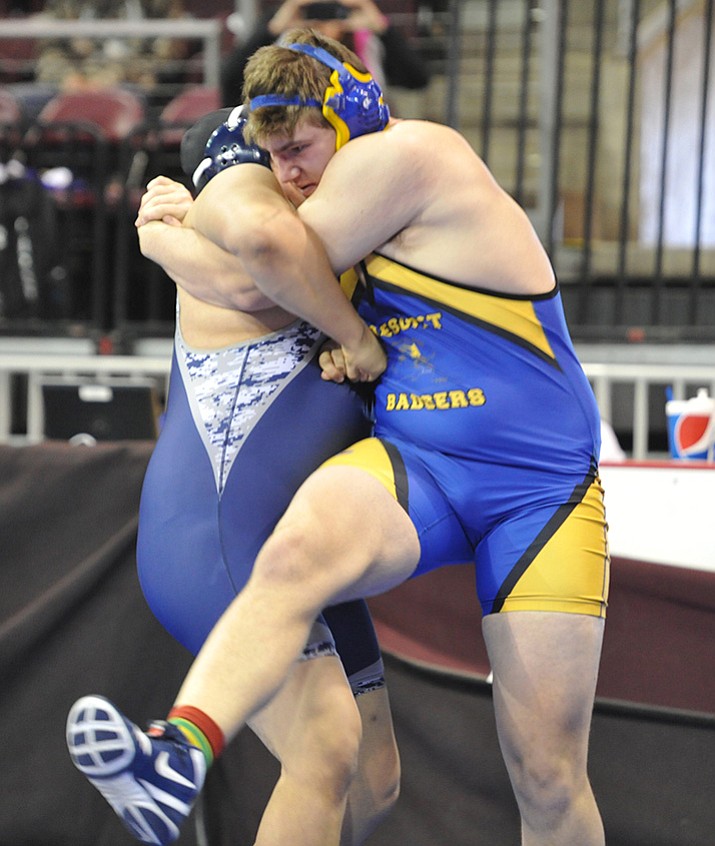 Originally Published: December 31, 2017 6:05 a.m.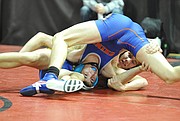 Photo Gallery
2017 Mile High Challenge Wrestling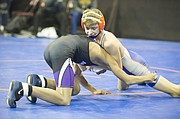 Highlights from the 2017 Mile High Challenge Wrestling Tournament at the Prescott Valley Event Center.
Prescott senior Gavin Nelson placed second at heavyweight on the second and final day of the Mile High Challenge wrestling tournament Saturday night, as he was pinned by fourth-seeded Chandler Hamilton's Ian Torrez in the championship bout.
Nelson fell 3 minutes and 16 seconds into the showdown at Prescott Valley Event Center, but Badgers coach Max Payne said Nelson gave a valiant effort in the first and second periods. Nelson reached the title round thanks to three wins by pin in the winners' bracket on Friday and Saturday. The winner of each weight class at the Challenge received a custom-made belt buckle.
"He did a very good job, and in the finals, of course we would have loved for him to win," Payne added about Nelson, whose overall record now stands at 38-16. "He had the guy [Torrez] in a cradle and was bringing him to his back. He rushed it a little bit, and the guy slipped out.
"If Gavin would have made it into the third [period], he would have been victorious. I am very excited for the rest of the season for Gavin."
Also in the medal rounds, Prescott 152-pounder Koby Coates placed fifth, pinning Ironwood Ridge's Avery Parker in a mere 27 seconds.
"Congratulations to Koby Coates on getting fifth place as a sophomore," Payne said.
As a team, Prescott finished in 11th place out of 28 squads at the sixth annual Challenge, which is conducted at the same site as the Arizona Interscholastic Association's (AIA) state championships in February. Tucson Sunnyside won the tournament with 308 total points, well ahead of runner-up Show Low and its 193.5 points.
"The team wrestled OK this tournament with a lot of good competition," Payne said. "It exposed some of our weak areas that we can improve on. We still have to go to more big tournaments before sectionals and state, and we plan to capitalize on any small mistakes we made."
Other local results
For Chino Valley, 120-pounder Wade Payne placed fifth with a narrow 6-5 victory over Gilbert Campo Verde's Noah Wasserbeck. As a team, the Cougars finished in 20th place.
For Bradshaw Mountain, the Bears failed to qualify any of its wrestlers for the medal rounds and finished 23rd in the team standings.
Mile High Challenge Wrestling Tournament
Top 5 Final Team Standings
PLACE TEAM POINTS
1 Sunnyside 308.0
2 Show Low 193.5
3 Mar. Mtn. View 191.0
4 Liberty 181.5
5 Hamilton 144.0
---
11 PRESCOTT 79.0
17 Mingus Union 59.0
20 CHINO VALLEY 44.0
23 BRADSHAW MTN. 32.5
UP NEXT
Prescott will wrestle in the Holbrook Duals Wednesday, Jan. 10, in Holbrook.
The Bears are scheduled to play host to the Bradshaw Mountain Multiple at 4 p.m. Thursday, Jan. 11, at Gary Kunow Gym in Prescott Valley.
The Cougars are slated to play host to the Chino Valley Multiple at 3 p.m. Wednesday, Jan. 10, at their main gym on campus.