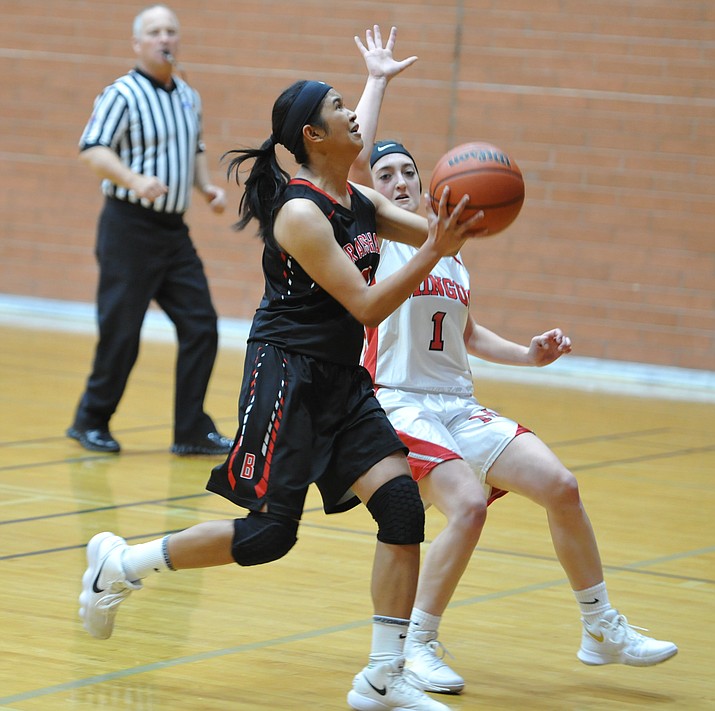 Photo by Les Stukenberg.

Originally Published: December 31, 2017 6 a.m.
Bradshaw Mountain's girls' basketball team placed third at the annual Prescott Lady Badgers Winter Classic on Saturday night, falling to 5A Marana Mountain View, 47-32, in the winners' bracket semifinals before besting Valley Lutheran, 52-37, in their tourney final.
The Bears finished the Winter Classic at Prescott High School with a 3-1 record. They beat Mingus Union (42-33) and Prescott (38-33) to open the event Friday before suffering the Mountain View loss and posting the Valley Lutheran victory Saturday.
Mica Nellis scored a team-best 18 points for the Bears over Valley Lutheran in the auxiliary gym. Payton Bradshaw and Jessycca Cambalon added seven points apiece.
In the semifinal at Prescott's dome gym, Mountain View starting junior post Grace Halaufia, an off-season transfer from rival Marana, scored a game-high 13 points and pulled down eight rebounds to lead the 5A Mountain Lions, who snapped the 4A Bears' four-game winning streak.
Halaufia netted nine of her 13 points in the tide-turning fourth period, one in which Mountain View outscored Bradshaw Mountain 22-11 after clinging to a 25-21 lead at the end of the third quarter.
"It was a lot about us kind of realizing that we have a chance and us really putting 100 percent effort into the whole game," Halaufia said. "Because in aspects of the first through third quarters, we played great defense, and then on offense we didn't really convert. The difference was focusing and finishing shots, and offensive effort."
Halaufia made her first tournament appearance after sitting out due to the transfer.
Photo Gallery
BMHS vs Mingus Girls Hoops 122917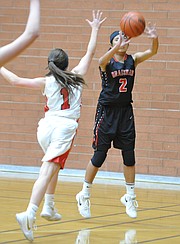 "We are obviously very blessed that we have her," Mountain View coach Niki Melchiori said of the aggressive 6-foot-2 Halaufia. "She's a big body. She works really hard, and it's not even just about the offense. She's definitely a defensive presence, and it's just given all of our kids a lot more confidence."
Bradshaw Mountain coach Rick Haltom said the Bears' 20-plus turnovers hindered his girls versus Mountain View.
"We had to focus on that big girl, and we had to double [team] her a lot," he added. "And when she kicked it out, we'd run at somebody and then we'd have to commit a foul or we'd be out of position. And when we got on offense, we were trying to rush things, and so that causes turnovers."
Mountain View got off to a tough start to the season, compiling a 2-7 record in power-point games. In this tournament, however, the Mountain Lions rattled off three consecutive victories to reach the championship contest against Yuma Cibola. (The final score for the title game wasn't immediately available at press time.)
Junior shooting guard Zaryna Urbina added nine points and four assists for the Mountain Lions. She scored seven of her points in the final frame. Guards Rylee Hernandez and Jordy Vanderwerf tallied eight points each. Vanderwerf had five rebounds, too.
Bradshaw Mountain, which converted only six field goals for the contest, drained 19 of 30 free throws to keep the game close until Mountain View pulled away behind Halaufia and Urbina in the fourth. The Mountain Lions converted 16 field goals, but they registered just 14 of 30 from the charity stripe, including 8 of 17 in the final 8 minutes of regulation.
The Bears were led by point guard Mica Nellis' eight points, all of which came from the line (8 for 10). Center Delanie Clark, wing Payton Bradshaw and guard Jessycca Cambalon notched six points apiece.
"Not that they did anything spectacular – something changed [in the fourth period]," Payton said of her Bears. "Suddenly, we kind of got panicked, because the time was gone and the score was different. We know how to handle pressure situations."
Added Clark, "Our shots weren't falling, which dug us in a deeper hole. We had a lot of good looks, a lot of good shots on basket."
Clark and Bradshaw added six rebounds each. Rylee Bundrick (four points, eight rebounds) and Sierra Woolley (two points, eight boards) aided in the effort for the Bears.
"I'm so proud – we played hard," Haltom said of his girls. "It's so encouraging when three coaches come up and say, 'I wish I could get my team to play as hard as yours.' They play super hard, and that's what we want."
Photo Gallery
PHS vs Wickenburg Girls Hoops 122917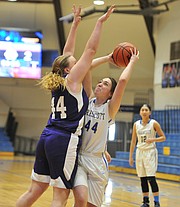 PRESCOTT
Prescott ended its tournament with a 2-2 record and claimed sixth place in the process after losing to Mesa Westwood, 40-35, in the fifth-place game Saturday afternoon in the dome.
For the tourney, the Lady Badgers posted wins over Wickenburg (45-20) and Phoenix South Mountain (49-30), and they suffered losses to rival Bradshaw Mountain (38-33) and the aforementioned Westwood.
Prescott coach Bobbi Yoder said her team has "got to finish" better on the offensive end as it enters the second half of the 2017-18 season in January. The Lady Badgers, who own a 2-6 record in power-point games, will continue on with their Grand Canyon region campaign when they host Bullhead City Mohave at 5:30 p.m. Tuesday, Jan. 9. Prescott's 0-4 in region play with eight region contests left.
UP NEXT
Bradshaw Mountain (8-7 overall record, 5-3 power-point record) resumes Grand Canyon region play when it faces Mohave at 5:30 p.m. Tuesday at Gary Kunow Gym in Prescott Valley. The Bears are 2-2 in region. The Thunderbirds are 0-4 (3-5 overall).