Originally Published: December 31, 2017 5:51 a.m.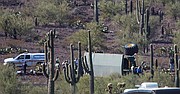 12 injured in truck rollover on Pinal County ostrich farm
PICACHO (AP) — Twelve people touring an ostrich farm in Pinal County were injured when the truck they were riding in rolled over.
Pinal County Sheriff's spokeswoman Navideh Forghani says the crash happened shortly after 11 a.m. Friday at the Rooster Cogburn Ostrich Ranch in Picacho.
Forghani says three of the injured, including the driver, were airlifted to a hospital.
Authorities did not yet know the cause or if anyone would face charges.
Calls to a number listed on the ranch's website went unanswered.
The ranch's "Monster Truck Tours" are described as 45-minute educational tours.
The four-wheeler trucks are wheelchair-accessible with babies allowed to sit toward the front. But the back is reserved for "thrill seekers."
The ranch is just off Interstate 10, about 75 miles (121 kilometers) southeast of Phoenix.
Grand Canyon imposes mandatory water conservation measures
GRAND CANYON NATIONAL PARK (AP) — Grand Canyon National Park has imposed mandatory water conservation measures due to a water pump failure.
With the pump inoperable, park officials say water is not flowing to the South Rim so conservation guidelines were implemented for all consumers on the South Rim, Desert View and Hermit's Rest.
Crews are expected to begin repair work next week.
Under the restrictions, all concession operations are required to switch to disposable dishes and utensils and alter menus to use less water for food preparation and dish washing.
The restrictions also call for serving drinking water at restaurants by request only and for lodging facilities to adopt low-water-use practices for the cleaning of rooms.
The park's utility system provides water to millions of visitors a year in addition to the 2,000 residents who live within the park.
Arizona man pleads guilty to intimidating flight crew
ALBUQUERQUE, N.M. (AP) — An Arizona man whose behavior aboard a flight earlier this year forced an emergency landing in New Mexico has pleaded guilty to charges that he assaulted and intimidated crew members and flight attendants.
Federal prosecutors say 55-year-old Robert Tomblin of Phoenix entered his plea during a hearing Friday in Albuquerque. Sentencing has yet to be scheduled.
The charges stem from an August flight between Roswell, New Mexico, and Phoenix.
According to court documents, a flight attendant reported to the captain that Tomblin, who was seated in an emergency exit row, appeared to be intoxicated and was acting belligerent.
Attendants asked him to move to another seat due to safety concerns but he refused.
Tomblin was accused of head-butting two police officers before being carried off the plane after the flight was diverted to Albuquerque.
Dirty air prompts no-burn restrictions for metro Phoenix
PHOENIX (AP) — Phoenix-area air-quality officials are prohibiting the burning of wood in residential fireplaces, outdoor fire pits and chimineas (chim-ih-NAY'-us) Saturday through Monday due to high levels of soot in the air.
Maricopa County on Friday declared the "no burn day" restrictions for the next three days as the Arizona Department of Environmental Quality issued a high pollution advisory for fine particular matter levels expected to exceed the federal health standard.
Bob Huhn of the county air quality department says New Year's Day could see air quality reach a "very unhealthy category." The reasons pollution levels are expected to be higher are because of the holiday season. According to Huhn, there has been no wind to clear out smoke still lingering from fires lit during the Christmas holidays. Also, fireworks to ring in the new year can contribute to pollution.
Health officials are advising employers to activate plans to reduce travel and for the general public to limit outdoor activity and drive as little as possible.
Officials say people with heart or lung diseases, older adults and children are most likely to be affected by particle pollution.
Agency: Changes intended to help protect vulnerable adults
PHOENIX (AP) — Arizona's social-service agency responsible for protecting vulnerable adults from maltreatment says it's strengthening its policies and expects the changes will allow it to investigate more cases involving allegations of abuse, neglect or exploitation.
The Department of Economic Security says it's changing its intake procedures to eliminate a question that screened out some cases from being investigated and that it'll use the revised policy to review information and referral reports that it received previously.
Other changes announced Friday involve setting new thresholds for accepting a report and enhancing training curriculum.
DES Director Michael Trailor says the policy changes reflect the agency's responsibility to do all it can "to care for individuals and families in need."