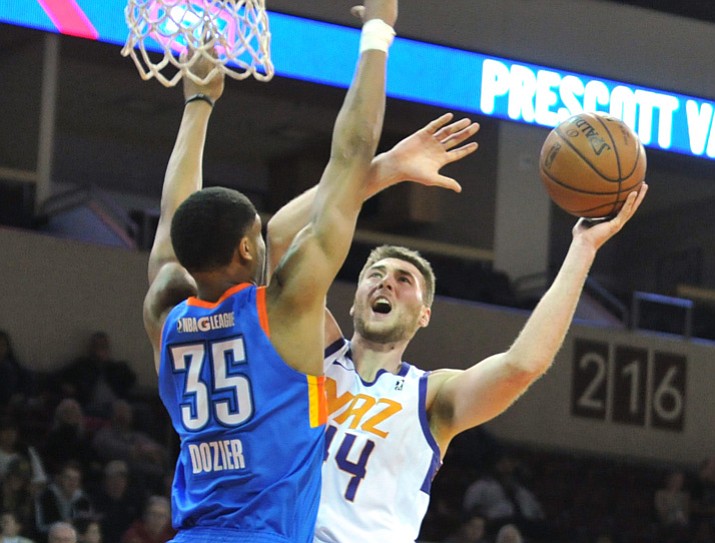 Originally Published: December 29, 2017 6:05 a.m.
EDITOR'S NOTE: Every Friday in the sports section of The Daily Courier we'll feature a player for the Northern Arizona Suns. Find other features online at dCourier.com.
Despite growing up with parents and uncles who played college basketball, Northern Arizona Suns center Eric Stuteville began his childhood enamored more with music than hoops.
Stuteville [pronounced STU-dih-ville] performed on trumpet for six years in elementary school in his native Orangeville, California, before basketball absorbed his full attention.
Another factor had held him back from the game, however.
"Believe it or not, I was a short, little, chunky kid," Stuteville said. "When I say chunky, you're probably thinking a little bit chunky. Nah. I was a BIG kid, from 4 [years old] until freshman year of high school."
Stuteville didn't play organized basketball until his freshman year at Casa Roble High School in Orangeville, making the team "only because we had like six people. I was terrible."
The summer between his freshman and sophomore years, Stuteville grew 6 inches, from 6-foot-1 to 6-foot-7. He worked out with a trainer and practiced religiously.
Stuteville transitioned from JV to varsity as a sophomore, and he started his junior and senior seasons. In 2012, he joined the NorCal Pharaohs, an AAU team. Stuteville played well at AAU Exposure tournaments, which college coaches scouted.
He garnered first team all-league and all-metro accolades as a senior, leading Casa Roble in scoring (21.7 points per game) and rebounding (12.3 boards per contest) en route to a 23-9 record and a berth in the California Interscholastic Federation (CIF) Division III State Championships. Stuteville signed early with Sacramento State.
Today, the 6-foot-11, 250-pound Stuteville's in his rookie season with Northern Arizona. He's averaging 3.6 points and 2.1 rebounds in 11 minutes per game as a reserve, shooting 52 percent from the field in 18 contests. Northern Arizona (7-12), on a three-game losing streak and in last place in the NBA Gatorade League's Western Conference Pacific Division, visits the Sioux Falls Skyforce (8-12) tonight at 6 in South Dakota.
If anything, Stuteville's beaten the odds stacked against him.
"It's very rare. A lot of people [in the pros] have been playing since they were 6 or 7 years old," Northern Arizona guard Shaq Harrison said of Stuteville's rise. "You just can't do it overnight. So, it's honestly amazing to think that he started as a sophomore in high school to play basketball."
UP TO SPEED?
Stuteville notes that G League play is more physical and faster than college. It's a no-brainer. But he mentions it because post players must use their superior height and length to compensate for moving slower. Stuteville also knows the Suns' playbook well.
"My first games that I got to play in, I didn't get so many minutes, so it was kind of hard to adjust and kind of hard to get a flow," Stuteville said. "But over the last five to 10 games, I've gotten to play a little bit more and I've gotten a better flow. Half the battle is being at the right spot at this level."
The Suns selected Stuteville, 22, with the No. 1 overall pick in the 2017 G League draft. He spent four seasons, from 2013-17, at Sacramento State, an NCAA Division I mid-major. With the Hornets, Stuteville became the first center in program history to score 1,000 career points (1,013 total).
First-year Northern Arizona coach Cody Toppert said Stuteville's counted on to execute the pick-and-roll in his high-octane offense, setting as many as two or three screens per possession. But Stuteville's "made his biggest improvement" defensively, Toppert added.
"Eric has brought a true professional mentality to the game," Toppert said. "He's giving max effort the entire time he's on the floor. Size is an ever-important factor in terms of being able to play. But on top of that, he's got a great mentality that's focused on improvement daily."
After shoot-arounds, Stuteville works with Northern Arizona assistant coach Earl Barron on his finishes around the rim and expanding his shooting range.
"He's shown improvement from the beginning of the season, in training camp, to seeing him learn the system and come under a new coach and learn the stuff that Cody's been doing," Northern Arizona rookie forward Alec Peters said. "He's been really simplified in what he's been asked to do, and he's embraced it and he's really starting to lock in and show it out there on the floor."
ADJUSTING, WITH SUPPORT
Eric's younger brother, Mason, also a former star at Casa Roble, starts at center for Park University, a NAIA program in Parkville, Missouri. Mason's a 6-foot-11, 235-pound senior who will likely try to play pro ball, too.
"My brother's my best friend, so I talk to my brother almost every day or every other day," Eric said. "If I jump on a call with him or Facetime him, I'm usually on there for an hour and a half. He's probably one of the two people in the world that really understand me and what I'm going through. We've been through the same stuff together."
The Stutevilles' father, Shannon, played basketball for NAIA Langston University in Oklahoma. Their mother, Kristine, suited up for Cal-Berkeley. Their uncles, Mike and Andy, played at Cal Poly-San Luis Obispo and Pacific, respectively. Eric said getting accustomed to the pro lifestyle and Prescott Valley's mile-high altitude, and eating and sleeping right, are among the biggest adjustments he's made this year.
"Here, we'll play one day and then the next day we either travel or we come in and have a light day, watch film, maybe get some shots up," he added. "It's very light, because we're playing three or four games a week."
During the Suns team's recent visit to a local school, a key statistic on basketball players came up in conversation.
"The odds of kids going from high school to [NCAA] Division I is less than 1 percent," Stuteville said. "And then, from there, it's even less [than 1 percent] getting to play professionally, whether it be here, overseas or in the NBA.
"It's a blessing, and it's an opportunity that most people would kill for. You have to take that for what it's worth and then put in everything that you have toward it to get to your goals and your achievements that you want."
Doug Cook is a sports reporter for The Daily Courier. Follow him on Twitter at @dougout_dc. Email him at dcook@prescottaz.com or call 928-445-3333, ext. 2039.