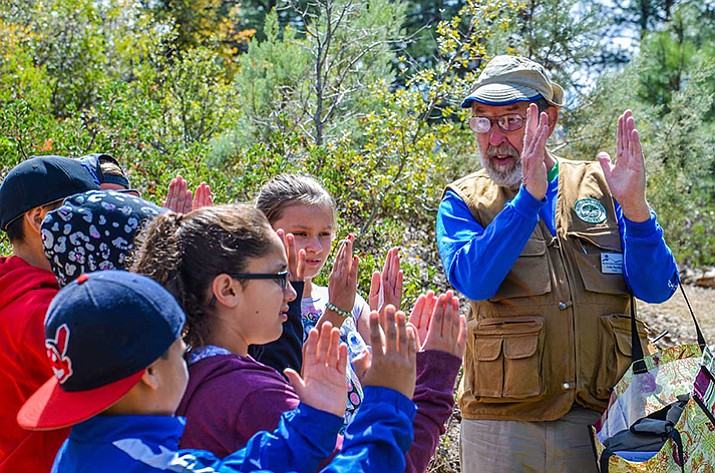 Originally Published: December 29, 2017 5:52 a.m.
Looking for something to do in the new year? Come volunteer with the Highlands Center family!
The Highlands Volunteer Fair will be from 9 a.m. to noon Saturday, Jan. 13, at the Highlands Center, 1375 S. Walker Road, Prescott.
Meet with current volunteers and staff to learn how your interests and talents can match our mission to bring the wonders of nature to children and adults.
All are welcome to come hear about the variety of volunteer opportunities available the Highland Center for Natural History and what might be a good fit for your interests and talents. Coffee and light refreshments will be served.
"The chance to share the beauty of the woodlands and chaparral is such a joy!" said Dave Deville, volunteer.
Opportunities include: 
• Naturalists for the Discovery Gardens; 
• Docents to lead school field trips; 
• Greeters for the nature store; 
• Help with educational and fundraising events;
• Gardeners to assist in the schoolyard habitat program; 
• Help with office administrative tasks; and, 
• Grounds and maintenance volunteers to help maintain trails and work on other handy projects, as needed.
"I get to share my new found knowledge — all while spending time in an exceptionally beautiful and serene natural setting. What a lovely way to be close to nature," said Helen Berger, volunteer.
Formed in 1996, the Highlands Center for Natural History is a non-profit organization developed to foster an appreciation for and knowledge of the natural wonders of the Central Highlands of Arizona.
Operating on an 80-acre campus near Lynx Lake through a Special Use Permit with Prescott National Forest, the Highlands Center is a regional hub for lifelong learning, designed to invite discovery of the wonders of nature through on- and off-site programs, supported by contributions from individuals, corporations, foundations and community partners. 
Visithighlandscenter.org for more information.
Information provided by the Highlands Center.