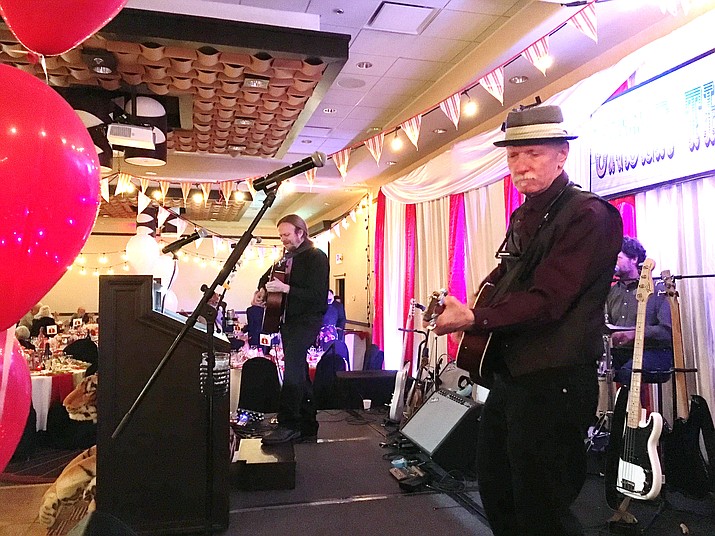 Photo by Ken Sain.
Originally Published: December 28, 2017 10:04 p.m.
Kudos Nightlife Calendar listings for Dec. 28-Jan. 7:
(Updated Dec. 28 @ 6 p.m.)
Friday, Dec. 29
'50s DINER & BACKSEAT BAR: Bud Tyndale, 6
BIRD CAGE SALOON: The Chilly Lopez Band, 9
DRY GULCH: Denny Kuller, 5
EL GATO AZUL: TBA
FAR FROM FOLSOM: The CheekTones, 8
GRANITE MTN. BREWING: Parker Smith & Friends, 7:30
HASSAYAMPA INN: Ed Cornett, 7
JACKASS BAR: Krazy Rayz Karaoke, 9:30
JERSEY LILLY SALOON: Little Larry & The Drive, 8
J.J.'s SALOON: Karaoke w/Paul, 8:30
MATT'S SALOON: Brandon Wild, 8:45
PALACE RESTAURANT & SALOON: Danny Romero, 5
PRESCOTT PUBLIC HOUSE: Live & local music, 6
RAVEN CAFÉ: Cross-Eyed Possum, 7
SIDEKICKS SALOON: live music
SPIRIT ROOM: Dog of the Moon, 1
TAJ MAHAL: Dave Holt, 6
THUMB BUTTE DISTILLERY: R.D. Olson Band, 6
TONY'S TOO: Voodoo Cult, C-28, and Test, 8
WHISKEY ROW PUB: House DJ, 10
WILLOW CREEK INN: Ping Brothers, 5:30
WINDSOCK: Sky Daddy's 99 Years Johnny Cash Tribute
For the FULL Nightlife calendar, CLICK HERE!