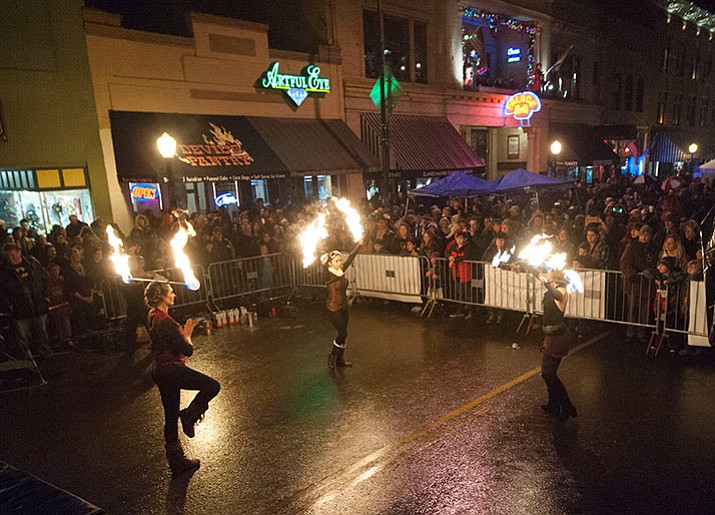 Originally Published: December 28, 2017 5:58 a.m.
The goal when the Whiskey Row Boot Drop began seven years ago was for it to grow a little each year. Last year, people who gathered to welcome in 2017 saw a Ferris wheel at the event for the first time.
This year, M&M Entertainment & Productions is adding carnival games and former "X-Factor" star Drew Ryniewicz of Chino Valley is scheduled to perform.
But of course the main event of the evening is when a 6-foot tall lighted boot drops down the flagpole of the Palace Saloon.
"Instead of dropping the crystal ball, we drop the boot," said Marco Espitia, co-founder of M&M. "I think it's a great, safe place for families to come and ring in the New Year."
The fun starts at 8 p.m., Sunday, Dec. 31 and continues through 12:30 a.m., Monday, Jan. 1. The boot drops twice, first at 10 p.m. when New York welcomes in 2018, and then again at midnight when the new year reaches Arizona.
Another new event this year is Pistol Pete's Shooting Gallery.
They've wanted one for the past few years, but it didn't work out until this year, said Matt Brassard, the other co-founder of M&M. A shooting gallery gives people something else for them to do and enjoy while waiting for the boot to drop, he said.
"(It) kind of goes with the theme of western cowboy boot," Brassard said. "We just continue to try to grow a little bit year after year."
Brought to its current position on the roof of The Palace Saloon and Jersey Lily Saloon on Thursday morning, Dec. 28, the boot has more than 1,000 LED lights and can flash all kinds of different ways thanks to a remote, Brassard said. It was created six years ago by Stephan Markov of Morgan Signs, according to a news release from Tracey Horn from Helken & Horn Advertising Agency.
The Whiskey Row Boot Drop takes months and months of planning to get all the vendors and fireworks set up and making sure they have the support of local businesses to keep the event free, he said. It's all worth it for him and Espitia to see families enjoying themselves, Brassard said.
"It's become a family tradition for a lot [of people] in Prescott," he said. "We want to see it continue on and continue on in the right way, keep it family friendly and hometown kind of feel and not commercialized."