Originally Published: December 28, 2017 6:01 a.m.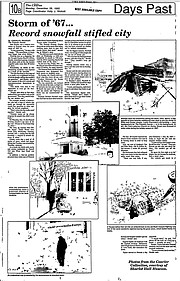 Snow boots, ski jackets and wool scarves are safe in the closets of most Arizonans this Christmas season.
Not so, the December of 1967. That Christmas season the city was covered by more than 30 inches of snow, at least 18 inches falling between the evening of Dec. 12 and the morning of Dec. 14, according to The Prescott Evening Courier, a predecessor of The Daily Courier. The storm and its aftermath kept the city in a white shambles off-and-on through New Year's Eve, stories said.
Jane Orr remembers her husband, Jack, a Prescott native and 30-year, now-retired math teacher at Prescott High School, struggling to back their then-1965 Pontiac with no traction down the driveway of the Sandia Drive home where the two Prescott High graduates have lived for 52 years.
On the first day of the full-on blizzard, Orr said her husband's efforts "immediately got it stuck."
"It sat in the road for 10 days, just a big hump in the road as snow just came on coming," Orr said.
With no snow-worthy vehicles, and a year-old baby, Melissa, they were stranded, Orr said. After a couple days, Orr's father, Jack Sr., came to the rescue with a four-wheel drive truck he parked a couple blocks from the house.
The young family then trudged uphill through three-feet of wet, heavy snow, loaded down with Christmas presents, clothes, a playpen and high chair. At the time, Jack Orr was suffering with an injured leg that prevented him from bending his knee, forcing him to swing his leg sideways through the snow.
"It was kind of crazy … it's still seared in my head," she said.
Impact of 1967 storm
For the next 10 days — the storm raged on and off for three weeks — the Orrs stayed with Jack's parents, Jack and Margaret Orr, on Iron Springs Road. On the third day of their stay, the television cable malfunctioned.
"We played a lot of board games," Orr said of the intervals between making and eating meals and shoveling roofs and driveways. "Everybody got a little stir crazy."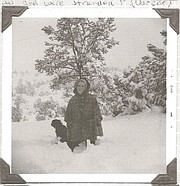 Jane Orr's father, Doug Von Gausig, owned the Western Auto Store on Whiskey Row at the crosswalk across from the courthouse plaza. Three days into the storm, the front roof of the business caved in near the front sidewalk. Though a devastating blow to the business, Orr said the one saving grace was that the back portion of the store where her father kept customers' toy layaway purchases stayed dry. She remembers she and her sister, Linda Turner, helped her father relocate to a space at what is now El Charro restaurant and worked daily up through Christmas to be certain customers were able to pick up their presents.
"It was kind of a crazy Christmas that year," Orr said.
More memories
Elisabeth Ruffner recalls the snowstorm as one that dumped six feet of snow on the curving driveway of their then-home located about 300 feet higher than the courthouse plaza, south of Copper Basin Road.
Their children joined neighbors to shovel out a foot-wide path to allow the family to walk up and down to Barranca Drive to reach Copper Basin Road "where cars were parked as close as we could manage in snow much deeper than lower toward town," she wrote in a recollection.
She said her daughter, Rebecca Ruffner, who was home on college break at the time, remembers trudging up their hill with the Christmas gift she had gone downtown to buy for her father, Budge — a turntable and speakers — hoisted above her head with snow stacked even a foot higher.
As for Ruffner, she remembers falling face first into the snow, her arms pinned underneath her, as she headed out one afternoon to meet her husband for a trip to Tucson. He needed to pick up a replacement truck for the Ruffner Funeral Home ambulance service. She said she was carrying an overnight bag and a pair of her husband's cowboy boots when she lost her footing on a slippery slope.
"It took several of those strong young men to right me on that narrow path, so I could regain my foothold and continue down the steep driveway to the truck waiting several hundred feet down Barranca Drive," Ruffner said.
Yavapai County Schools Superintendent Tim Carter, an Arizona native, said his memories are of exhilaration. In his hometown, Tombstone, snowfall was beyond a rarity. For Carter's wife, Linda, a native then living in Pine, the storm dumped so much snow it reached the eaves of her house and required the family build tunnels out to the street. All within a couple hundred miles of each other.
"It was big news in Tombstone," Carter said. "It's the only time I remember snow there. And it was absolutely beautiful."
Damage, but no deaths
Eyewitnesses to the storm back in 1967 expressed awe that despite the severity of the storm, including the freezing temperatures that prompted some Groom Creek residents to burn their chairs just to stay warm, it did not result in any loss of life or severe injuries, according to the newspaper accounts. Several businesses did suffer roof collapses.
"It was quite an ordeal," Orr said, noting the year before the city of Prescott had sold off most of its snow removal equipment. "I remember for months afterwards there was a wall of snow three or four-feet high in the middle of roads.
In the 1967 edition, one witness described the storm this way.
"It was a disaster, but it was fun."