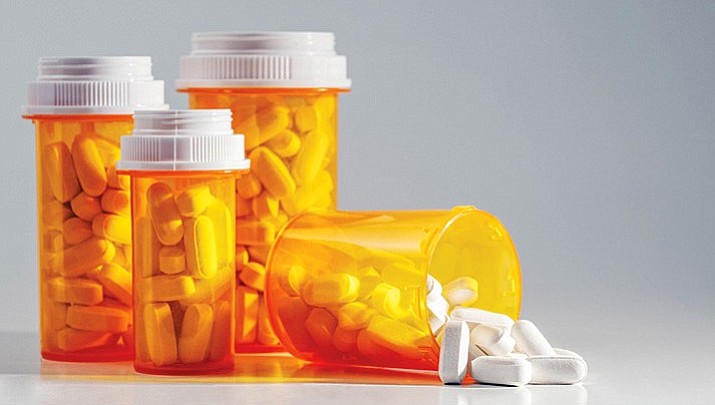 Originally Published: December 26, 2017 6:02 a.m.
Every year in the United States, 125,000 people die due to mismanaged medications and related causes.
But doctors agree that most of these deaths were preventable. All it would take, they say, is for a patient to work with their doctors – or other healthcare providers – and pay attention to what medications they're prescribed, so they avoid conflicts or side-effects.
"It can potentially be a very large issue," said Jonathan Nuckles, clinical manager and ambulatory pharmacist at Yavapai Regional Medical Center. "As we age, patients can sometimes have 10 to 15 different medications."
He said it's a good idea to fill all your prescriptions at one pharmacy, despite the allure of coupons or deals around town.
"That gives one pharmacist the ability to scrutinize all of the medications that a patient is on, to look at that for drug interactions," Nuckles said. Even though pharmacies do communicate amongst each other, he said, "There's a chance that something could get missed."
Some tips to ensure you get your meds right:
• Use time-of-day pillboxes. Get the kind with dividers for both each day of the week and multiple boxes per day (Morning, Noon, Evening, Bedtime and the like). These make keeping track of what to take — and whether you've taken it already — much easier.
• Make a list. List of all your medications, both over-the-counter and prescriptions and carry it with you at all times. Share it with each doctor you see. The list should have the name of each medication you are taking, as well as dosage information.
• Maintain a prescription medication file. Read the information that comes with your prescription and then file it in case you have future questions about dosage or side effects.
Another common situation Nuckles sees is the patient who is prescribed a drug, takes it for a time, and then stops because he feels better.
"That is not recommended," he said. "Especially with antibiotics, we can kill off the pathogen that is causing the illness, but the weakest bacteria are the first to die, so even though we're feeling better," quitting the treatment early leaves the most resilient bacteria to multiply for a new attack.
But even with other drugs, he pointed out, often the reason the patient is feeling better is precisely because of the medication being taken.
Patients should not make changes on their own, said Dr. Anthony Torres, Chief Medical Officer at YRMC.
"(Patients) have multiple medications, that they're prescribed, some of them they like taking … some they don't like the way it makes them feel, so instead of taking it the way the doctor is prescribing, they alter the prescription and take it as they feel necessary. Therefore, sometimes it doesn't work, or sometimes it's not enough, or too much.
"What they should do is call the doctor and speak to them, and let them know 'this medication doesn't agree with me for whatever reason,' so the doctor can figure out an alternative," he said.
Torres said another potential problem is conflicts with over-the-counter medications or even herbal supplements, which patients typically forget to take into consideration when they describe what drugs they're taking.
"You have to be very careful, because some of them can affect prescribed medications they're taking, and can either make the side-effects worse or induce another side-effect … or they can lead to some other adverse event when combined with some other medications."
"I think there's a misconception sometimes that, because something is sold over the counter, that it is without consequence," Nuckles said, "Those over-the-counter medications and supplements … sometimes have drug interactions."