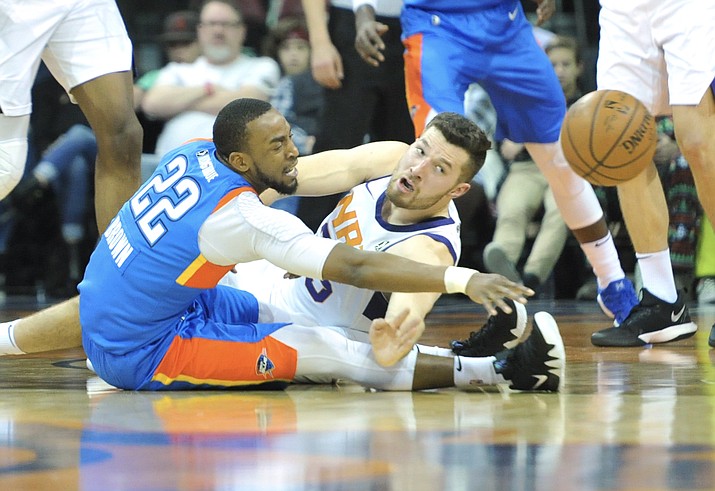 Originally Published: December 22, 2017 10:31 p.m.
Photo Gallery
NAZ Suns vs Oklahoma City Blue 122217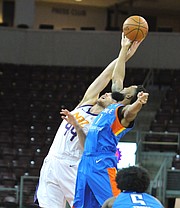 Alec Peters and Shaquille Harrison each had a double-double, Derrick Jones Jr. added 16 points, but the Northern Arizona Suns blew a 19-point first-half lead in a 120-114 loss to Oklahoma City on Friday night.
It is the third straight loss for the Suns, which surrendered a 12-0 run by the Blue to begin the fourth quarter and never recovered.
"We can't start the fourth quarter and give up 12 consecutive points. We just can't do it," a frustrated Cody Toppert said to the media in Prescott Valley after watching his club lose their sixth game in their last eight tries.
Peters, who led all scorers with 31 points on 12 of 21 shooting from the field, including five 3-pointers, and grabbed 11 rebounds, said Friday's loss isn't the first time Northern Arizona relinquished a game that was well in hand.
"That's the poor thing about it. Maybe this break will be good for us, we can get recharged and get healthy," Peters said about the short-handed Suns, who had only eight players in uniform. "You want to be full strength every time you take the floor, and we just weren't tonight. But that's not an excuse."
Harrison scored 29 points on 12 of 18 shooting from the field in 33 minutes off the bench. The former Tulsa standout also grabbed 11 rebounds, recorded four steals and had three assists.
"We didn't stick to what we were doing … it came back to bite us," Harrison said in the locker room after the game. "That's our motto, too, to win the first 3 minutes of the final quarter and a 12-0 run is not good."
At the end of the third quarter, Northern Arizona (7-12) led 94-88, but back-to-back 3-pointers by Bryce Alford capped a 12-0 Blue's run to begin the final period, giving them a 100-94 lead with 8:26 left in the game and never looked back.
Alford finished with 24 points on seven 3-pointers in 31 minutes off the bench for an Oklahoma City (10-10) club that beat the Suns just 72 hours earlier 103-87.
"He's got the capability of doing that, because he really shoots the ball," Oklahoma City head coach Mark Daigneault said, adding Alford has "great feet" and he's fast, so he can "always find shots."
"He can get it rolling, he's done that a couple of times for us this season and it's good to have a guy like that coming off the bench," Daigneault said.
INJURY REPORT
Anthony Bennett (left hamstring), Xavier Silas (back spasms) and Tidjan Keita (right foot) were all in street clothes for Friday night's contest with Oklahoma City.
Silas is third on the team in scoring (16.8 points per game), while Keita hasn't stepped onto the floor all season.
Toppert said going into a game with eight guys that can play is "not easy."
"It's hard to sustain the type of pace we want to sustain for the entire game," Toppert said. "We just ran out of gas tonight."
UP NEXT
Northern Arizona begins a season-long seven-game road trip Friday, Dec. 29, when they travel to Sioux Falls. Tipoff is set for 6 p.m.
The Suns will then play at Memphis (Dec. 31), Rio Grande Valley (Jan. 2) and Reno (Jan. 5) before opening the NBA Gatorade League Showcase with Erie on Wednesday, Jan. 10, in Ontario, Canada.
The second game for Northern Arizona during the three-day event in Ontario is scheduled against the Canton Charge on Friday, Jan. 12.
The Suns' road swing will conclude in Austin on Thursday, Jan. 18, before returning to Prescott Valley to host the Salt Lake City Stars at 7 p.m. Saturday, Jan. 20.
Northern Arizona plays 15 of their last 24 regular season games in Prescott Valley, including nine of their last 12.
Brian M. Bergner Jr. is sports editor for The Daily Courier, the Prescott Valley Tribune and the Chino Valley Review. Follow him on Twitter at @SportsWriter52 or on Facebook at @SportsAboveTheFold. Email bbergner@prescottaz.com or call (928) 445-3333, ext. 1106.