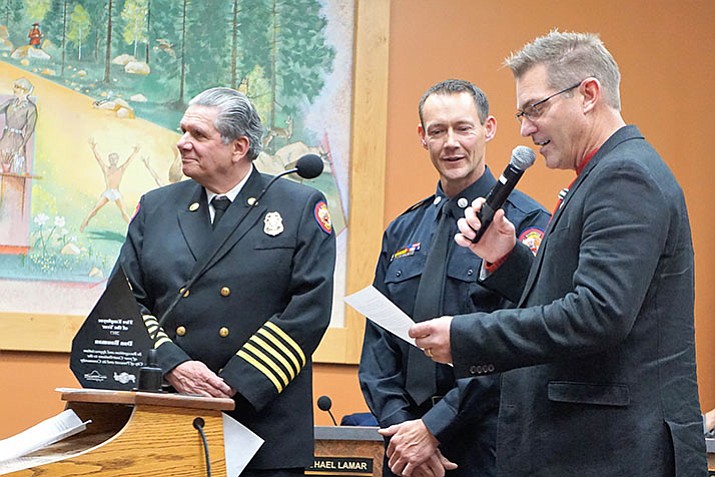 Originally Published: December 22, 2017 6:02 a.m.
Firefighters, by and large, are known for their aversion to blowing their own horns.
So it's not unusual that Prescott Fire Capt. Dan Bauman was taken by surprise, when he was awarded the city's Firefighter of the Year plaque.
"It was a really neat surprise," he said. "We're all out there, everybody I work with, working hard every day. You're just doing your job. None of us ever expect or think about anything like (an award). It's a great honor."
Bauman, who's been in the fire service for about 20 years, wasn't entirely taken aback; he was given sufficient notice that he could invite members of his family to the Tuesday, Dec. 19, City Council meeting where Mayor Greg Mengarelli and Fire Chief Dennis Light presented him with the award and a gift certificate to a local retailer.
Having family members see him receive the award "made it even more special," Bauman said.
Light said he takes nominations from the rank-and-file and then selects a winner from those submitted.
"Dan really kind of stood out this year as the exceptional above the exceptional," Light said, noting that "we have a number of qualified people.
"His commitment to the community, his commitment to the job, he's a well-versed firefighter," Light said, adding that Bauman is hazmat qualified and a technical-rescue specialist. "He's kind of the whole package all in one," including former chairman of Prescott Firefighter Charities and a member of the Fire Department's Honor Guard.
Mengarelli pointed out that part of that package is family, and that, "as a family man, Captain Bauman balances the needs associated with work while being there for his family."
The award is just two years old; last year, Engineer Conrad Jackson received it.
"I tried to, in the last couple of years, since the Granite Mountain (Hotshots' deaths), bring a degree of stability to the organization, and by recognizing our performers, without getting too sappy," to begin to normalize things in the department, Light said.
Bauman said things have begun to look up.
"We started out the year being understaffed, we didn't even have one of the stations open all the time, we finally got the SAFER grant and got the station re-opened," Bauman said, and the impact of the PSPRS debt "is huge. That was one of the biggest things, with the City Council and the voters, seeing and recognizing that, and finding a way to help fund and tail that down," was a major success story, he added.
Bauman has no plans for retirement, saying he'd like to be around for another 15 years or so.
"Firefighters are … humble characters," Light said, "but with Dan, he's taking it with a little poking in the ribs, perhaps, by his peers, but he's well-deserving of the award."