Originally Published: December 21, 2017 9:47 p.m.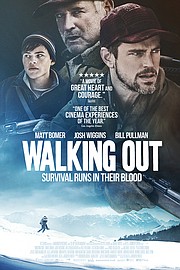 The Sedona International Film Festival will host the Northern Arizona premiere of the acclaimed new film "Walking Out" showing Dec. 22-28 at the Mary D. Fisher Theatre.
"Walking Out" stars Bill Pullman, Josh Wiggins and Matt Bomer.
An estranged father and son are forced to rely on one another to survive an unforgiving wilderness in this riveting, richly emotional thriller.
Survival runs in their blood. Once a year, fourteen-year-old David (Josh Wiggins) travels from his mother's home in Texas to visit his loner father, Cal (Matt Bomer), in the remote mountains of Montana. There, the two embark on their annual hunting excursion, during which the taciturn Cal attempts to connect with his smartphone-addicted son. But when a terrifying turn of events leaves Cal critically wounded, it's up to the teenage David to summon enough strength for both of them.
Infused with a deep reverence for the rugged beauty and harsh realities of the Montana landscape, "Walking Out" is both a tense survival saga and a disarmingly moving father-son tale.
"Walking Out" will be shown at the Mary D. Fisher Theatre Dec. 22-28. Showtimes will be 7 p.m. Friday, Saturday and Tuesday, Dec. 22, 23 and 26; and 4 p.m. Wednesday and Thursday, Dec. 27 and 28.
Tickets are $12, or $9 for Film Festival members. For tickets and more information, call 928-282-1177. Both the theatre and film festival office are located at 2030 W. Highway 89A, in West Sedona. For more information, visit: www.SedonaFilmFestival.org.