Originally Published: December 21, 2017 10:03 p.m.
Movies playing at Harkins Theatres, 7202 Pav Way, Prescott Valley (Highway 69 between Glassford Hill and Lake Valley roads). 928-775-7444; www.harkins.com.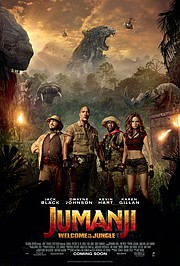 (NEW) JUMANJI: WELCOME TO THE JUNGLE – Four high school kids discover an old video game console and are drawn into the game's jungle setting, literally becoming the adult avatars they chose. What they discover is that you don't just play Jumanji – you must survive it. To beat the game and return to the real world, they'll have to go on the most dangerous adventure of their lives, discover what Alan Parrish left 20 years ago, and change the way they think about themselves – or they'll be stuck in the game forever. Stars Dwayne Johnson, Karen Gillan, Kevin Hart, Jack Black, and Nick Jonas. Rated PG-13 – Fantasy, Action
(NEW) THE GREATEST SHOWMAN – Inspired by the imagination of P.T. Barnum, The Greatest Showman is an original musical that celebrates the birth of show business & tells of a visionary who rose from nothing to create a spectacle that became a worldwide sensation. Stars Hugh Jackman, Zac Efron, Zendaya, Michelle Williams, and Rebecca Ferguson. Rated PG – Drama, Biography
(NEW) PITCH PERFECT 3 – After the highs of winning the world championships, the Bellas find themselves split apart and discovering there aren't job prospects for making music with your mouth. But when they get the chance to reunite for an overseas USO tour, this group of awesome nerds will come together to make some music, and some questionable decisions, one last time. Stars Anna Kendrick, Rebel Wilson, Brittany Snow, Anna Camp, and Hailee Steinfeld. Rated PG-13 – Musical, Comedy
(NEW) DOWNSIZING – When scientists discover how to shrink humans to five inches tall as a solution to overpopulation, Paul (Matt Damon) and his wife Audrey (Kristen Wiig) decide to abandon their stressed lives in order to get small and move to a new downsized community — a choice that triggers life-changing adventures. Also stars Christoph Waltz, Jason Sudeikis, and Neil Patrick Harris. Rated R – Science Fiction, Comedy-drama
(NEW) FATHER FIGURES – Owen Wilson and Ed Helms are Kyle and Peter Reynolds, brothers whose eccentric mother raised them to believe their father had died when they were young. When they discover this to be a lie, they set out together to find their real father, and end up learning more about their mother than they probably ever wanted to know. Also stars J.K. Simmons, Katt Williams, Terry Bradshaw, Ving Rhames, Harry Shearer, and June Squibb. Rated R - Comedy.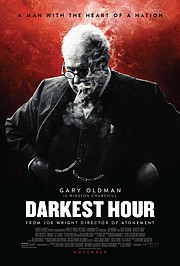 (NEW) DARKEST HOUR – A thrilling and inspiring true story begins at the precipice of World War II as, within days of becoming Prime Minister of Great Britain, Winston Churchill (Academy Award nominee Gary Oldman) must face one of his most turbulent and defining trials: exploring a negotiated peace treaty with Nazi Germany, or standing firm to fight for the ideals, liberty and freedom of a nation. As the unstoppable Nazi forces roll across Western Europe and the threat of invasion is imminent, and with an unprepared public, a skeptical King, and his own party plotting against him, Churchill must withstand his darkest hour, rally a nation, and attempt to change the course of world history. Also stars Lily James, Ben Mendelsohn, Kristin Scott Thomas, and Stephen Dillane. Rated PG-13 – Drama, History
Also showing:
STAR WARS: THE LAST JEDI – Rey (Daisy Ridley) develops her newly discovered abilities with the guidance of Luke Skywalker (Mark Hamill), who is unsettled by the strength of her powers. Meanwhile, the Resistance prepares to do battle with the First Order. Also stars Carrie Fisher, John Boyega, and Adam Driver. Rated PG-13 – Fantasy, Science fiction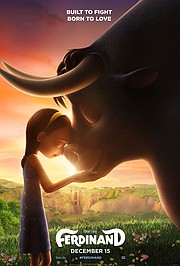 FERDINAND – Ferdinand is a young bull who escapes from a training camp in rural Spain after his father never returns from a showdown with a matador. Adopted by a girl who lives on a farm, Ferdinand's peaceful existence comes crashing down when the authorities return him to his former captors. With help from a wisecracking goat and three hedgehogs, the giant but gentle bovine must find a way to break free before he squares off against El Primero, the famous bullfighter who never loses. Stars voices of John Cena, Kate McKinnon, Daveed Diggs, Miguel Angel Silvestre, and Gina Rodriguez. Rated PG – Fantasy, Adventure
COCO – Despite his family's generations-old ban on music, young Miguel dreams of becoming an accomplished musician like his idol Ernesto de la Cruz. Desperate to prove his talent, Miguel finds himself in the stunning and colorful Land of the Dead. After meeting a charming trickster named Hector (Gael Garcia Barnal), the two new friends embark on an extraordinary journey to unlock the real story behind Miguel's family history. Animated. Rated PG – Fantasy, Mystery
WONDER – Based on the New York Times bestseller, "Wonder" tells the inspiring and heartwarming story of August Pullman. Born with facial differences that, up until now, have prevented him from going to a mainstream school, Auggie becomes the most unlikely of heroes when he enters the local fifth grade. As his family, his new classmates, and the larger community all struggle to find their compassion and acceptance, Auggie's extraordinary journey will unite them all and prove you can't blend in when you were born to stand out. Rated PG - Drama
MURDER ON THE ORIENT EXPRESS – What starts out as a lavish train ride through Europe quickly unfolds into one of the most stylish, suspenseful and thrilling mysteries ever told. From the novel by best-selling author Agatha Christie, "Murder on the Orient Express" tells the tale of 13 strangers stranded on a train, where everyone's a suspect. One man must race against time to solve the puzzle before the murderer strikes again. Kenneth Branagh directs and leads an all-star cast including Penélope Cruz, Willem Dafoe, Judi Dench, Johnny Depp, Michelle Pfeiffer, Daisy Ridley and Josh Gad. Rated PG-13 - Drama, Mystery & Suspense
THREE BILLBOARDS OUTSIDE EBBING, MISSOURI – After months have passed without a culprit in her daughter's murder case, Mildred Hayes (Frances McDormand) makes a bold move, painting three signs leading into her town with a controversial message directed at William Willoughby (Woody Harrelson), the town's revered chief of police. When his second-in-command, Officer Dixon (Sam Rockwell) – an immature mother's boy with a penchant for violence – gets involved, the battle is only exacerbated. Rated R – Crime film, Drama