Originally Published: December 21, 2017 5:50 a.m.
Every episode of the popular television show Shark Tank features the same format:
Budding entrepreneurs present their business concepts to a panel of industry titans hoping that one or more will offer to serve as major investors in exchange for convertible debt or ownership equity.
A similar experience was simulated at Mile High Middle School in Prescott this week, except the entrepreneurs were seventh and eighth graders and the business moguls were a random selection of Prescott Unified School District employees and community members.
The mock presentation served as the final activity for Mile High Middle School's communication class.
"I said, 'Look around, check out what you see might be a problem, come up with a creative solution and then be able to communicate your solutions to these problems,'" said Wendy Tollefsen, who teaches the course.
What came of it were prototypes for products such as The Couch Corrector, The Heat Umbrella and the Pool-a-vator.
Two young men were the first to present on Wednesday, Dec. 20. The problem they thought of and face in their daily lives was running out of pocket space. Their solution: Vocks.
"Velcro socks," said Jack Mason, one of the creators. "It's a Velcro strap system that allows you to put small sized things such as Chap Stick, coins, money, et cetera into your socks."
While basic in design, they received an offer from one of the "Sharks" and shook on it.

Another idea presented that day by three young women was The Techno Desk, a desk modifier that provides outlets and additional vertical space for students' regular items, such as water bottles, backpacks and electronic devices.
Though the ladies clearly put effort into the project, the "Sharks" rejected the product, saying that they didn't believe schools would adopt something that might create a more cumbersome desk environment and potentially wall off students from the rest of the class.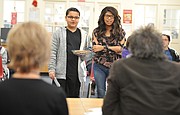 "Being a teacher for years, I'd say that it gives students an opportunity to hide behind something even more than they do anyway," said Kelli Bradstreet, director of Instructional Support for the district and one of the "Sharks."
Fortunately, failing to receive an offer didn't necessarily mean a poor grade for the project.

"It's about embracing the potential, thinking of themselves as problem solvers and not to fear failure and to take risks," Tollefsen said.
This was Tollefsen's first attempt at hosting a mock Shark Tank for her students. She did it because she's a firm believer of bringing innovation into the classroom, whether that's through borrowing from popular culture or utilizing technology and modern teaching practices.

"I think if you stay a dinosaur in the classroom, you end up in the tar pits," she said. "The teachers who are current in what's happening in technology, in culture, in social media and then integrate it into their curriculum, those teachers are building on the foundations of literacies their students are going to need as they move forward."