Originally Published: December 21, 2017 9:55 p.m.
Ongoing
Enchanted Christmas Tour of Lights, Prescott Gateway Mall, 3250 Gateway Blvd. (across from Wildflower) through Dec. 30. www.enchantedchristmasAZ.com or 800-651-8006.
World's Largest Gingerbread Village, Prescott Resort & Conference Center, 1500 Highway 69. Display open through Jan. 1.
Valley of Lights, 6 to 9 p.m., Fain Park, Prescott Valley. Open nightly through Dec. 30.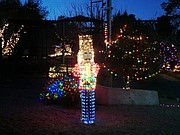 Wildlights & Animal Sights – A holiday light display at the Heritage Park Zoological Sanctuary, 1403 Heritage Park Road, will be open to the public every Friday and Saturday from 6 to 8:30 p.m. through Dec. 30. The park will be filled with festive holiday decorations, music, and spectacular light displays.
Friday, Dec. 22
Prescott's 4th Friday Art Walk - from 5 to 7 p.m. downtown Prescott. www.artthe4th.com.
Monday, Dec. 25
Don't Spend Christmas Alone, 11 a.m. to 2 p.m., St. Luke's Episcopal Church, 2000 Shepards Lane, Prescott.
American Legion Post 40 Christmas Dinner, 3 to 6 p.m., 650 E. Road 3 South, Chino Valley. Free to Vets, open to the public for $10. Donation goes to help our Veterans.
Tuesday, Dec. 26
Newberry Book Club, 4 p.m., Prescott Public Library, 215 E. Goodwin St. "The Cat Who Went to Heaven." Grades 5-6. Register online, at the Youth Desk or call 928-777-1537.
Saturday, Dec. 30
Prescott Farmers Market, 10 a.m. to 1 p.m., Yavapai Regional Medical Center's Pendleton Center, 930 Division Street.
Sunday, Dec. 31
Whiskey Row New Year's Eve "Boot Drop," 6 p.m. to 12:30 a.m. New Year's Day. A 6-foot illuminated cowboy boot will be lowered from The Palace building's flagpole at 10 p.m. and also at midnight. Fireworks, live music, giveaways and food vendors. www.bootdrop.com.
More like this story