Photo by Jason Wheeler.
Originally Published: December 21, 2017 10:09 p.m.
Friday, Dec. 22 is going to be the last Fourth Friday Art Walk of the year and many of the usual participating galleries are going to be open.
Here are some of them:
'Tis Art Center and Gallery, 105 S. Cortez St., will have a reception with light appetizers and libations from 5 to 7 p.m. while the galleries will continue to present "Art a la Carte" featuring wearables by Jo Manginelli, needle felted animals by Deborah Salazar and polymer clay jewelry by Judith Skinner in the Mezzanine Gallery, and the 2017 Winter Photography Exhibit, featuring Prescott-area photographers in the main gallery.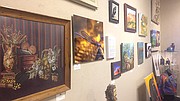 Arts Prescott Gallery, 134 S. Montezuma St., will open for the art walk at 5 p.m. and have a reception at 6 p.m. Currently the gallery has its annual Charity Art Show with this year's recipient being Bethany's Gait, a nonprofit ranch dedicated to rescuing horses and bringing them together with active duty, reserve and veteran military personnel and their families. All of the gallery's proceeds goes to the charity.
Sean Goté Gallery, 702 Gurley St. will be open for the art walk from 5 to 8 p.m. and features bronze sculptures and original abstract paintings by Arizona Artist Allen Dutton as well as "The Bronze Smith Collection" from the Bronzesmith Fine Arts Foundry.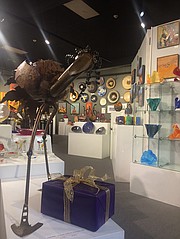 Van Gogh's Ear, 156 S. Montezuma St., will be open from 5 to 8 p.m. featuring more than 60 artists and their contemporary works of wall art, ceramics, bronze, glass, wood, metal, wearable art, jewelry and more. The current featured artist is Kit Carson, who has his jewelry on display.
Some galleries will not be open for this Fourth Friday Art Walk, including The Beastro, The Gallery at Prescott Center for the Arts, the Mountain Artists Gallery, Smoki Museum and Yavapai Collge Art Gallery.
For more information about this Fourth Friday Art Walk as well as the program itself, which will continue into 2018, visit www.artthe4th.com.