Originally Published: December 21, 2017 10:16 p.m.
Currently touring around the country performing in the Tony Award winning musical "Kinky Boots," Prescott High School graduate Ethan Kirschbaum is living his dream.
Kirschbaum said his first show was when he was 13 years old as the understudy for the character of Rooster in the musical "Annie" at the Elks Theatre and Performing Arts Center. He fell in love with performing after that, solidifying that love with his first big role as Harold Hill in "The Music Man."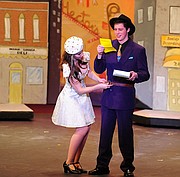 But it wasn't until high school that the thought of doing it professionally blossomed, he said.
"During high school, I think, is when I really realized 'Oh, maybe I can pursue this' and I checked out university programs and saw which ones were received well," Kirschbaum said. "I went to University of Arizona and they had a solid musical theater program, so I auditioned and got in."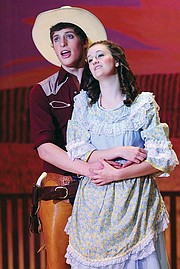 These days, Kirschbaum said he calls New York home, but is touring all over the United States performing in "Kinky Boots." It's exciting, never as a 13-year-old would he have thought this is where he'd be right now, he said.
His role as the lead's best friend, Harry, and the understudy to the lead, Charlie, is the biggest role he's ever had, Kirschbaum said.
The biggest difference between performing in Prescott and performing nationally is the scale and scope of some of the theaters he's performed in, he said. At the first theater the show stopped at, Kirschbaum said, he was standing on the stage looking out and his breath was taken away.
"I was a little intimidated. I was definitely a little more nervous than I thought I would be. I had performed in front of large groups of people, Ruth Street Theater at Prescott High School that's it, I believe, (more than) 600 seats in the theater," he said. "But then when you look at these – 1,400, 2,000-seat theaters, it's like woah. You can actually just see the scope of it."
Still it is rewarding and though sometimes he loses sight of how cool it really is, all he has to do is step back and think for a minute, Kirschbaum said. He set out to pursue acting professionally and he's actually doing it.
The show he's currently performing in is about a guy named Charlie who lives in Northampton, England, and inherits his dad's shoe factory but it's going out of business. In figuring out how to save it, he meets a drag queen named Lola, and the two form a bond and find a way to create new shoes to save the factory, Kirschbaum said.
"When I first saw it, I didn't know what to expect. I didn't know a whole lot about the show," he said. "The great thing about it is it's so positive, it has such a loving message to it. It's all about being yourself, raising others up and not being scared to be who you are. It's a very important message to be spreading around … it's the right time for a show like this. It's a huge honor to be able to spread it around the U.S."
Recently, Kirschbaum said he actually got to go on stage as the lead when performing in Providence, Rhode Island. It was a whole different experience and a little more intimidating than he expected, but it was very rewarding.
Right now, his dream role is anything he could get at any theater on Broadway. He also has a dream to pursue acting in television and film, he said. Still, he loves that he gets to call himself a professional actor.
"I get to do what I love for work and I get paid to do something that I love to do," he said. "That's the most rewarding part about it."
"Kinky Boots" is making its way to Phoenix and will be at the Orpheum Theatre Friday and Sunday, Feb. 16-18. For information, visit www.phoenixconventioncenter.com/orpheum-theatre.