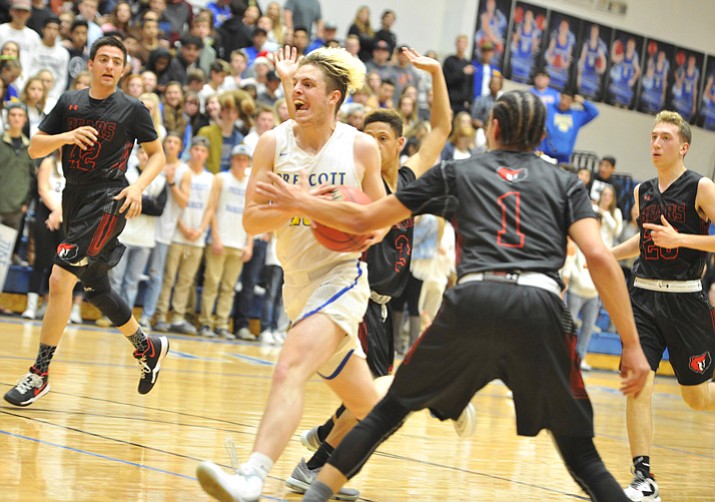 Originally Published: December 18, 2017 11:50 p.m.
Photo Gallery
PHS Vs BMHS Boys Hoops 121817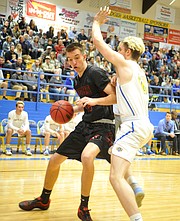 Kody Jones narrowly missed a triple double with 16 points, 10 rebounds and eight assists as the No. 12-ranked Prescott boys' basketball team used a 21-8 fourth-quarter run to pull away from cross-town rival Bradshaw Mountain in a 78-59 win Monday night.
"I was very proud of the boys tonight. We persevered through Bradshaw's hot shooting early and continued to pressure them until we were able to wear them down," Prescott head coach Adam Neely said about his club, which debuted at No. 12 in the 4A state power point rankings Monday morning.
Jones has been a thorn in the Bears' side the last two seasons, and Tuesday night at Prescott's home gymnasium, a place they haven't lost all season (5-0), was no different.
The last time these two clubs met, Jones sank a last-second 3-pointer to steal a victory right from Bradshaw Mountain's grasp in a 56-54 win a season ago.
In the first quarter, Bradshaw Mountain (1-13, 0-5 Grand Canyon) came out firing to take a 22-16 lead, but the Badgers used an 18-12 second-quarter run to tie it 34-34 before halftime and outscored the Bears 44-25 in the second half for the win.
Charles Hicks scored 16 points and grabbed eight rebounds, while Cameron Parsons chipped in with 14 points for Prescott, which knocked down 21 of 28 from the free-throw line and outrebounded the Bears 30-22, including 18 offensively, for their fifth win in the last seven games.
Prescott (6-7, 3-1 Grand Canyon) was 25 of 59 shooting from the field, including seven 3-pointers, while Bradshaw Mountain was 21 of 47, but committed 12 turnovers and hit only 10 free throws all night.
"The guys are determined not to give up. They make the best of each moment and move forward," Bradshaw Mountain head coach Matt Simpson said. "They believe each night we can win."
Travis Lamb led the Bears with 13 points scored, all in the second half, while David Massis scored 11 points in the loss.
UP NEXT
Prescott takes a break for Christmas and New Year's Day before resuming the 2017-18 season Thursday, Jan. 4, by welcoming Moon Valley to town. Tipoff is scheduled for 7 p.m.
Bradshaw Mountain will also take Christmas off and return after the new year by welcoming region-rival Mohave to Prescott Valley on Tuesday, Jan. 4. Tipoff is set for 7 p.m.
Brian M. Bergner Jr. is sports editor for The Daily Courier, the Prescott Valley Tribune and the Chino Valley Review. Follow him on Twitter at @SportsWriter52 or on Facebook at @SportsAboveTheFold. Email bbergner@prescottaz.com or call 928-445-3333, ext. 1106.