Originally Published: December 17, 2017 6:02 a.m.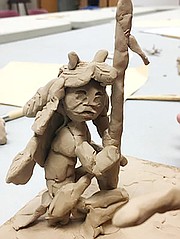 Marvin May is not the typical artist.
Five days a week, he rides a bus to school. In his off hours, when not doing homework, Marvin likes to jump on his outdoor trampoline, build Lego figures, and create coloring pages from select video games. He eats dinner each day with his parents, two brothers and a sister and has a regular bedtime.
His vivid imagination and creativity, though, earned him a first-place honor in the Phippen Museum's "Clay Out West" competition. He will have his first ever, bronzed sculpture on display at the museum throughout January.
Marvin is 10.
When the Taylor Hicks fourth-grader first signed up with his sister, Gianna, to partake in the museum's third such competition offered over four weekend in September, he opted to craft an Indian in native robes shooting a bow and arrow at a buffalo. The criteria required each student to create a sculpture that depicts Western or Southwestern culture, history, people, symbols, or wildlife.
His first attempt was a disappointment. So he tried again. This time he decided to replicate a personalized version of a Phippen Museum sculpture created by the museum's education coordinator Neal McEwen, the competition organizer, instructor and professional sculptor.
"If I counseled him on anything, it was to keep one's ideas but keep it simple, too, because at some point you need to know when it's done," McEwen said. "Then I simply complimented him on what he was executing."
McEwen is clear Marvin's artistic interpretation and creation — one Marvin said started out as a wire skeleton filled in with clay — proved impressive. All three judges — Erik Petersen, John Coleman and Bill Nebeker — were unanimous when it came to selecting his piece. In the other categories, the three found the choices to be more difficult, McEwen said.
All of the work, however, was commendable, particularly for those just graduating from Play Doh to professional grade modeling clay and the underlying structures required to erect a sculpture, McEwen said.
In Marvin's case, McEwen said one of the things that added depth to his art was his study of existing artwork, something professional artists are prone to do.
"They study from others … The only way to understand material and medium is to study others. It's the reason people go to museums; to develop technique," McEwen said.
The challenge then becomes translating an admired work into "something original of yourself," he said.
Even at Marvin's young age, McEwen said he was "unique" in understanding that part of creating art.
"Marvin is an excellent student and artist," declared Taylor Hicks art teacher Christine Dean. "He has wonderful intuition and enjoys learning the many facets of the art world. I am thrilled that the community will be able to experience the amazing creativity displayed by this budding artist!"
As for Marvin, he is still a bit dazzled by it all.
"I couldn't believe I got first place," Marvin said.
Of hearing his name called during the final judging, Marvin said his first reaction was to ask himself, "Did I really heart that or are my ears deceiving me?"
"My heart got tight."
In the past, Marvin has taken art classes at the Tis' Gallery. He, too, likes to draw figure from his "Skylanders" video games.
This experience, however, has inspired him to do more clay work. He just joined an art club at this school.
"It is my favorite art, and I think I'm pretty good at it," Marvin said.
His mother, Lisa, said she's grateful he was given the opportunity to explore another creative venue, and clearly excelled. She said she and his father, Ken, are ready to be his cheerleaders as his talents continue to unfold.
"It's pretty impressive," his father agreed.
So where does he plan to exhibit his first bronze sculpture?
Marvin admits he hasn't quite decided.
"It has to be seen, but it also has to be where it won't be touched," Marvin said.