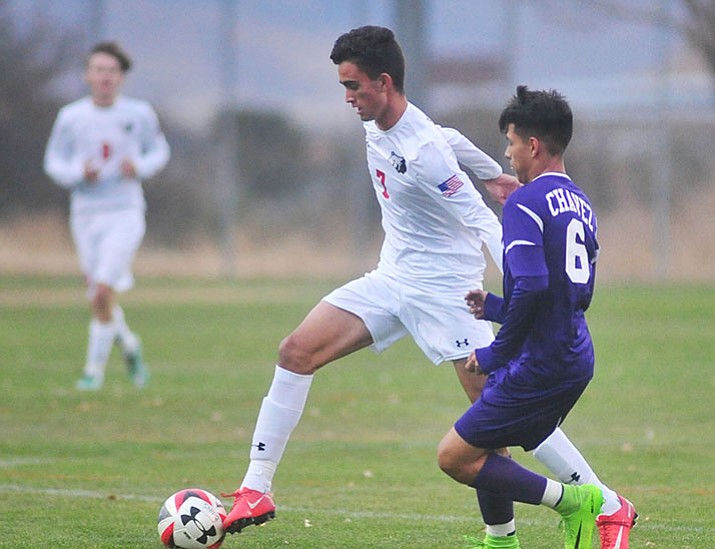 Originally Published: December 17, 2017 6:02 a.m.
Bradshaw Mountain's boys' soccer team snapped a two-game losing streak Saturday, cruising past Seton Catholic, 4-1, in Chandler to creep back above the .500 mark on the 2017-18 season.
In the 4A contest, Bears leading scorer Brandon Fischer registered two goals, and teammates Jovany de los Santos and Erron Akins notched a goal apiece, as Bradshaw Mountain upped its overall record to 5-4.
The Bears concluded a week-long stretch of three straight power-point matches on the road with a 1-2 record. They lost to 4A foes Higley, 5-3, on Tuesday in Gilbert and Cactus Shadows, 4-2, on Thursday in Cave Creek. Both of those opponents qualified for the 2017 4A state tournament with Bradshaw Mountain early in the year.
Despite the Bears' recent struggles, first-year coach Bruce Giles said he has enjoyed mentoring his players.
"They listen and execute," Giles added. "They never get down or start criticizing teammates or the coach when under stress. And they play as a team, as evidenced by the fact that eight players have scored [goals] this year."
UP NEXT
Bradshaw Mountain will take a break for the holidays before returning to the pitch at 3 p.m. Wednesday, Dec. 27, against 3A Casteel. That match will open play in the Independence Winter Soccer Tournament at Independence High School in Glendale.
The Bears are then scheduled to battle 6A Alhambra on the 27th and 6A Trevor Browne on the 28th in the tournament. Both of those matches are slated for 7 p.m. kickoffs.
Seton Catholic, which is riding a six-match losing streak (1-6 overall record), will play host to the 2017 Sentinel Shootout tournament Dec. 26-28 in Chandler.
More like this story