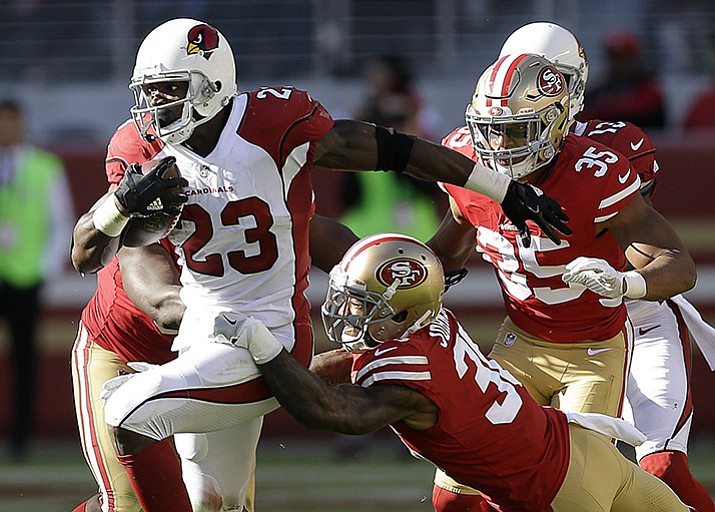 Photo by Associated Press.
Originally Published: December 15, 2017 11:54 p.m.
TEMPE — Adrian Peterson was placed on injured reserve Friday because of a neck injury, ending the running back's season after only six games with the Arizona Cardinals.
Acquired from New Orleans on Oct. 10, Peterson ran for 448 yards — 314 in his first three games — and two touchdowns on 129 carries and had nine catches for 66 yards for the Cardinals. He missed the last two games. In four games for the Saints, he ran for 81 yards on 24 carries and caught two passes for 4 yards.
"The good news is my neck injury doesn't require surgery, but I'm told by Dr. Robert Watkins that the best thing for me is just more rest than the length of the season," Peterson wrote on Instagram. "Obviously, I'm disappointed about going on IR when my body is still able to produce, but I look forward to returning completely healthy for another season in 2018. I'm grateful for the opportunity that the Arizona Cardinals have given me to show I can still contribute on an NFL team."
Peterson signed with the Saints during the offseason after spending his first 10 NFL seasons with the Minnesota Vikings. He came to the Cardinals to help replace David Johnson, the star running back who broke his left wrist in the season opener. With Peterson sidelined, Arizona has turned to Kerwynn Williams as the starter.
Peterson is under contract through next season.
Also Friday, the Cardinals acquired cornerback C.J. Goodwin off waivers from Atlanta. Goodwin appeared in 12 games for the Falcons this season.
Louisiana-Lafayette hires ASU's Billy Napier as football coach
LAFAYETTE, La. — Louisiana-Lafayette hired Arizona State offensive coordinator Billy Napier as football coach Friday.
Napier replaced Mark Hudspeth, fired after the Ragin' Cajuns finished 5-7 this season. On Thursday, Hudspeth joined Mississippi State as associate head coach and tight ends coach.
"My family and I are excited and humbled for the opportunity to serve Cajun Nation and our Louisiana football program," Napier said. "We will make it a priority to bring in the best talent from the state of Louisiana and the nation."
Napier spent one season at Arizona State. He was promoted to associate head coach and offensive coordinator last week after Herm Edwards was hired as head coach to replace the fired Todd Graham.
Before his season at Arizona State, Napier was the wide receivers coach at Alabama, where he had two stints on Nick Saban's staff — one in 2011 and another from 2013-16. Alabama won national titles twice while Napier was on staff with the Crimson Tide.
In 2012, Napier was assistant head coach and quarterbacks coach at Colorado State. He other stops as an assistant included one at Clemson from 2006-2010. Napier was a star quarterback at Furman.
Arizona State promotes Rob Likens to offensive coordinator
TEMPE — Arizona State coach Herm Edwards promoted Rob Likens to offensive coordinator Friday, hours after Billy Napier left to take the head coaching job at Louisiana-Lafayette.
Likens was the co-offensive coordinator and wide receivers coach this season under fired head coach Todd Graham. Likens' new official title is offensive coordinator and quarterbacks coach.
"It's an opportunity to work with Coach Edwards and I am thankful for this opportunity," Likens said a university statement. "We hit it off instantly when we met and had discussions about the future and the direction we both saw this program going. Between his energy and mine, I don't know if kids will be ready to handle us both in the same room."
Likens was Kansas' offensive coordinator from 2015-16 before joining Graham's staff.
"There was no doubt in my mind that Rob Likens was the man we needed to step up and fill this role as offensive coordinator," Edwards said in the school's release. "Coach Likens provides much needed consistency and stability as we continue to build our staff."
Arizona State also said John Simon will remain assistant head coach and running backs coach. The Sun Devils are without a defensive coordinator after Phil Bennett said this week that he will not return.
More like this story