Photo by Jason Wheeler.
Originally Published: December 14, 2017 7:25 p.m.
Every year, M&M Entertainment & Productions looks to add new rooms and switch up its annual Enchanted Christmas Tour of Lights and this year, there are 21 themed rooms, said M&M Entertainment & Productions Co-Founder Matt Brassard.
"This is our fourth year doing it and it's just kind of grown every year," Brassard said. "We definitely committed ourselves to trying to do better and better every year and add something new every year."
Located within the Marc Your Treasures store at Gateway Mall, 3250 Gateway Blvd, Suite 302, it takes about three weeks to get the whole thing set up, he said. It may take a lot of long days, but it's a labor of love for him and M&M Entertainment & Productions Co-Founder Marco Espitia. It's all worth it when the kids come through and their eyes light up, Brassard said.
Not only that, but with Prescott being Arizona's Christmas City, it's great seeing the community come and see what they've put together, Espitia said.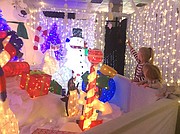 "It's worth it to see people just enjoy themselves," he said. "That's what Christmas is all about, just fun."
Admission is $5 for adults and free for children under 5 years of age. However, Enchanted Christmas has partnered with numerous local organizations, such as the Yavapai Food Bank, Pepsi and Nackard Beverage Company to collect and distribute toys and canned food throughout Yavapai County. Anyone who brings in a toy or canned good can get in for $4.
Last year, they collected 19 tons of food and are hoping to either match that or get more this year, Brassard said.
There are rooms lit up in all sorts of scenes, including Beauty and the Beast, Rudolph the Red Nosed Reindeer, Frozen and Thumb Butte. There's even a whole room that has a Department 56 Christmas Village on one end, a display by the Point of Rocks Model Railroad on another the boot used for the Whiskey Row Boot Drop on the opposite end.
One third of the Department 56 Christmas Village came from a woman who had been collecting for 30 years and sold it to Brassard and Espitia when it got to be too much for her to set up, Brassard said.
"She knew we would do something good with it," he said. "That was four years ago and since then, I've added other collections."
The two of them spend all year thinking about what to put in the tour and they try to do rooms and scenes that are with the times based off of what's popular, he said. It's fun to bring popular characters to life, Brassard said. All year long, they'll jot down ideas for what to do, but it's not until the tour can really be put together that they figure out what to do, he said. The two of them are the type of people that need to be immersed in it to get the ideas to flow, Brassard said.
With the tour beginning and ending in the Marc Your Treasures store, people can also find a gift from the store's unique items that can't be found anywhere else, he said.
"People going through there, they get some ideas and get in that Christmas mood," he said. "They can find a little something to remember it by maybe or just do some Christmas shopping."
Enchanted Christmas Tour of Lights is open through Saturday, Dec. 30. Hours are Monday, Dec. 18 from 2 to 8 p.m., Tuesday through Thursday from 2 to 8 p.m., Friday and Saturday from noon to 9 p.m. and Sunday from noon to 6 p.m.
For more information, call 800-651-8006.