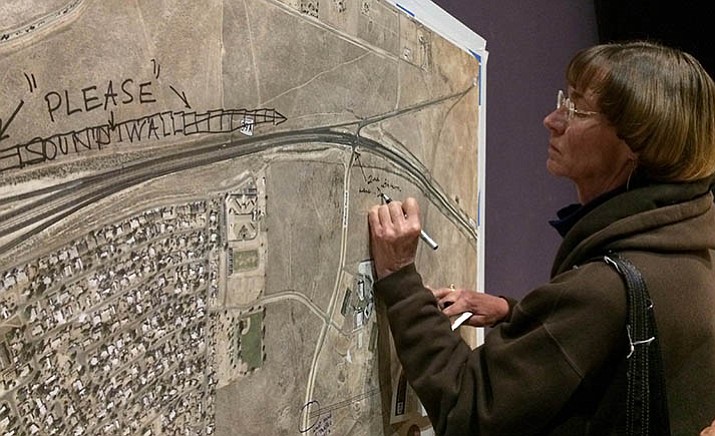 Originally Published: December 14, 2017 5:58 a.m.
The Arizona Department of Transportation likes to plan its projects years in advance. At the Dec. 12 public meeting on the ADOT Highway 89A Study in the Prescott Valley Public Library auditorium, an audience of about 70 heard about the future projects in the agency's 5-, 10- and 20-year plans.
Large maps perched on easels showed five interchanges between Highway 89 to the west and the Robert Road intersection to the east with short-term, mid-term and long-term "fixes."
"There's no funding in the program for any of this," said Alvin Stump, district engineer for ADOT's Northwest District. "We need to know what the costs are – they are quite significant – so we are looking at all phases."
Glassford Hill Road, for instance, currently has 37,000 vehicles traveling through the Highway 89A interchange per year. Stump figures in another year, that number will reach 40,000. There's a lot ADOT can do in the short term, he added.
Here are some of the solutions defined by the study.
Highway 89 interchange: At the intersection with Highway 89, ADOT would like to add an additional eastbound left-turn lane with two lanes on the entrance ramp.
Glassford Hill interchange: In the short-term, add a second lane to the eastbound ramp, with a free-flowing right-turn lane. In the mid-term, build double roundabouts to facilitate mobility. No northbound road is planned for Glassford Hill Road north of Highway 89A.
Granite Dells interchange: Create a free-flowing right turn land going westbound.
Great Western interchange: At the moment there is a dirt access road to get to the water tanks. This access will be eliminated with north-south roads at the interchange. The plan is eventually to connect Great Western north all the way to Chino Valley. Long-term plans include minimal roundabout modifications.
Glassford Hill interchange: ADOT would like to extend the on-ramp heading westbound for safer travel. Heading east and making a right turn onto Glassford Hill will be easier with a free-flowing right-turn lane.
"Depending on timing, it will need some significant changes," Stump said. ADOT's long-term plans include two roundabouts to handle traffic flow.
Viewpoint interchange: ADOT would like to extend two lanes westbound for safer merging, and add a second lane to the eastbound exit ramp left-turn lanes.
Robert Road interchange: At some point there needs to be an interchange and an underpass under Highway 89A. ADOT is looking to move the interchange further east.
"Why move it out so far? I did that drive 10 times a week, heading west (on Highway 89A). I won't drive further east to catch the highway to drive west," said PV resident Jim Loper.
Stump said this intersection now is similar to the Larry Caldwell exit's close proximity to other interchanges, causing problems with merging traffic.
Following the short presentation by Stump, he answered questions and invited people to use written comment cards or use markers directly on the long aerial map stretching across one wall.
With roundabouts planned for Glassford Hill Road, a member of the audience asked if this road, too, would go all the way to Chino Valley. Stump said no, the Great Western interchange has more room to extend.
"Can you point out where the growth will be?" another person asked.
Stump said around the airport, between Granite Dells and Glassford Hill on the south side, then paused. "Basically, there's development all over the place," he said.
Connie Maudlin lives near Glassford Hill Road and Spouse. She said, so far, the plan looked pretty good. "I would like to see a road go out to Chino."
Loper said he thought more people will drive to Viewpoint as an alternative to Robert Road when they head west to Prescott. He thought moving the interchange to the east was a waste of money.
The traffic patterns along the corridor are growing at about 5 percent annually, the study indicated. ADOT anticipates an escalation in congestion along the 7.7-mile corridor. People may comment up to Dec. 31 by telephone to 928-681-6054 or email to MBeggs@adot.gov.