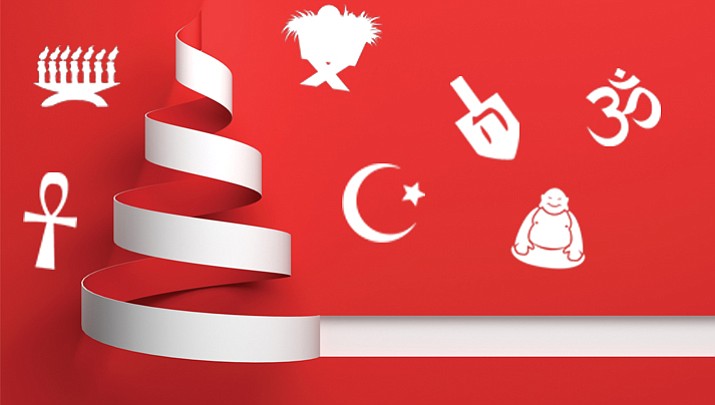 Originally Published: December 12, 2017 6:03 a.m.
December Observances
Kwanzaa (African American): A secular festival observed by many African Americans from December 26 to January 1 as a celebration of their cultural heritage and traditional values. The American observance was adopted in the 1960s based on the basic principles of the harvest celebrations in Africa around this time of year. Source: OfficialKwanzaaWebsite.org
Hanukkah (Jewish): Hanukkah is an eight-day Jewish holiday commemorating the rededication during the second century B.C. of the Second Temple in Jerusalem, where, according to legend, Jews had risen up against their Greek-Syrian oppressors in the Maccabearn Revolt. The holiday is celebrated any time from late November to late December in the Gregorian (Christian) calendar. This year, it begins December 12 and ends December 20. Source: History.com
Christmas Day (Christian): The annual Christian festival celebrating the birth of Jesus Christ, held on December 25 in the Western Church. The word "Christmas" comes from the old English "Cristes maesse," or the mass of Christ. Christmas holiday customs derive from various cultures, including Teutonic, Celtic, Roman, West Asian and Christian. Source: timeanddate.com
Yule (Pagan): Was and is a festival observed by the historical Germanic peoples. It begins on the day of the Winter Solstice, Dec. 21, and continues through January 1. Predating Christmas, Yule is a time in the middle of winter to celebrate the rebirth of the sun and the light it would bring to the earth. Source: NationalDayCalendar.com
Fiesta of Our Lady of Guadalupe (Mexican): An important holiday in Mexico, Fiesta of Our Lady of Guadalupe serves as a tribute to Jesus' mother Mary, Mexico's patron saint. Observed on December 12, the holiday has become increasingly popular in some American communities – especially in the Southwest. Source: TimeAndDate.com
Divisive language/opinions can often drown out the universal aspects of life.

"I don't care who you ask – left, right, gay, straight, atheist, orthodox Christian – it doesn't matter," said Dana Cummins, co-founder of the Mountain Spirit Co-Op in Prescott. "If you ask them what's important in their life, they're going to tell you family, love, respect, how to get enough money to get by and the like."
In the U.S., such values tend to shine brightest during what we call the holidays (late November through early January).
"This season brings about both hope and anticipation," said Pastor Jon Wolfinger of Restoration Church, a non-denominational church in Prescott.
It's a time when many choose to give to those in need, be kind to others and celebrate life, whether that be through religious observance or simple recognition that another year has passed without humanity completely falling apart.
Christmas is by far the most obvious of these celebrations in Prescott, but there are also Hanukkah, Kwanzaa, New Year's Eve and other lesser known holidays, such as Yule, a pagan tradition, and Fiesta of Our Lady of Guadalupe, a Catholic tradition particularly celebrated by those of Mexican decent.

In fact, Hanukkah begins today, Dec. 12, at sundown. Also known as the Festival of Lights, the holiday is an eight day celebration that can fall anytime between late November and late December.
Rabbi Elie Filler of Chabad of Prescott believes the message of Hanukkah, which he said is about lighting up the darkness in the world, is universal.
"The idea of Hanukkah is there was a Jewish nation that was physically weak but spiritually strong," he said. "That sense of spiritually, which represents divinity and morality, stood strong and held up against the darkness in the world at the time."
That's why Chabad of Prescott started a public menorah lighting three years ago on the Yavapai County Courthouse Plaza.
"It should be a public display where it's publicly declaring us as Jewish people – we're proud to be Jewish people – and for everyone in the world to be proud of their goodness and to spread it," Filler said. (The lighting will take place on Sunday, Dec. 17, at 5 p.m. Admission is free and open to the public.)
Even for those who do not have a religious holiday to observe this time of year, it still often serves as a time to reflect on the year and rejoice with family.
"At the end of the year, for me personally, what I usually do is buy a cake and I bring flowers and small gifts for my wife to celebrate the New Year," said Adim Zaazaa, a local Muslim and co-founder of the Prescott Islamic Center, a volunteer-run mosque.
It's also a time when less-fortunate members of the community are most in need of shelter as temperatures drop, something the Quad-City Interfaith Council addressed by helping to establish Operation Deep Freeze.

"That's a common effort," said Paul Mitchell, member and former facilitator of the Quad-City Interfaith Council. "In other words, helping folks who are without homes in the freezing time of winter is an essential human activity. It's not just Christian, Jewish or a specific faith. We recognize the need to provide the support for folks who are vulnerable."
Related Stories