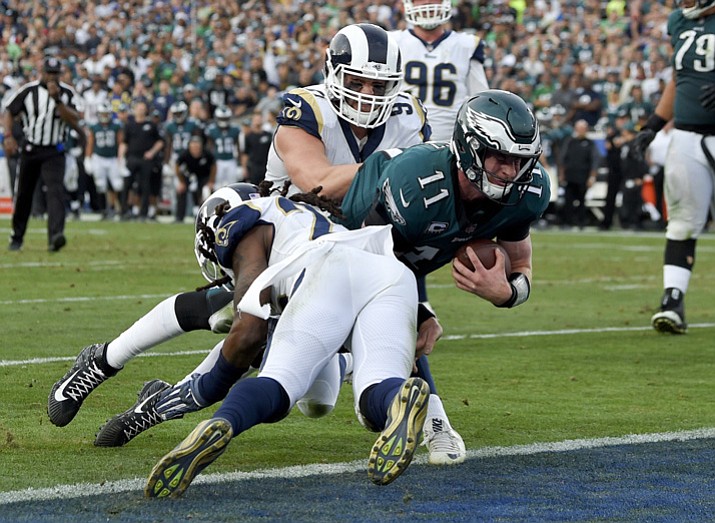 Originally Published: December 11, 2017 10:50 p.m.
PHILADELPHIA — Carson Wentz got the Eagles this far. Now, it's up to Nick Foles to deliver Philadelphia its first Super Bowl title.
Wentz has a torn left ACL and will miss the rest of the season and playoffs, forcing the NFC East champions to turn to a familiar backup who once had one of the greatest statistical seasons in NFL history.
"The reason we got Nick Foles is for situations like this. I'm excited for Nick," coach Doug Pederson said Monday. "I hate it for Carson Wentz. I hate it for the season that he's been having. But at the same time, it's been the next-man-up mentality and that's how we approach it."
Wentz was a favorite in the NFL MVP race during a breakout sophomore season. He threw for 3,296 yards and set a franchise single-season record with an NFL-leading 33 touchdown passes while only tossing seven interceptions.
"From my standpoint, you don't waver, man. You don't let people see you sweat," Pederson said. "You just put your head down and you just go to work. You get everybody ready to play. It was evident when Carson was out of the game, you saw Nick come in and come back and lead us to victory in that game. So that right there is a great step in the right direction."
Wentz got hurt diving into the end zone on a scramble late in the third quarter Sunday at Los Angeles. Pederson said it appeared Wentz tore his anterior cruciate ligament before contact with two tacklers. The touchdown was nullified by a penalty, but Wentz stayed in the game and tossed a TD pass to Alshon Jeffery four plays later. Foles replaced him on the next series after the Rams took the lead and rallied the Eagles (11-2) to a 43-35 win that secured the division title and put them in first place in the conference with three games remaining.
NYC marathon winner Shalane Flanagan to try again in Boston
BOSTON — Reigning New York City Marathon winner Shalane Flanagan will run in Boston next year in a fourth attempt to win her hometown race.
The four-time Olympian and reigning Chicago Marathon champion will be joined on the men's side by Galen Rupp in a field of elite Americans announced Monday by race sponsor John Hancock. Olympians Desiree Linden, Dathan Ritzenhein, Abdi Abdirahman, Deena Kastor and Molly Huddle also are signed up for the 122nd edition of the world's oldest annual marathon, which is being held April 16.
Last month, Flanagan became the first American woman to win New York since 1977. No U.S. woman has won Boston since 1985. But last April, the Americans had their best finishes since then, grabbing two of the top four women's spots and six of the top ten for men.
Jets QB Josh McCown out for rest of season with broken hand
NEW YORK — The best season of Josh McCown's career has come to an abrupt and painful end.
The New York Jets quarterback who established himself as a respected leader will miss the team's final three games with a broken left hand that will require surgery.
"It's big for him and it's big for us because he's been leading us all year offensively," coach Todd Bowles said Monday during a conference call. "For him to go down this late in the season ... but it's next-man-up mentality and the next man has to step up.
"But you feel sorry for Josh. He was having a very good year."
Bowles also announced that Bryce Petty will start in McCown's place for New York at New Orleans on Sunday. Petty, a fourth-rounder out of Baylor in 2015, started four games for the Jets last season.
Second-year quarterback Christian Hackenberg remains behind Petty on the depth chart. Bowles said "it's possible" the Jets could bring in another quarterback this week as insurance.
McCown was injured when he was hit by Denver's Shane Ray in the third quarter of New York's 23-0 loss on Sunday.
An X-ray revealed that the 38-year-old McCown's hand was broken, and additional tests Monday revealed the severity of the injury.
Soon you can watch the NFL free on your phone on Yahoo
NEW YORK — Watching NFL football games on your phone used to be mainly limited to Verizon customers. Soon anyone will be able to watch football games on the go for free on Yahoo's app, now that Verizon owns Yahoo.
But people who want to watch football through online-TV services like Sling or YouTube TV will have more problems. An NFL game on ESPN will still be blocked on the app on a phone — and starting next season, on tablets as well, for some games, said Brian Angiolet, Verizon's global chief media and content officer.
Verizon's five-year deal with the NFL takes effect in January, in time for playoffs. Games will stream on the Yahoo Sports app; Yahoo.com on mobile (but not Yahoo.com on computers); Verizon's little-known video app, go90; and the NFL mobile app.
Verizon bought Yahoo in June and AOL in 2015 and wants to combine the two to build a digital ad business to rival Facebook and Google. It hopes adding more sports streaming will help grow the audience for its media business. "Sports is the first major pillar in Verizon's strategy. The NFL is a marquee piece of content," Angiolet said. Verizon will be able to sell some digital ads during games.
The NFL has had a partnership with Verizon since 2010 and has been experimenting with other ways to televise its games besides broadcast and cable TV. Amazon this year has 10 Thursday night games and a Christmas game.