Originally Published: December 10, 2017 6 a.m.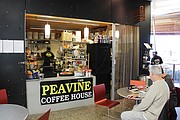 Peavine Coffee House now in PV
After a year-and-a-half of being in the Prescott Gateway Mall's food court, Peavine Coffee House has taken over the space formally occupied by Open Book Café and Coffeehouse inside the Prescott Valley Public Library, 7401 E Civic Circle in Prescott Valley.

The business will continue to serve made-from-scratch baked goods, organic coffee, teas, specialty drinks and breakfast and lunch items, said the shop's business manager Terri Ohler.
The shop also offers vegan, vegetarian and gluten-free items, as well as catering.
For more information, call the shop at 928-759-5509.
Prescott Winery moving to Frontier Village, bringing other former
business owners into fold Bill Smoot, the owner of Prescott Winery, will be moving his business from 216 N. Alarcon St. in Prescott to the former Prescott Crush Wine Café space in the Frontier Village Center.
Working with him will be Denise and Jesse Atkins, former owners of Blackboard Café and then Open Book Café and Coffeehouse in Prescott Valley, in the kitchen, and Sherri Cook, former owner of Cork and Cuisine in Prescott Valley, in the front of the house, according to a Facebook post by Denise.
The new business effort, slated to open in mid-January, will feature Smoot's wines, a seasonally changing menu, musical events, tasting dinners, culinary classes and more, Denise said.
For more information, call the Prescott Winery at 928-350-8467.
Mama's Artisan Pizzeria sold and renamed Home Slice Pizza Company
Ron and Kathryn Pikul have sold Mama's Artisan Pizzeria in Prescott Valley to a couple of local families who are intent on keeping the restaurant's reputation as a quality local pizza joint intact.
While they've kept all of the restaurant's employees, the new owners have renamed the business Home Slice Pizza Company and are working on redesigning the menu, prices, service and offerings, said Ryan Pilgrim, one of the new owners.
"We're trying to move to more of a combo type of ordering to give people a good bang for the buck," Pilgrim said.
They'll also be offering pizza by the slice.
A grand opening event will be taking place on Saturday, Dec. 16. Free slices of pizza will be available throughout the day.

For more information, call the restaurant at 928-515-0008.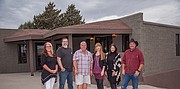 Blind Brothers Arizona and Helken & Horn Advertising Agency relocate to same building
Blind Brothers Arizona and Helken & Horn Advertising Agency, Inc. recently moved their operations to 230 North McCormick Street in Prescott.

Steve Blair, owner of Blind Brothers Arizona, recently purchased the building and has made extensive improvements to what was once the old EZ Transmix building.
His window covering business will now have full showroom with displays of different style blinds, fabrics for drapes and custom bed spreads.
Tracey Horn, owner of Helken & Horn Advertising Agency, and associates are excited about the new location.
"There's plenty of parking and the view from up here is pretty amazing," she said. "It's nice to be right next door to one of our clients as well!"
For more information, contact Blair at 928-776-1845 or Horn at 928-776-0234.
To submit items for the Courier's Need2Know, email twieds@prescottaz.com; for legal advertisements, email tbryant@prescottaz.com.