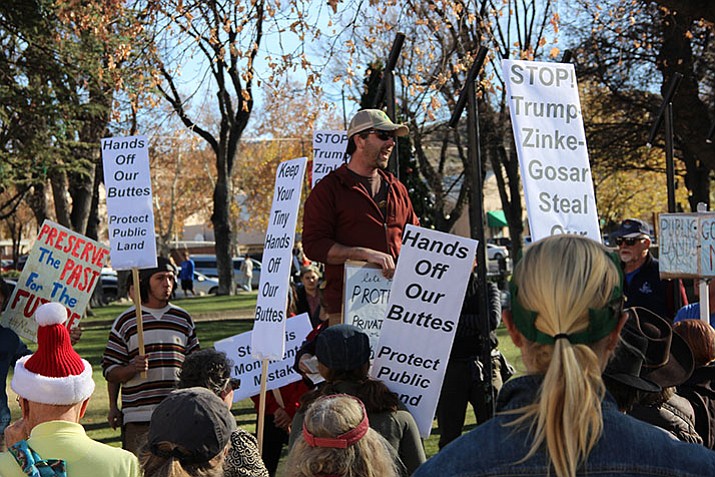 Originally Published: December 10, 2017 6 a.m.
More than 100 people gathered on the Yavapai Courthouse Plaza Saturday afternoon, Dec. 9, to protest President Donald Trump's recent decision to reduce the size of the Bears Ears and Grand Staircase Escalante national monuments in Utah.
"This is the most serious attack on public lands in American history," said Gary Beverly, co-organizer of the rally and president of the Yavapai Group of the Sierra Club.
Trump's announcement on Monday, Dec. 4, to shrink the Bears Ears monument by 85 percent and the Grand Staircase Escalante by 45 percent has raised the ire of many Americans.
Shortly after the announcement, five Native American tribes sued the Trump administration, arguing that Trump does not have the authority to abolish the monument designation for Bears Ears and has, therefore, "exceeded the limited authority delegated to his office and violated the Antiquities Act and the separation of powers established in the Constitution."
Several more lawsuits have since been filed by conservation, historical and outdoor industry groups, such as the Sierra Club and the outdoor retail giant Patagonia.
Trump stated during his announcement that previous US administrations were the ones who overreached their authority in their national monument decisions, and that he is righting what he considers past wrongs.

Those administrations, Trump said, engaged in "abuses of the Antiquities Act [that] give enormous power to faraway bureaucrats at the expense of the people who actually live here, work here, and make this place their home."
Joe Trudeau, co-organizer of the Prescott rally and southwest advocate for the Center for Biological Diversity, said he believes this is simply an effort by Trump to profit the rich and further strip public lands of natural resources.
"The Trump administration is opening these lands up for – we all know it – coal, oil, gas, uranium, hard rock mining," Trudeau said.
"Is that today's economy? Is that our future?"
A unified "no" was uttered by the rally's attendees.
"We're not against responsible resource extraction, but there needs to be a plan and science to support it," Trudeau said.
He believes Trump's decision will have a rippling effect if nothing is done to stop it.
"If this goes through, if we don't stop this, this could be the beginning of a chain reaction on a number of public lands," Trudeau said. "Who knows, the Prescott National Forest could be next."
Attendees of the Prescott rally were asked by organizers to make short videos of themselves expressing how they feel about the President's decision and then post those videos on social media with the hashtag #MonumentalMistake.
To see these videos, search the hashtag on either Facebook or Twitter.
Related Stories
More like this story