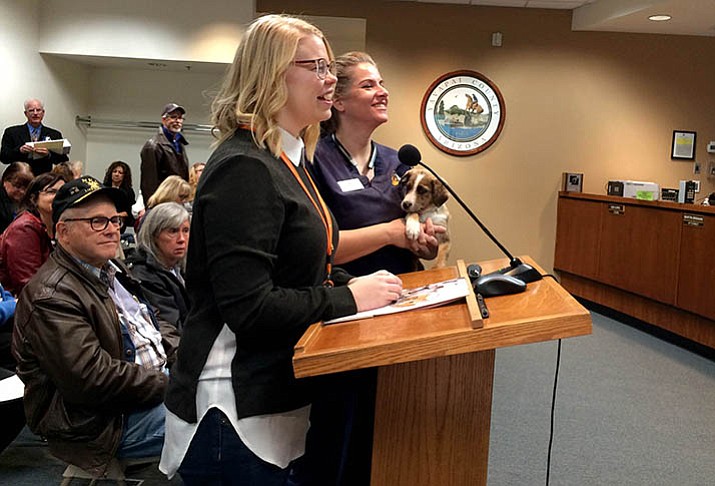 Originally Published: December 9, 2017 5:50 a.m.
Boris brought a roomful of "ah's" to the Yavapai County Board of Supervisors meeting Dec. 6. The three-month-old Australian Shepherd soon will be available for adoption, said Elisabeth Haugan, Marketing and Outreach director for the Yavapai Humane Society.
Haugan reports that 1,790 adoptions for cats and dogs occurred this year, in addition to 21 horse adoptions. YHS Director of Medical Services Christine Campbell held puppy Boris in her arms, prompting Chair Tom Thurman to suggest supervisors keep a dog around during contentious discussions so everyone would go "aw."
The county helps fund the Humane Society and Haugan and Campbell thanked the supervisors for their contribution.
Rosalee Darby, general manager of the Yavapai Fair Foundation, reported attendance at this year's county fair to be 19,680, down slightly, about 9 percent, from last year's attendance, due mostly to the torrential downpour Saturday morning.
She reported a net profit of $11,500, and improvements that included new RV electrical plugs for food vendors which eliminates the need for generators. New lighting in Barn A, two shade covers, material for light poles, software training and a "farm experience" for children to be a Farmer for a Day, are other improvements the fair foundation made.
Darby said plans for the 2018 county fair are to bring in Black Sheep, the world champion Bobcat performer, who will provide rides on his Bobcat and two performances. A Balloon Factory will teach how balloons are made, and children will learn how to create their own balloon animals.
Another new exhibition is Drive Another Day, where people are provided with goggles that simulate being drunk, and a Tire Changing Contest that will involve local businesses.
The supervisors also heard from Darren Tucker, field supervisor with Arizona Game and Fish Department, who gave an overview of the department, which has a five-member board that sets policy, and nearly 600 employees. The department has a tremendous volunteer contingent that provides 100,000 hours per year, the equivalent of 50 fulltime employees.
While AGFD receives no federal or state tax money, it does generate about $2.4 billion annually through hunting, fishing and wildlife watching. It makes up the second largest law enforcement agency in the state with 120 game rangers.
Tucker explained several habitat conservation projects with water, grassland restoration, and juniper removal. He mentioned the pronghorn herd on Glassford Hill numbering about 100, and its shrinking habitat due to development.
Following the executive session at the end of the meeting, the board appointed David C. Williams as director of Development Services.
A native of Arizona, Williams earned a Master's Degree in Public Administration, with an emphasis in planning, from Northern Arizona University. He has been with Yavapai County for 4.5 years, starting as a Land Use and Planning manager, and most recently as assistant director for Development Services.
Prior to that, he worked as town planner for Queen Creek for 9.5 years. Williams is the current president for the Arizona County Planning Directors Association.
In other action, the board:
Voted Rowle Simmons in as 2018 board chair and Randy Garrison as vice chair.
Added the Medical Examiner's Office as a division of the Community Health Services Department.
Increased the contract with Civiltec Engineering for survey work in the HoKayGan Drainage Master Study by $44,346.
Approved a 5-year contract with Tech Logic for radio frequency identification and automated materials handling for Yavapai County Free Library District for $347,870.