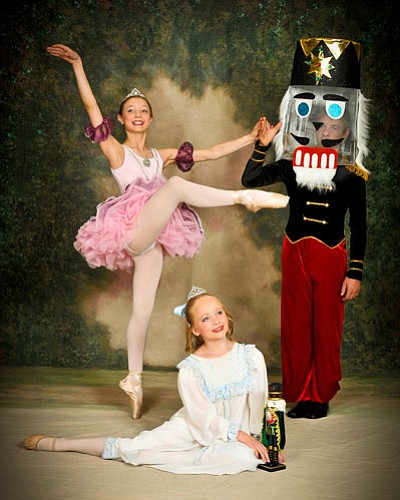 Originally Published: December 7, 2017 6 a.m.
Every year, the Prescott YMCA puts on a dance recital in December that precedes a rendition of "The Nutcracker" and this year is no different, said YMCA Dance Program Coordinator Katy Gifford.
"It's fun for the kids, they get to do different parts every year," Gifford said. "We have new kids in the program, some kids have left us, but they all get to do new parts or some of the same parts every year."
This year, the recitals fall on Saturday, Dec. 9 at Ruth Street Theater, 1050 Ruth St. at 4 p.m. The day before on Friday, Dec. 8, seniors are invited to the dress/tech rehearsal for $5, said Artistic Director and Master Ballet Teacher Myrta George. It's pretty much the same as the actual performance with the occasional interruption, Gifford said.
Tickets are $5 for youth ages 3-9 and $10 for ages 10 and up presale and $10 for youth ages 3-9 and $15 for ages 10 and up at the door. Children under 3 years old are free. Presale tickets are available at the James Family Prescott YMCA, 750 Whipple St.
The kids look forward to it every year and work hard, George said. Auditions were in August and rehearsals bean in September, she said. That's in addition to their normal classes which can range from one to three per week, George said.
Even though these recitals have been going on for seven years, it's a challenge to let people know that the YMCA does them, George said.
"People don't know we're here. They don't know the quality of classical ballet we offer," she said. "This is a challenge to get the word out."
Before "The Nutcracker" even begins though, all of the classes come together for the Holly Jolly Christmas Dance Recital, which includes tap, jazz, contemporary, hip hop, rhythmic gymnastics and lyrical, Gifford said. Some kids are going to be in both acts, which involves different costumes, dances and hairdos, and a few even have multiple parts in "The Nutcracker," she said.
Still, the kids love it and it's definitely rewarding, Gifford said. Some of them have already decided what parts they want for next year's performance, she said. "The Nutcracker" also brings kids of different levels together too, Gifford said.
"You have 5 and 6-year olds on stage with 15 and 16-year olds doing the whole performance at the same time," she said. "We have creative dance classes for 3 and 4-year olds and they know if they stay in the program and if they get into the pre-ballet one, they can be a mouse. That's something even the 3 and 4-year olds get to look forward to."
For more information about YMCA dance programs, visit www.prescottymca.org.