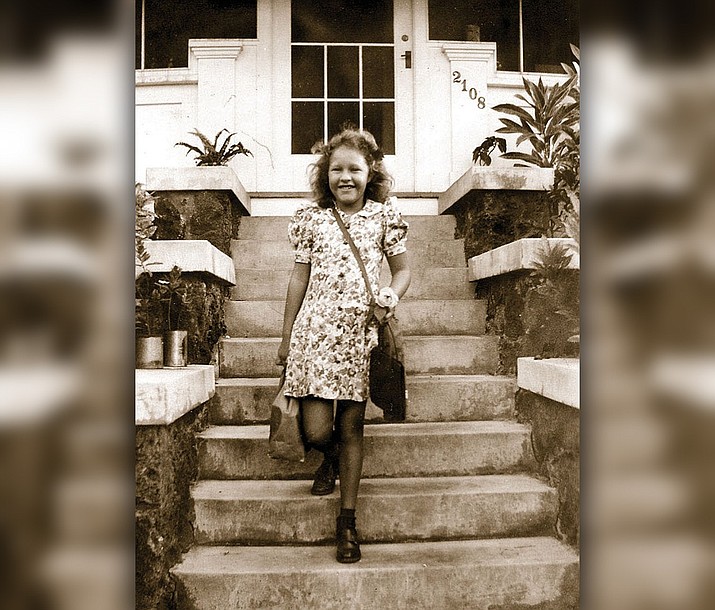 Originally Published: December 7, 2017 6:02 a.m.
At 7:55 a.m. Dec. 7, 1941, the United States was thrust into war against Japan with the bombing of Pearl Harbor in Hawaii. President Franklin D. Roosevelt described the attack as a "date that will live in infamy."
Caught unaware, the U.S. Navy lost much of its Pacific fleet and the lives of 2,400 Americans with another 1,200 wounded. The carefree life for those living on the island, either as family members of those on the ships or whose parents were living and working in Honolulu, quickly came to a halt.
A decade-long Prescott author, Lois Elizabeth Allbright, an American citizen born in Shanghai, China in 1933, had a front row seat to history as a refugee from China to Hawaii where her British stepfather, a textile artist and electrician, was working on that fateful day. She saw a bomb destroy a neighbors' home and as an eight-year-old remembers vividly going to school with a lunch box and gas mask. Allbright penned a book published by Mayeux Press in Denniston, Texas and released in November 2016 titled, "Refugees: A Chinese-Hawaiian Memoir." A book summary states that the non-fiction work traces Allbright's young life as a refugee who escapes a Japanese invasion of China only to be living in Hawaii when the Japanese attacked Pearl Harbor. Her vivid writing style paints a dramatic portrait of one family's life through that pivotal moment in world history.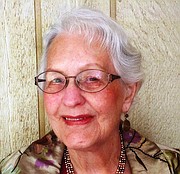 Allbright, the mother of six children, seven grandchildren and three great-grandchildren, is one of several local Prescott residents who have connections to Pearl Harbor. For this year's anniversary, Allbright is sharing an original poem and book excerpt that details her emotions and reflections from that day.
Allbright's poem penned in 1987:
PEARL HARBOR
Sunday morning, Honolulu,
lying on my back
skinny knees propping up the funnies,
I hear the grownups stir
Kona coffee and sugar in their cups.
Papaya boats lie empty on their plates.
In the front yard mourning doves
call back and forth,
coconut fronds tremble
in a December breeze. Down the block
at Waikiki salt waves wash
bits of blue glass Japanese fishing floats
onto Kuhio beach.
That Sunday morning
minahs scoff-cough at Kalikaua cat
furtively clawing sow bugs in the grass.
A breeze licks his sagging belly fur
and flicks poinsettias' scarlet petals.
In eighteen days Christmas will be here.
Sunday radio sings
Oxydol ads and Hit Parade tunes
until static stutters through.
A voice, a crazy announcer's voice sobs,
"Our island has been attacked."
My dad, his hair curly-wet
from the shower answers the ringing phone,
runs to change into his electrician's clothes.
Nana blows her nose,
snatches up the big black lunch pail,
scalds coffee, squashes tuna sandwiches together.
My grandpa rushes swearing out to the street.
"Stay inside," he yells, "stay inside."
Behind a rattan chair I watch
my grandpa in the street. His voice
mix-mutters with neighbor men who stand,
a knot of chins pointing up
feet shifting weight, twiddling pocket change
while in the sky small planes play tag
over our roof.
My mom is thin in white shorts,
white mouth and eyes,
I want to hug her, but
She's pulled too tight like
a wire I must not touch.
They let me walk out to the sidewalk;
We wave goodbye to Dad.
He carries his lunch pail,
his hair Vitalis slick,
walking in big work boots
down the leafy street away from us.
We watch till he gets really small.
My grandpa pounds the map
on the dining room wall,
dropping bright pins and flags.
I don't know why he hates the Japanese.
Nana packs his mainland clothes in the steamer trunk.
I don't know when they will come back.
Before he leaves, Grandpa comes
down the hall in the blackout
with a flashlight to chase away
the spiders who want to make
a tent over my bed.
When Daddy comes back from Pearl Harbor,
he talks about dry docks, salvage, cranes,
the duration, bomb shelters,
gas masks, war.
He jumps when coconuts fall on the lawn.
Excerpt from Allbright's book:
PEARL HARBOR ATTACKED
"One Sunday, Nana, my grandmother, had made a big breakfast for the adults, but I was next door playing dolls and reading funny books with my friend Mary Jean Waite. Mary Jean had a Hawaiian grandmother and a Danish grandfather so her hair was almost white blond. She was my best friend. We were both startled when we heard the dinner bell Nana always rang to call me, and then we heard my mother actually screaming my name, to come home right away. This had never happened before.
As I have written in my poem about December 7th, Pearl Harbor, this was a day that changed our comfortable, easy-going aloha lives forever. As I ran up the three steps to our lanai, I could hear the radio voice of someone sobbing. A grown man crying! I heard the words: "Our island has been attacked by the Japanese!" It was the governor of Hawaii on the radio.

Phones rang, and then the President all the way in Washington D.C. came on the radio. Daddy dressed to go to Pearl Harbor. The day seemed to crackle with an electric tension, but it also felt heavy and scary to my young mind. Planes were shooting at each other over our house. A bomb dropped on the other side of the block near my school, but none of the Japanese occupants were home. My mother later wrote that doors up and down the street were slamming as men in uniform rushed to get to Pearl Harbor. Daddy was picked up down on Kalakowa Avenue by a fellow Pearl Harbor worker."