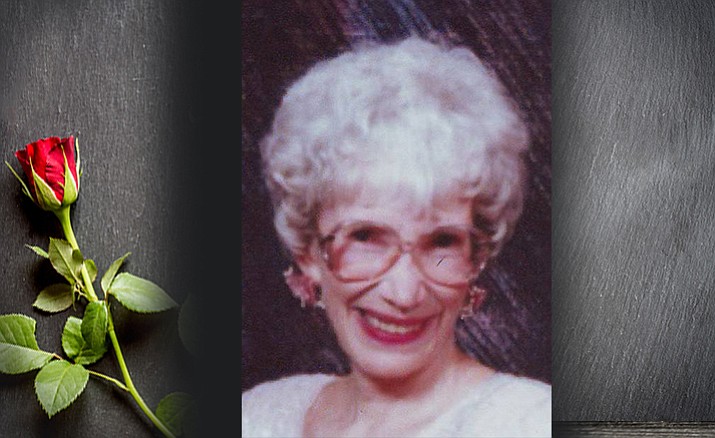 Originally Published: December 6, 2017 6:03 a.m.
Anne Hazeltine Ravey, 87, of Prescott, Ariz., died Nov. 14, 2017, at her home in Granite Gate Senior Living.
Anne was born to the late Bonsall and Norma Hazeltine on April 17, 1930, in Prescott, Ariz. She graduated from Prescott High School and attended the University of Arizona. She had the privilege of growing up in Prescott when just about everyone knew your name. She often said that you couldn't do anything wrong without your parents hearing about it almost immediately through the mothers' telegraph — a fact her own sons soon discovered.
Anne was a free spirit who enjoyed cooking, gardening, needlepoint and throwing or attending parties. In her younger years she summered in Oceanside, Calif., packing up children, dogs and her mother and heading for the beach. Her husband, Bob Ravey, loved Hawaii and they spent many a winter in their condo on Oahu, where they had another circle of friends to enjoy. After he passed away, she made a few trips to Europe, but mostly confined her travels to the western United States. Along with Bruce Fee, she became involved with the Phippen Art Museum and The Westerners and continued her appreciation and support of the local art scene.
Anne was a member of Smoki and a long-time member of PEO. Friends remember her for her quick wit and snappy comebacks. Anne loved to read and shared her fondness for the English language with others. One of her favorite stanzas follows: Beyond this place of wrath and tears, Looms but the horror of the shade, And yet the menace of the years, Finds, and shall find, me unafraid. It matters not how strait the gate, How charged with punishments the scroll, I am the master of my fate: I am the captain of my soul.
Anne is survived by two children: Jeff (Madeleine) Osborn of Prescott, John (Jessica) Osborn of New York, N.Y.; her brother, John (Mary Lou) Hazeltine of Phoenix; her long-time companion Bruce Fee of Prescott; and an extended family of friends, step-children and grandchildfren, great-grandchildren and two nephews and a niece. At Anne's request, there will be no services. If you knew Anne, please remember her by throwing your own party for family and friends!
Information provided by survivors.