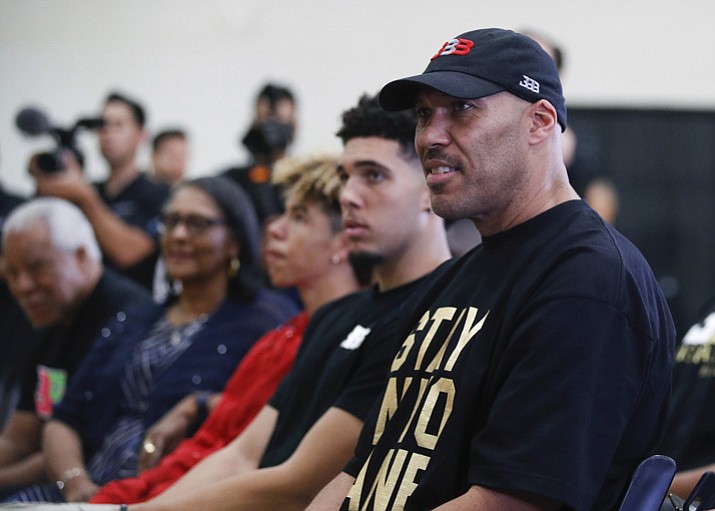 Originally Published: December 6, 2017 6:05 a.m.
The controversy surrounding UCLA basketball player LiAngelo Ball for his role in a shoplifting incident during the team's November trip to China took an interesting turn Monday afternoon, but not for the better.
His father, LaVar Ball, a controversial figure all on his own, pulled LiAngelo out of the prestigious university, less than a month after his arrest in China, eventual return to the states and indefinite suspension imposed by coach Steve Alford.
The international incident made headlines, especially after President Donald Trump boasted on Twitter that he helped free LiAngelo from China's legal system.
Pac-12 Commissioner Larry Scott said the matter, "has been resolved to the satisfaction of the Chinese authorities," after Ball, along with teammates Jalen Hill and Cody Riley, arrived at Los Angeles International Airport on Nov. 14 following the 12-hour flight from Shanghai.
All three were suspended indefinitely by UCLA, leaving wiggle room for the young players to come to terms with their mistake, make up for it and get back into the good graces of Alford and the university that wants to give them a free education.
With LaVar Ball yanking his son out of college in the classic, "this isn't going my way so I'm taking my ball and going home," move, there are surely parents throwing their hands up in the air filled with anger and disgust.
I don't blame them. I'm one of them.
First, let me say this, I've stayed far away from Mr. Ball and his antics in any column or story. His brash behavior, disproportionate sense of self and overall attitude toward authority disgusts me, and pulling his son out of school takes the cake.
Ball was quoted by ESPN saying, "I'm going to make him way better for the draft than UCLA ever could have."
Really?
Unless Ball is a reincarnation of John Wooden, that's not happening. In fact, ESPN's Stephen A. Smith sounded off on Ball during a Tuesday morning rant on ESPN's First Take.
"The father getting involved, to the degree that he is, sends the wrong message. Because you're not treating the seriousness of your son's transgression the way most parents would deem you should," Smith said.
Bingo.
Smith continued, "You're talking about putting him in the developmental league one minute, you're talking about him playing overseas the next, and all of this is because your son was suspended for what may amount to a couple of months, it's absolutely ridiculous."
Bingo, again.
Smith backed his comments by sharing with viewers that he spoke with several NBA scouts and in no way is Ball on, or even close, to their draft board, or anyone else's draft board for that matter.
So basically, a brazen father steps in like the helicopter parent of all helicopter parents, takes his son out of college, potentially ruining his future, and will now "make him way better" before the NBA draft in June.
Good luck with that.
Meanwhile, your youngest son, LaMelo, a seventh-ranked prospect in the 2019 class, is still committed to UCLA for basketball and will now likely never step foot on campus.
Are we forgetting one aspect here? Yes, all three brothers (Lonzo Ball plays for the Los Angeles Lakers) are good at basketball. But is that the issue here? Their future in basketball? No.
LiAngelo may end up in the NBA Gatorade League, maybe LaMelo will too. They both may still end up in the NBA. But is their father that incompetent to expect it to be fact?
Is it worth risking their future career in something other than basketball all because daddy didn't like the way a coach came down on their son for stealing from a Chinese drug store, embarrassing the university, and nation? Especially considering he stole from a country that opened its arms to your family for a basketball tournament.
Maybe it's time someone sat down with Mr. Ball and had a conversation about what really matters in life, because this whole situation is a great way for parents such as myself to see what NOT to do.
He certainly is sending the wrong message about priorities to his children.
Brian M. Bergner Jr. is sports editor for The Daily Courier, the Prescott Valley Tribune and the Chino Valley Review. Follow him on Twitter at @SportsWriter52 or on Facebook at @SportsAboveTheFold. Email bbergner@prescottaz.com or call 928-445-3333, ext. 1106.