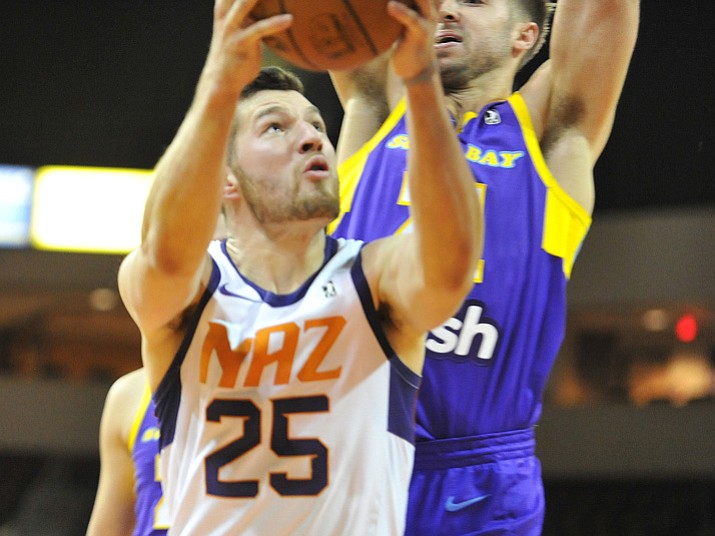 Originally Published: December 5, 2017 11:50 p.m.
Photo Gallery
NAZ Suns vs South Bay Lakers 120517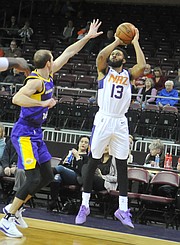 The Northern Arizona Suns entered their Pacific Division clash with the South Bay Lakers Tuesday night having not won at home since nearly a month ago, on Nov. 11. Thanks to South Bay sharpshooter Scott Machado, that drought continued.
Granted, the Suns had recently returned from splitting a four-game, seven-day East Coast road trip this past week, but they now own a three-game losing streak at Prescott Valley Event Center in NBA Gatorade League play.
Northern Arizona's record dipped to 5-7 overall after falling to the division-leading Lakers, 148-144, in overtime to drop 4-1/2 games behind South Bay in the division. The Suns are only 2-4 at home.
The Suns, outscored 9-5 in OT, had suited up eight different starting lineups in their first 11 games going into Tuesday. After Tuesday, they have a 3-1 record with the grouping of Mike Young, Alec Peters, Anthony Bennett, Xavier Silas and Askia Booker.
"It was a matter of us not finishing possessions the right way," Peters said of the loss to South Bay. "We were giving up offensive rebounds after getting them deep in the shot clock and then forcing up a tough shot. We just couldn't get finished off with the rebound, and then they would kick it out for a 3 that would kill us. Them getting an extra possession is what is going to kill you down the stretch."
The Lakers of El Segundo, California, who improved to 9-2 overall, entered the game ranked second in the league in field-goal percentage (.516) and first in 3-point FG percentage (.456), and they backed up those numbers against Northern Arizona.
"The good thing about our team is that we're mentally strong, and we have a lot of confidence in ourselves," South Bay's Stephen Zimmerman said. "We didn't give up on plays, and we have a lot of firepower on our bench."
Machado came off the bench to score a game-high 39 points, while notching eight assists and four rebounds. He converted 4 of 5 3-pointers and went 7 of 8 from the free-throw line to lift South Bay.
"We were playing so well as a team, and all the work that we were doing in the first half, I just didn't want it to go to waste," Machado said. "They came out aggressive on defense, and we just had to weather the storm."
In overtime, Machado drilled two of his threes, the last of which put the Lakers ahead for good, and converted 3 of 4 from the line to seal the victory.
"At some point in time, you've just gotta take a little pride, and you've got to communicate with your teammates and you've just got to get the job done," Suns coach Cody Toppert said of his defense's effort. "Any time you let a guy just come off the bench and score 39 points, obviously a lot of things went wrong."
Machado was one of five Lakers to register double-figures scoring. Starters Travis Wear (27 points on 5 of 10 from 3-point range, eight rebounds, four assists), center Thomas Bryant (24 points on 4 of 7 from 3, seven rebounds, four assists) and V.J. Beachem (11 points) followed Machado.
South Bay finished the game converting 56 of 106 field goals (52.8 percent) and 19 of 37 from 3-point land (51.4 percent). It was par for the course for these Lakers.
"They're great shooters," Booker said. "We should've won this game. We took a big lead [122-110 with 9 minutes left in regulation] and they came back and took it back with their shooting. We had a couple mental lapses, and they got some open looks and they made a lot of big shots."
Northern Arizona performed as strongly with its shooting, but struggled to defend the perimeter at key junctures. The Suns converted a whopping 22 3-pointers on 53 attempts.
Peters paced the Suns offensively with 33 points and 11 rebounds, going 6 of 9 from 3-point range. Five other Suns scored in double figures, led by Shaq Harrison's 26 points off the bench. Booker (23 points, four steals, four assists), Silas (22 points), Josh Gray (16 points, 11 assists, three steals) and Young (11 points, 16 rebounds, six assists) were other standouts.
This was the first of four meetings between Northern Arizona and South Bay in the 2017-18 season, and they won't lock horns again until Jan. 31.
SOLAR FLARES
South Bay improved its road record to 6-0. … Swingman Peter Jok (right groin) and forward Tidjan Keita (right foot) weren't in Northern Arizona's lineup on Tuesday due to nagging injuries. … South Bay guard Vander Blue, the 2016-17 NBA G League MVP, didn't travel with the team to Prescott Valley for undisclosed reasons. Blue is a two-way contract player with the NBA's L.A. Lakers.
NEXT UP
The Suns visit another Pacific Division foe, the Agua Caliente Clippers (7-5), at 7 p.m. Friday in Ontario, California. Agua Caliente beat Northern Arizona, 126-118, in the Suns' season opener Nov. 4 in Prescott Valley.
Northern Arizona will make a quick turnaround when the squad comes back home to face the Atlantic Division-leading Westchester Knicks (9-5) of White Plains, New York, at 3 p.m. Sunday.
South Bay plays host to the Sioux Falls Skyforce of South Dakota at 8 p.m. Friday at UCLA Health Training Center in El Segundo.
Doug Cook is a sports reporter for The Daily Courier. Follow him on Twitter at @dougout_dc. Email dcook@prescottaz.com or call 928-445-3333, ext. 2039.
More like this story