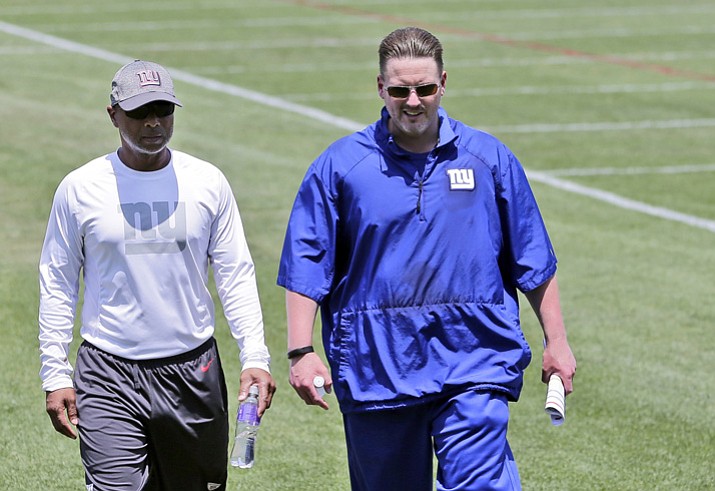 Originally Published: December 4, 2017 10:50 p.m.
EAST RUTHERFORD, N.J. — Believing the team was spiraling out of control, the New York Giants went out of character by making two major in-season moves, firing coach Ben McAdoo and general manager Jerry Reese.
With the team reeling at 2-10 in a season where most felt it was capable of challenging for a Super Bowl, co-owners John Mara and Steve Tisch reached the decision Monday morning. It came less than a day after the Giants lost in Oakland, with quarterback Eli Manning benched and the offensively inept team performing poorly again.
"We agreed that wholesale changes to this organization needed to be made to get us back to the team we expect it to be," Mara said at a hastily called news conference. "We also agreed it was pointless to wait any longer to make these changes."
Defensive coordinator Steve Spagnuolo will take over as interim coach for the final four games. He coached the St. Louis Rams from 2009-11. Mara did not know whether Manning will return as the starter this weekend against Dallas, saying the decision will be made by Spagnuolo.
In a radio interview on WFAN, Manning said he told Spagnuolo that he wants to start the last four games.
"I want to be out there and help us go win these four games," Manning said. "I hope I'm out there on Sunday playing against the Cowboys."
AP Source: Ohtani cuts to 5 West Coast teams, Cubs, Rangers
NEW YORK — Japanese pitcher and outfielder Shohei Ohtani has cut the field of major league teams he is considering to five clubs on the West Coast plus the Chicago Cubs and Texas Rangers.
The Los Angeles Dodgers and Angels, San Francisco, San Diego and Seattle all remain in contention. Several teams said Sunday they were told they had been eliminated, and the seven remaining were confirmed Monday to The Associated Press by a pair of people familiar with the choices.
Ohtani is limited to a minor league contract because of restrictions imposed by the MLB collective bargaining agreement. The Rangers have the largest signing bonus amount remaining among the teams he is considering at $3,535,000, followed by the Mariners ($1,557,500) and Angels ($1,315,000). The Cubs, Dodgers and Giants are restricted to $300,000 maximums in the signing period through June 15 as penalties for exceeding their bonus pools in 2015-16 and the Padres are limited to $300,000 for going over in 2016-17.
"I started getting a feel that wasn't good a few days ago," Yankees general manager Brian Cashman told reporters at a holiday event Sunday night in Stamford, Connecticut. "I can't change that that we're a big market and I can't change we're in the East."
Ohtani was put up for bid Friday by the Pacific League's Nippon Ham Fighters for the maximum $20 million posting fee. The 23-year-old has until 11:59 p.m. EST on Dec. 22 to agree to a contract with an MLB team.
Diego Valeri named MLS Most Valuable Player
PORTLAND, Ore. — Even when Portland's Diego Valeri is recognized for his own play, he somehow finds a way to turn the focus back on the team.
That's no different now that he's been named Major League Soccer's Most Valuable Player.
"Since I arrived here I wanted to make an impact on the league and my club, and that's made me happy," he said. "Any reward is part of that. That's been important for me."
The 31-year-old native of Argentina had 21 goals and 11 assists this season for the Timbers, who finished atop the Western Conference.
He is the first midfielder in league history with 20 or more goals in a single season and just the second player overall with at least 20 goals and 10 assists in a single season. His 32 combined goals and assists were the most of any player this season, and rank him fifth in MLS history.
Valeri was named the league's 2017 Landon Donovan MVP award recipient on Monday by vote of the league's club managers, media members and current players. The other nominees included Atlanta's Miguel Almiron, Toronto's Sebastian Giovinco, NYCFC's David Villa and Chicago's Nemanja Nikolic.
"You fight hard all season, and to be named player of the year is amazing," he told The Associated Press. "You work hard for the team and to be recognized from your own people, it's awesome."
Hernandez lawyers want to keep daughter's lawsuit separate
BOSTON — Lawyers for the estate of late NFL star Aaron Hernandez are trying to prevent a $20 million lawsuit against the National Football League from being merged with a wider class-action suit addressing former NFL players' head injuries.
The Boston Herald reports that the NFL and co-defendants are asking a federal judge to temporarily stay proceedings in Hernandez's case, which was filed in state court on behalf of his 5-year-old daughter.
The defendants say there's nothing unique about Hernandez daughter's case to warrant a separate trial.
The child's lawyers want her case tried in a state court, arguing their claim is for loss of parental consortium.
Hernandez was posthumously diagnosed with chronic traumatic encephalopathy (ehn-sehf-uh-LAH'-puh-thee) after taking his own life in prison in April, where he was serving a life sentence for a 2013 murder.