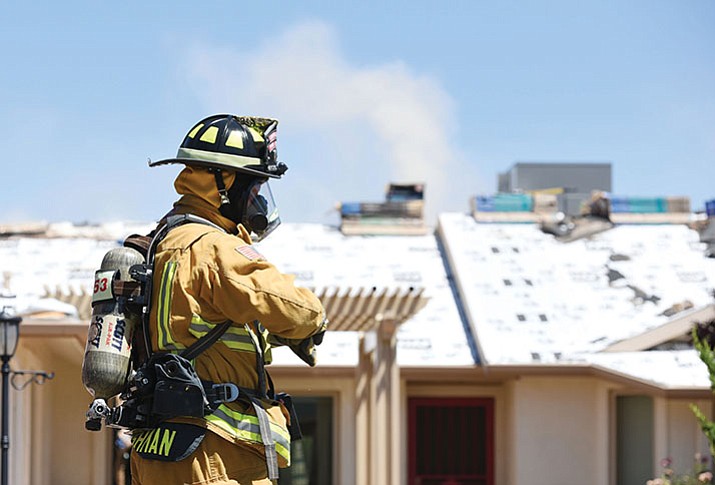 Originally Published: December 4, 2017 6:02 a.m.
The most dangerous part of firefighting may not be the danger of being burned in a fire.
It's cancer.
Cancer caused 61 percent of the professional firefighter line-of-duty deaths from January 1, 2002, to December 31, 2016, according to the International Association of Fire Fighters (IAFF). That is more than any other single cause.
In 2016 alone, cancer caused 70 percent of the line-of-duty deaths of professional firefighters.
It's no mystery why the cancer risk has increased.
"In today's modern society – in buildings that our people go into every day – everything is now made out of chemicals," Professional Firefighters of Arizona President Bryan Jeffries told a state legislative committee last year. "When those chemicals burn, they put off noxious chemicals that [firefighters] are exposed to."
To prevent inhaling carcinogens at the fire scene, the crews wear self-contained breathing apparatus, called SCBA or just "air bottles." They're effective at keeping out the toxins in the fire, but, once they're taken off outside the burning structure, firefighters are again exposed to the airborne chemicals.
The other means by which carcinogen get into firefighters is transdermally, or through the skin.
Prescott Fire Chief Dennis Light said, "I am familiar with a number of members (of the fire service), over the course of my 40-year career, who could correlate (cancer) back to on-the-job causes."
He pointed out that, back then, no one knew the risk that modern materials would pose to firefighters.
In the wake of the Sept. 11, 2001 terror attacks, the Centers for Disease Control and Prevention's World Trade Center Health Program reported that, by 2016, it had documented 4,692 cases of cancer in first responders, recovery and clean-up workers, and volunteers who worked the World Trade Center, Pentagon and the Pennsylvania crash sites.
The problem arises not only at fire scenes, but back at the firehouse, where, for many decades, tradition dictated that grimy, dirty helmets, turnout coats, gloves, boots, and pants were a badge of honor.
But in recent years, that honorable grime has carried carcinogens into firefighters' living and sleeping quarters.
Nowadays, it's generally not allowed to "get back in the truck with these sooty old garments, and then spread it through the fire station as we shlep on through, spreading the carcinogens through our home away from home," Light said.
Pushing for lawmakers' help
After a prolonged lobbying battle, Jeffries' group was able to get two bills, HB 2410, which deals with cardiac disease, and HB 2161, which expands workers' compensation coverage for cancer, to Gov. Doug Ducey's desk and he signed them May 22, 2017.
Central Arizona Fire and Medical Authority Chief Scott Freitag asked for Rep. Karen Fann's support of the bills earlier this year, and in an email to her, wrote, "The law does shift the burden of proof to the employer to show the employee did not develop cancer as a result of their job. I personally see this as a protection for our employees that put themselves in harm's way for our constituents and I do not believe the costs to (worker's compensation) will increase dramatically. Statistically speaking, these cancers, while more prevalent in firefighters, is not something that occurs with tremendous frequency. However, when they do occur, the impact to the firefighter and their family can be catastrophic."
Freitag went on to say, "Over the years, studies have shown that firefighters are at higher risk for heart disease as well. … What they found in firefighters is that when the tones in the station sound, their heart rate will increase from a resting rate of 60 to 120 almost instantly (numbers are examples, however the rate increases are scientific).
"The stress does take a toll. Understanding the impact of the job on our heart muscle, it is incumbent on the individual to exercise regularly and eat a heart healthy diet," he said.
Results take time
Although most fire departments now urge de-contaminating gear and clothing, as well as use of masks of several types, because cancer takes time to develop, there's no way to know how today's preventative measures are working.
"You won't see the metrics come in line with the process improvements for, probably, the next five or ten years," Light said. "Then, we'll hopefully see a noticeable drop in those cancers which are directly correlated to fireground-type activities."
Light feels the fire service as a whole should receive a "C-plus or B-minus" grade for how it's dealing with the problem, but that, ten years ago, he would have assigned an "F."
Freitag said, "Fire departments need to do a better job of setting and enforcing SCBA-use policies, utilize proven methods to prevent cross contamination in apparatus as well as stations, and provide annual cancer prevention education for all employees. I know my organization is continuously working to improve both our cancer prevention programs as well as our fitness standards."
"There's some steps we can do in the medical monitoring field, in our fitness level, and those assessments," he said. "I think we're making great improvements. There's still work to be done, but with the awareness this has on a national and local level, I think we're making great strides."