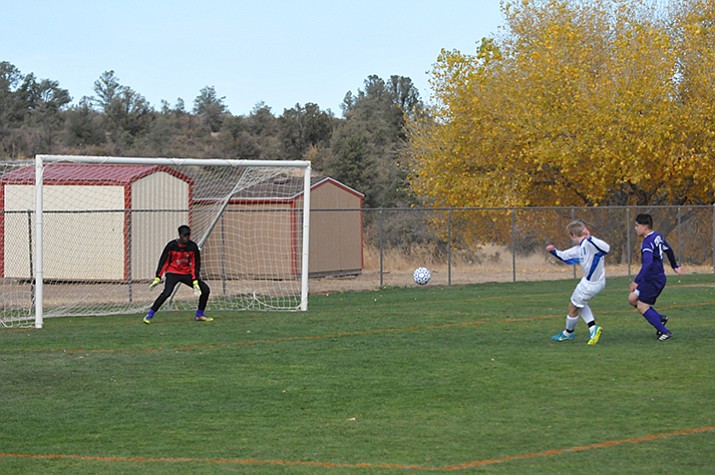 Photo by Doug Cook.

Originally Published: December 3, 2017 6:04 a.m.
Prescott boys soccer's Westen Tenney didn't start in Saturday's consolation match of the Alliance Tournament at Pioneer Park. But that certainly didn't bother the fleet-footed junior forward, who seems to relish the role.
In a scoreless tie through the first 20 minutes against Cesar Chavez, Tenney proved the spark for the Badgers off the bench, scoring two goals within 4 minutes of each other midway through the first half to eventually lift the hosts to a 3-1 victory.
No more than a minute after checking into the match, Tenney scored in the 21st minute. Moments later, he lined in a shot on a breakaway. Just like that, Prescott led 2-0.
"He's a very tenacious player — he wants to be on the field, he wants to score, he wants to play," Badgers coach Phil Reid said of Tenney. "That's the kind of attitude you want to see from your players — that when they get off the bench, they're ready to put the work in. And that's what he does."
Cesar Chavez's Jairo Colex trimmed Prescott's lead to 2-1 in the 35th minute, just before halftime, on a free kick.
Colex's tally didn't seem to faze the Badgers, though, who tacked on an insurance goal midway through the second half and went on to finish the tournament with a 1-2 record, 2-2 overall. Sophomore Cade Trutone scored Prescott's third and final goal in the match.
Prescott lost its tournament opener on Thursday, 5-0, to Camelback. On Friday, the 4A Badgers suffered a 5-3 setback to Raymond Kellis. However, Prescott rallied on Saturday facing 6A Chavez to finish the tournament with enthusiasm.
"In this match, there was more determination," Reid said of his team. "This win gives those players a little more confidence about how they're going to approach that [our next] game [on Tuesday]. I'm pleased with the progress so far and to end the tournament with a win. We're back to .500."
UP NEXT
The Badgers will visit Dysart for their second power-point match of the season at 5 p.m. Tuesday, Dec. 5.
Cesar Chavez will head to Camelback at 6 p.m. Dec. 5, in Phoenix, for their second power-point match.