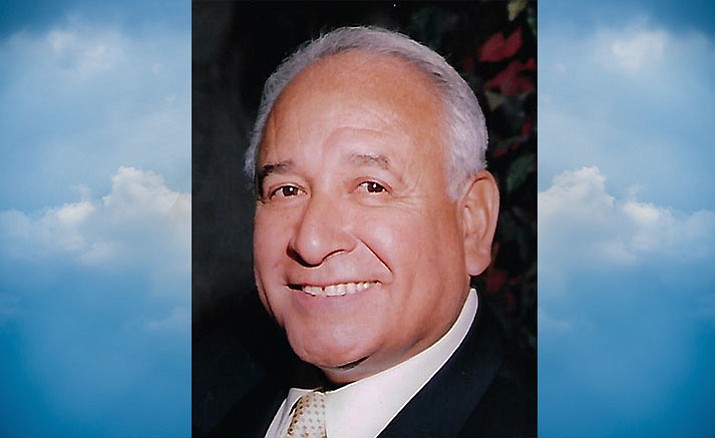 Originally Published: December 3, 2017 5:58 a.m.
Pete F. Vargas, a long-time and MUCH LOVED resident of Prescott, Arizona, went to be with his heavenly Father on Nov. 7, 2017. He passed away at Banner Samaritan Hospital in Phoenix of lung and heart complications following Thoracic surgery.
Pete was born in Los Angeles, California, to Felipe and Genoveva Vargas on Dec. 22, 1940. As a young child, Pete loved and excelled in all sports. At age 14, he was competing at Garvey Park in track and field events, and a local reporter happened to be there. She ended up writing a newspaper article about "this outstanding young lad who won almost every event!"
She also said that she "couldn't help but go over to meet and congratulate his mother on raising such a fine young son!"
Pete continued playing sports through high school, excelling in football, basketball and track. He was offered several college football scholarships, but opted instead to marry his high school sweetheart, Nancy, and enlist in the Army for several years.
After returning to the US, he began a career in the grocery business, eventually owning a grocery store in Chino Hills, California. While doing this, he had a dual career as a conductor for Union Pacific Railroad, which he loved very much. However, he, of course, STILL found time to play fast- and slow-pitch softball! In 1996, Pete retired and moved to Prescott where his wife, Nancy, passed away after a long illness. He became very active in Prescott life, especially sports, coaching and umpiring Little League teams and playing softball with Prescott Senior Softball.
Pete and Trish met in 2003, married in 2004, and had an amazing 13 wonderful years together. They traveled, had many pets, and even started a Special Education School in Phoenix in 2015. The students completely adored Pete, especially when he helped them with sports.
Pete had three great passions in life: (1) His love of the Lord and his love of people (he never met a stranger nor ever forgot anyone's name). (2) His great love of all animals. He rescued and gave a loving home to MANY pets. (3) His undying love of sports, especially SOFTBALL.
Pete was a long-time player and manager of the Kokopelli Scorpions, appreciatively sponsored by his good friend, Michael Ham of Kokopelli Eye Care). The Scorpions are a traveling team and most of the players have played together competitively for 20 years.
They are now a 75s team, and during this time have risen to the top of the nation's softball scene, winning many tournaments, including the World Championship in 2010!
The City of Prescott even dedicated a day as "Scorpion Day" in their honor. Pete is a pitcher, and one of his proudest moments was winning the National Pitching Contest at the Tournament of Champions in 2015. As much as he loved the game, he loved the camaraderie, support and friendship of all the players even more.
Pete is dearly missed -- his adorable smile, joyful personality and love of life were SO special.
Pete was preceded in death by his parents, and his brother, Richard. He is survived by his LOVING wife, Trish, his wonderful sisters, Esther Meller of Temple City, California, and Margaret Chavez of El Sereno, California, and nieces, nephews, cousins and 3 great-nephews and one great-niece.
A Celebration of his life will be held on Saturday, Dec. 9, 2017, 1 p.m., at Prescott Life Church, 2200 N. Highway 89, Prescott, Arizona, 86301.
We ALL LOVE and MISS you, Pete. In lieu of flowers, please make a donation to: Best Friends Animal Society, 2005 S. 1100 East, Salt Lake City, Utah, 84106.
Information provided by survivors.