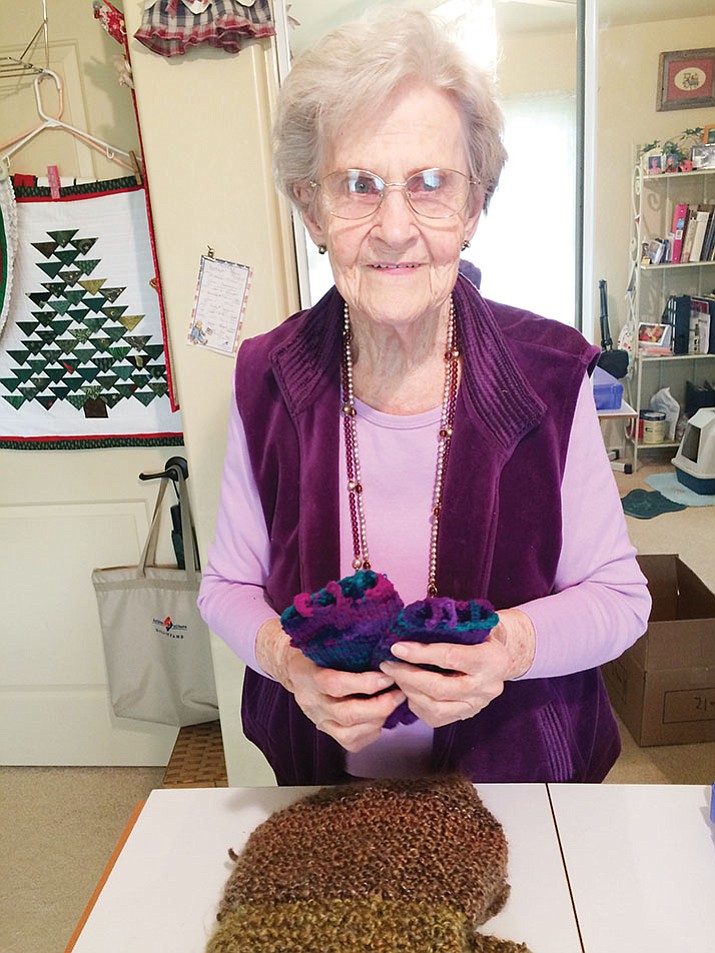 Originally Published: December 3, 2017 6:05 a.m.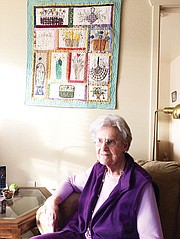 Phyllis Sager's claim to fame is her habitual kindness and generosity.
For close to 92 years, the one-time bookkeeper and gifted seamstress, quilter, knitter and crocheter has utilized her talents for the good of others – be it making knitted "watch" caps for World War II serviceman, lap quilts and knitted shawls for nursing home residents or knitted bonnets for newborn babies.
Even now that she suffers with deteriorating eyesight, the veteran member of the Sharlot Hall Heritage Quilt Study Group still finds ways to make a contribution to her community. She may no longer be able to do fine embroidery or hand quilt stitches, but her knitting bag is at the ready with yarn, needles and plenty of projects to keep her busy.
"She is one amazing, caring, delightful, beautiful lady," said her friend and fellow quilter Betty Bourgault. "I am just one of the lucky ones who have gotten to know her and what a gift she is to me. She is definitely a treasure."
The walls of Sager's apartment at the Bradshaw Complex where she has lived for the last nine of her more than two decades in Prescott are covered with hand-appliqued quilts she pieced and embroidered with thread, ribbons and antique buttons. In her bedroom is a traditional "Sun Bonnet Sue" quilt she inherited as an incomplete project and then finished with delicate stitches and a corresponding floral blue fabric on the back.
Some of her work is whimsical – a "mouse" quilt in the kitchen and "cat" quilt in the powder room – while others are her take on traditional patterns, including a favorite series of floral baskets.
All are works of art.
In her sewing room Sager has cabinets filled with shawls, bonnets and other knitted goods she makes to donate to area hospitals, nursing homes, the local VA or to other charities. The walls in that room are decorated with quilts gifted to her by her quilting buddies.
Some of the sewing statistics Bourgault compiled showcase Sager's community generosity.
For the last four years, Phyllis has knitted over 300 baby bonnets for Yavapai Regional Medical Center's newborns. For two years, she has knitted fingerless gloves and lap robes for senior residents at The Arizona Pioneers' Home and made "diddy bags" filled with personal items for women at the VA. She has crafted handmade dolls with quilted blankets for Catholic Charities' youngest clients and knitted hats and scarves for their adult clientele.
"I believe every one of her family members has received either a wall-hanging or a quilt … I am pretty sure Phyllis has done a lot more for people that I don't know about," her friend said.
Sager, a widow and mother of four children, one now deceased, nine grandchildren and "more great-grandchildren than I can count," said she caught the sewing bug sitting on a stool in her Indianapolis, Indiana home next to her great-grandmother, Irene Miller, known to the family as "Little Grandma" because of her small stature. Sager said her mother, Alma Eichburg, was also a seamstresses.
"It was just natural I guess for me to pick it up," Sager said.
In the early stages, Sager said she would hand sew together squares of muslin and then draw animals in the center. She learned to outline then in thread.
In Pasadena, California, Sager and her husband, Bill, the owner of a roofing business, got involved with the Elks Club. She ended up serving twice as president of the ladies' auxiliary, the Emblem Club.
To raise money for various charities, the ladies' hosted bazaars and fairs where they sold handmade goods.
Her passion was an agency that provided therapy to children with multiple sclerosis.
She recalled how her club arranged to host a carnival with simple games for these children to play. The delight on the children's faces as they tossed bean bags and throw darts "was the highlight of my life."
"That was just really rewarding, REALLY rewarding," Sager said.
So when the couple retired to Pine Lakes in Prescott, Sager knew she needed to find a new way to make a difference. She also wanted to make new friends.
Enter the Sharlot Hall quilters.
Still independent, though she laments that she sold her car and so no longer drives, Sager said she is just not one to "sit and do nothing."
Nor does she want to spend her twilight years whining about arthritis and other health ailments.
So the first Monday of every month eight of her friends get together to sew and embroider. And laugh.
"If the girls mark the ¼ inch seam for me I can still sew a straight line and put pieces together," said Sager said.
As Sager prepares to celebrate another birthday on Dec. 10, she said she counts herself fortunate she is healthy and able to keep sharing her talents with others.
"I just try and be kind to everybody," Sager said. "What you give out always comes back to you."