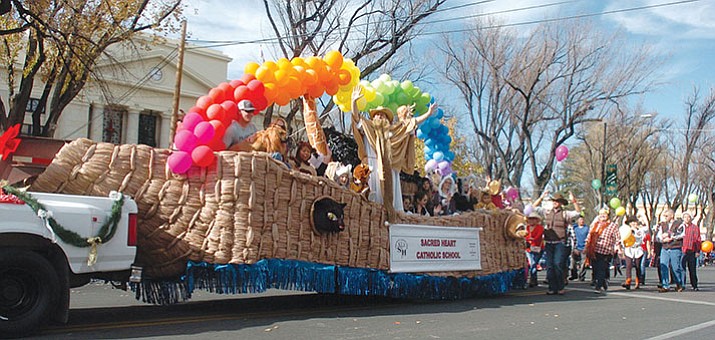 Originally Published: December 3, 2017 6:05 a.m.
Parade winners
First place: Fry's Food
Second place: Fancy That!
Third place: PAWUIC, Prescott area wildland urban interface commission
The Prescott Christmas Parade featured several unique aspects this year. Two that stood out in particular were some special parade entries and the increased security by local law enforcement.
Special entries
A couple parade entries on Saturday, Dec. 2, decided to do more than just look pretty for this year's Prescott Christmas Parade. They wanted to also carry a message.
One that made an impression on many parade attendees was Sacred Heart Catholic School. The private school makes a strong appearance at the Christmas Parade every year with heavily decorated floats, but this year was a little different. Just about everything used to make their float was constructed using recycled materials — all of which was scheduled to be re-recycled when the parade was over.
"We're reusing everything," said Selby Ferris, a first grade teacher with the school. This was partly to save some money on materials, partly to be less wasteful, and partly to instill in the children a sense of environmental awareness, Ferris said.
Photo Gallery
35th Annual Prescott Christmas Parade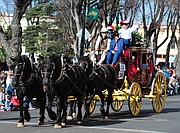 The primary ingredient for the float's design was grocery bags.
Since August, the school had been collecting bags for the float with the help of its students and Fry's Food.
The result was what they called Noah's Cowboy Ark. While it wasn't very cowboy overall, they tossed a cowboy hat onto their pastor (who played Noah) in an attempt to fit this year's parade theme, A Cowboy Christmas.
Remembering Jayme
A parade entry that struck an emotional cord for some people was headed by Louis Gomez, owner of Prescott Tire Pros and Automotive Service, and Jason Nance. Both were very close friends with Jayme Salazar, a local businessman who died earlier this year in a motorcycle accident.
To honor Salazar, Gomez and Nance worked tirelessly to build a completely custom Volkswagen Beetle with a license plate that says 4 Jayme.
"We wanted to have it done for the Fourth of July parade, but we just didn't have enough time," Gomez said.
Their plan is to take the vehicle with them for every car-related event they attend moving forward.
"We want his presence to be with us when we go to the car shows and the things that we did," Nance said. "There's a lot of things we did throughout the year with Jayme."
Their plan is to continue memorializing Jayme by also building a custom motorcycle and custom truck — some of the things Jayme loved most.
"He would be so proud right now," Gomez said.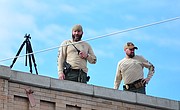 Increased security
As promised in a news release earlier this week, local law enforcement heavily pumped up security for the Christmas Parade this year.
Prescott Police Department officers and volunteers were posted at every access road surrounding the parade route; officers could be seen scouting the area from roofs of downtown businesses; City of Prescott dump trucks were used to barricade certain streets; Yavapai County Sheriff's Office's helicopter was paroling from above the event the entire time; and officers, whether on bicycle or foot, were constantly circulating through the crowd and along the sidewalks.
"There is a higher level of security this year, but that's simply because of the nature of the threats around the world and we don't want to take anything for granted," Police Chief Deborah Black said.
Attendees of the parade quickly took notice of the changes.
"We noticed the difference immediately," said Caprice Daniels, who came with her husband, Tommy. "I think it's good. We're appreciative. It's just part of where we are in society today."
It may have simply been the atmosphere created by the additional security, but quite a few rumors were circulating soon before the parade started about possible incidents occurring in and around the parade route. PPD officials said no incidents occurred and no arrests were made.
Since this was a trial run for local law enforcement regarding heightened security for crowded events in Prescott, Black said they'll be discussing how things went afterward and determine if they need to adjust their strategy at all moving forward.
"We will definitely after action this and talk about the impact to the event, the impact to the business community and make sure we have a balance there, because you can make things so, so safe, but then they're no longer enjoyable or no longer accessible," Black said. "But it won't be unusual to see this level of security at future events of this size."
More like this story